Apart from regular drywall, paperless drywall, and cement board, there are other kinds of drywall with various colors, like purple, green, and blue board versions.
Deciding the best one that offers the best utility for your space depends on several factors. Although the choice often falls between drywall and Blueboard.
However, this does not throw away a critical question like which is better between drywall and Blueboard.
Depending on the board's manufacturer, quality, and thickness, a standard drywall will cost $12 to $20 per panel. And you will pay $30 to $70 per sheet for a professional installation. However, Blueboard costs $12 to $16 per panel; hiring a contractor and adding plaster veneer means you are looking at 160 to 320 for a 4×8 foot Blueboard panel.
In this article, we will be getting a detailed comparison between the costs of Blueboard and drywall, which is cheaper and more expensive to use.
How Much Do Blueboard and Plaster Cost?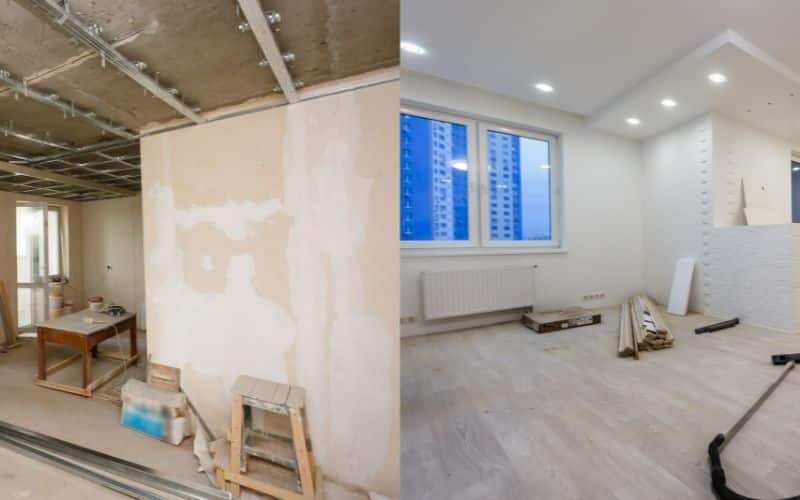 For most places in the United States, Blueboards will cost $12 to $16 per panel, and the installation process is not only straightforward but also low-cost.
However, you will see a tremendous increase in the cost as you begin to consider the inclusion of plaster. You will also be considering the cost of paying a contractor.
The installation process may cost $5 to $10 per square foot and $160 to $320 in veneering a 4×8-foot Blueboard panel.
#1. For Installing Thin Coat Plaster Backing on Blueboard
In 2023, the cost of thin coat plaster backing-Blueboard in most areas (e.g., Boston) is between $504.78 to $549.28 per square foot.
However, calculate the average material cost, hourly labor, wages, and productivity rates to get the right installation estimates.
To be more accurate, you need to get an accurate calculation of all these factors. Doing so will help you prepare ahead of time and make a wise budget.
#2. The Average Cost Per Square Foot for Blueboard Installation
When it comes to the average cost of installing Blueboard is $2.52 to $2.75 per square foot—endeavor to make all hiring decisions with a fully insured and licensed contractor.
Also, make sure to check references and get a verification of prior work quality. To get the absolute best Blueboard installation, get the project estimate from several contractors.
#3. Blueboard Installation Cost Breakdown
For Blueboard panel installation of 215 square feet, the non-discounted retail cost will be between $88.64 to $112.19.
The direct labor costs will be between $331.89 to $345.85 for installing thin-coat plaster backing.
The materials and supplies you will need for the installation will cost you between $84.25 and $91.24.
#4. Estimates for Blueboard Installation
The cost of preparing the worksite for the installation of the Blueboard and this cost may come from materials, protection of existing structures, components, and finishes.
Cost of delivering the local materials and equipment to the site
There is also a cost for removing dirt and debris and the final cleanup upon project completion.
Costs from the labor setup, hourly charges, and the mobilization time related to the Blueboard installation project.
#5. What is Not Involved in the Blueboard Installation Estimate
The following are the things not required or involved in the Blueboard installation estimate;
The permits and fees demanded by the state building department for the project.
The general contractor fee for supervision of the installation of the blue board, ensure that you add 10% to 20% of the total cost above if you intend to hire a contractor for the installation.
Sales taxes are on supplies and materials in places like Massachusetts.
How Much Does Drywall Cost?
The truth is a standard drywall cost will be within the range of $12 to $20 per panel and the national average of $15 per panel.
To get enough drywall panels for a 12-foot by 12-foot room, you will spend at least $200 to $300.
However, in calculating the overall costs, there are other factors you need to consider.
The factors to consider when estimating the cost of drywall are;
#1. Panel Size
The standard drywall panel sizes are 4×8 feet or 4×12 feet. By the size and dimension of the room, you will discover that one-panel size is more efficient than the other.
If you have tall ceilings, you will see that although expensive, the 4×12 foot panel will require fewer sheets, save you money, and save you the time required for cutting and taping.
#2. Location
Where you intend to install the drywall will also affect your overall cost as you would be considering the room's square footage and the drywall type.
Small rooms like bathrooms will cost between $430 to $500 to drywall (however, the price per square foot may be higher).
Rooms with larger square footage, like the living room, will cost between $960 to $2,800 to drywall.
The basements and garages will cost less since the materials often used are low quality, unlike those used for the places like the living room.
#3. Thickness of Drywall
There are about four thicknesses that the drywall is available in, ½ inch, ¼ inch, ⅜ inch, and ⅝ inch. And the cost increases with an increase in thickness.
You can get ½-inch between $10 to $20 per sheet, which fits all spaces. Meanwhile, the ¼-inch will cost $10 to $12 and is most suitable for repairs and supporting existing walls.
The ⅜-inch is available at $15 per sheet and functions where the half-inch drywall is considered too large for an existing space.
The ⅝-inch is unique and especially used for soundproofing, costing about $13 to $75 per sheet.
So going for the correct thickness also helps reduce the overall cost.
#4. Labor
You must hire a professional drywall hanger to get the best installation. But note that the costs for hanging and finishing are two separate costs.
$0.15 to $0.65 is the cost of hanging drywall per square foot. And after the hanging, taping will cost $0.40 to $0.70 per square foot, while sanding and priming will cost $0.10 to $0.50.
Therefore, finishing the drywall will range from $0.50 to $1.15 per square foot. So by combining all these costs, the total drywall cost for labor will be between $1.15 to $3.
#5. Finishings
Your drywall finishing is rated from level 0 to level 5. The table below shows the level rating, the meaning, and the cost per square foot.
| Rating | Meaning | Cost (per sq ft) |
| --- | --- | --- |
| Level 0 | You can screw into drywall studs without mudding and taping. | $0.30 to $0.80 |
| Level 1 | There is mudding, taping, and seams, but it still needs completion. It is common for attics and basements. | $0.70 to $1.50 |
| Level 2 | There is a skim coat and joint compound but not suitable for a living space. But better than level one. | $0.80 to $1.75 |
| Level 3 | There is an addition of a skim coat of joint compound and sanding. | $0.90 to $2.50 |
| Level 4 | Sanded, smoothed, and primed drywall with few surface errors. Finishing is good for tiling, wallpaper, or painting. | $1 to $3 |
| Level 5 | The finish includes a full, smooth coat of joint compound with well-sanded primer. The drywall can take a glossy painting. | $1.15 to $3.50 |
#6. Geographic Location
Depending on the region of the country you are staying in, drywall prices tend to vary.
For instance, drywall prices tend to be lower for us in the midwestern part of the country. In the midwestern states, drywall is $7.85 to $12.10 per panel.
However, you will get it between $11.85 to $19.80 per panel along the Western Coast (e.g., California) and $10.35 to $17.50 along the Eastern Coast.
Is It Cheaper to Drywall or Plaster?
Looking at the material cost for drywall and plaster, you will see them as comparable or similar. However, plaster costs more than drywall to install.
Plaster costs more because it involves more labor and requires the specialized skill of a professional, which is different from drywall installation.
Plaster also takes longer to complete as it may take three times or more the time you will need to install drywall.
Just after World War II, when there was a higher demand for housing, many builders had to replace plasterwork with drywall to meet the demands and lower labor costs.
Drywall is cheaper than plaster because they charge premium prices when you find skilled plasterers. The ratio of labor to materials tends to lean toward labor in plaster installation.
Labor accounts for about 35% to 60% of the total drywall installation cost. But in the case of plaster, labor accounts for 70% to 90%.
Furthermore, a drywall installation is cheaper as the job may cost $1 to $3 per square foot. But a plaster job may cause $2 to $10, according to Home Advisor.
How Much More Expensive Is Plaster Than Drywall?
Regarding material cost, there is almost no difference in cost between plaster and drywall. However, plaster is more expensive as a result of labor costs.
Having a skilled plastering professional would be best, so you pay premium prices. You also pay more because it is time-consuming.
Furthermore, it is important to note that the cost of labor for plaster is three times more than what you will be paying for a drywall installation.