If you're looking to remodel your garage floor, there are lots of options to choose from. You could opt for tiles, interlockings, vinyl, epoxy, or concentrate.
What about asphalt? Do you long to bring that highway feel straight into your garage? That is an exciting option to explore.
So, can you use asphalt for your garage floor? Is it a good idea? Let's find out!
You can use asphalt for your garage floor. However, this is not a top recommendation because it does not create a structural surface. Asphalt is only as good as its constituent compacted material, making it prone to sinking and rusting. Additionally, it is made from bitumen, which makes it susceptive to petroleum and gas products, which can easily damage it.
If you're considering asphalt floors for your garage, this article covers everything you need to know from the cost, pros, cons, and even alternatives. Read on to learn more.
Ready for a Flooring Quiz?
Is Asphalt Good For Your Garage Floor?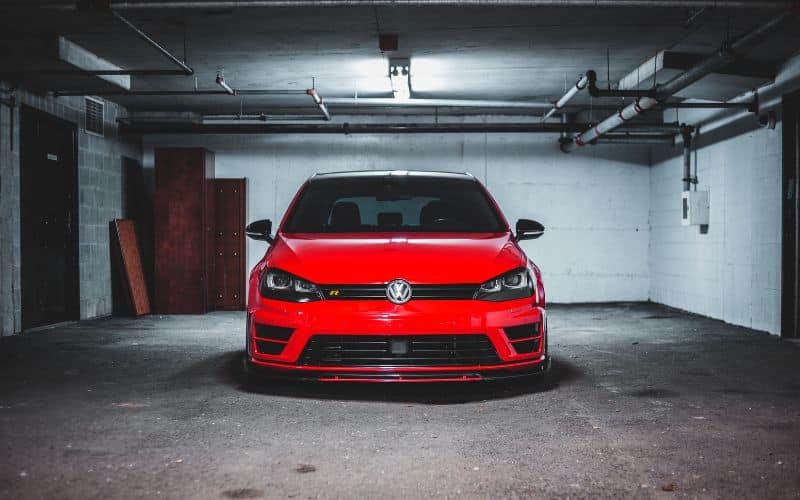 No, asphalt is not good for your garage floor for many reasons. First, asphalt does not do a great job of holding concentrated weight for a long time.
It soon begins to tear or crack, and this can eventually lead to a rut. Asphalt is remarkably sensitive to climate change.
It may experience expansion or reduction, leading to material decoration over time.
Additionally, asphalt absorbs liquid materials very easily. That could lead to tough oil stains and leave your garage looking dirty.
Currently, there aren't many color or shade options for asphalt flooring. Thus, this reduces the aesthetic options or preferences.
While asphalt is relatively easy to maintain, it requires frequent maintenance and resurfacing or sealing. Neglecting to do this could lead to bigger and more expensive complications.
When considering whether or not to use asphalt flooring, it is important to consider what options best suit you, considering your location and budget.
It would also be best to consult a professional near you to learn more about the details specific to your location.
Pros and Cons of Asphalt Garage Floors
It's difficult to have a change of heart once you fix your mind on something. However, looking at a prospect from all angles before venturing is wise.
For example, understanding the pros and cons of using asphalt for garage flooring can be key in helping you decide whether or not asphalt flooring is the best option for you.
#1. Pros of Asphalt Garage Flooring
Besides the aesthetic appeal and the sweet sound of your tires on an asphalt floor, there are many other advantages of asphalt on your garage floor.
Some of these include:
#1. Flexural Strength
Asphalt flooring has flexural strength. It thus can withstand various bends and warping before giving way.
Some flooring materials, like concrete, do not have this feature, giving asphalt a point ahead of certain flooring materials.
#2. Malleability
Asphalt is a malleable material by nature. Most driveways are made uneven, and you can easily lay down asphalt on such driveways because of their malleable nature.
Other materials, however, do not share the same malleable nature, at least not as much as asphalt, and may require more manpower and resources to overlay an uneven driveway.
#3. Reasonable Cost
Asphalt is generally cheaper for manufacturers and consumers. For this reason, it is a good investment for areas or garages that are not heavy-duty.
#4. Ease of Installation and Maintenance
Asphalt is the way to go when it comes to easy fixers. Because it is so flexible, it could easily be repaired with other materials or asphalt when it cracks.
As mentioned earlier, it is also cheap. So, repair and maintenance of asphalt is cheap as it is easy.
Additionally, asphalt cools down very easily. It would only take about 24 hours after installation before you can use it.
#2. Cons of Using Asphalt on Garage Floors
Although there are many benefits and advantages of using asphalt on garage floors, there are other disadvantages you cannot overlook.
Learning about these will help you make an informed choice or better prepare to take the necessary steps for improvement.
Below are some significant downsides of using asphalt flooring for garage floors:
#1. Low Load Capacity
Asphalt flooring cannot withstand a lot of concentrated weight load. That is why asphalt is used for less busy roads and local or rural roads with minimal weight.
#2. Temperature Effects
Asphalt does not do very well in high temperatures. It absorbs heat quickly and struggles to release that heat. This feature makes asphalt prone to damage.
In cold or low temperatures, asphalt begins to diminish and rut, which may cause deformation, eventually leading to cracks and tears.
#3. Higher Long-run Maintenance Cost
Asphalt requires regular maintenance. Over time, the cost of this maintenance could eventually add up, leaving asphalt on the high end.
Should You Finish Your Asphalt Garage Floor? Best Finish to Use
Whether or not you decide to finish your asphalt garage floor depends on your specific needs or preferences.
True, asphalt is a durable and aesthetically pleasing material material. For example, mastic asphalt can give you all you desire in functionality and aesthetics.
However, some other benefits come from finishing asphalt with other materials. It could be more durable, with a better, more personalized experience overall.
You can use epoxy floor coating to finish your asphalt garage floor. That is one of the best finishing materials for asphalts and tarmac to crown any professional work.
There are many others you can opt for, depending on your preferences.
However, when choosing a finish, always consider the estimated workload of your garage, your budget, and the condition of the asphalt for both new and already existing garage floors.
How Much Does an Asphalt Garage Floor Cost?
The estimated cost of the Asphalt floor is around $7-$13 per sqft. However, this depends on the type of asphalt that you decide to use.
Below is a table outlining the estimated amount for various types of asphalt.
| Asphalt Type | Estimated Cost per sqft ($) |
| --- | --- |
| Stamped Asphalt | 12-17 |
| Porous asphalt | 8-15 |
| Standard Asphalt | 7-13 |
| Resurfacing Asphalt | 1-3 |
While the above-listed prices are usually applicable when installing an asphalt garage floor, it is important to note that these prices can vary depending on other factors.
These factors could include:
#1. Labor Costs
Some countries have higher or lower labor costs than others, which largely influences the overall installation price.
#2. Cost of Materials
As with most things, fresh installation costs so much more than repairing or resurfacing it.
#3. Surface Area
Installation is almost always charged per square meter. As such, how large or small the area is also largely influences the total cost of the job.
Alternatives to Asphalt Garage Floors
If by now you want to consider other alternatives to Asphalt garage flooring, that's also a good idea.
So many options are available for grade flooring, leaving you happy with sustainable, durable garage flooring.
Here is a detailed list to help you make an informed choice:
#1. Concrete Flooring
Concrete flooring is known for its strength and resilience. It is available in various price ranges and, when polished, can look graceful and elegant.
Additionally, concrete floors are easy to clean and maintain. Moreover, finely finished concrete floors are also known for their stain resistance.
#2. Epoxy Flooring
If you have an already existing flooring, Epoxy is the way to go. It is a long-lasting top coat that can be used on any floor, from concrete to stone.
In fact, it increases the durability of your garage floor. Another interesting thing about Epoxy is that it comes in many attractive colors.
#3. Rubber Tile Flooring
These easy-to-install rubber tiles or flexible mats come in attractive colors and patterned interlocking ngs.
These tiles are available in the dimensions of 12×12 inches or 24×24 inches. They do not require a lot of maintenance, and they can be easily cleaned.
They do not struggle in adverse climatic conditions and can be installed on any floor.
#4. Vinyl Flooring
If you are looking for a flexible and comfortable tile option for your garage that requires very little maintenance and with comfortable cleaning agents, Vinyl tile is the way to go.
If you do not experience too much traffic or heavy pressure in your garage, this is a good option.
It is available in multiple color shades, which will undoubtedly enhance your garage's look.
#5. Stone Flooring
Here is another excellent garage flooring option. This type of flooring is, however, prone to climate change.
For example, during winter, stone flooring is extremely cold. Therefore, when considering this garage flooring option, do not forget to think about the weather in the place where you live.
Another important factor to consider is the cost since these floors are very expensive.
In conclusion, the durability of whatever garage flooring you choose depends on the material used and how well you can maintain it.