Building a shed roof can sometimes seem overwhelming when you consider all the work you must put in to make it an outstanding project.
One has to deal with the cost of materials, the possible design, and the thoughts of the outcome, whether or not it will meet the required standard.
A shed roof is a single-pitched roof covering, providing additional storage space. Shed roofs may seem smaller and more manageable. Consequently, what is the cheapest way to build a shed roof?
The cheapest way to build a shed roof is to do it yourself. This way, you will be able to save the cost of hiring contractors and also be able to choose cost-effective shed roofing materials. Generally, doing things yourself saves time and pushes your expertise in that area.
Ready for a Roofing Quiz?
What Is The Cheapest Roof To Build?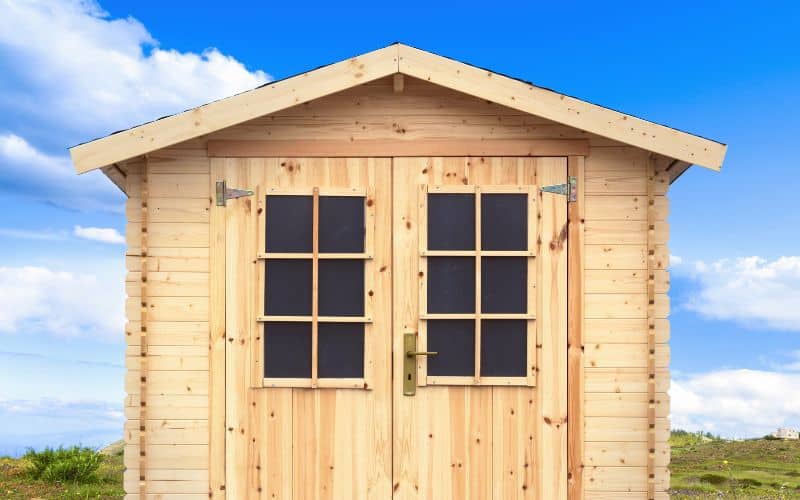 There are different roofing choices available, and sometimes it gets hard to decide which is the best and which will fit in more excellently on your property.
Ultimately the question of how much it will cost will always arise because even while trying to get the best roofing option, you also have to consider your budget as you are not trying to break the bank to get it.
So when you want to come out with good quality and a cheap budget, you must make choices while paying close attention.
Shed roofs are simple and affordable to build; the simplicity of shed roofs makes them easy and faster to install.
In addition, a shed roof will cut down the cost, as you use limited materials for this style compared to other roofing styles.
Shed roofs were prevalent in garages and garden sheds years ago, but shed roofs are now prevalent in residential homes.
Shed-style roofs are suitable for prefabricated homes in densely occupied neighborhoods.
When you consider a residential house, the gable style roofing with asphalt roofing shingles is probably one of the most inexpensive roofs you can build.
In addition, due to the strict approaches observed during the manufacturing of asphalt shingles, there are very durable and easy to maintain and repair.
Although, there are vulnerable to being damaged by ice and wind. In general, the roof cost is impacted by many factors, such as the cost of the materials, the design of your roof, and the cost of labor.
Paying attention to these factors can help you build as cheaply as possible.
What Is The Best Way To Roof A Shed For Cheap?
The best way to roof a shed for cheap is by doing it yourself. To build a storage shed, you must decide whether to get contractors or get the job done by yourself.
It is cheaper to roof your shed than when you hire the services of an expert to do it for you.
Getting an already made shed is quite expensive, and it is dependent on where and when you buy the shed.
You must also bear in mind that the material used in making the shed will affect the cost of the shed.
The level of hard work you are willing to put in will go a long way in determining how cheap you can roof your shed.
Shed roofs are cost-effective, and one of the most affordable roof design options is the low-pitched shed roof because of its plainness and versatility.
While looking at roofing your shed for cheap, you must consider how long you desire your shed to last. As such, you will be careful when selecting the materials for roofing, even with a cheap budget.
To roof a shed, you must choose the right shed roofing system. First, you must decide on the design and the kind of shed roofing materials that suits your design.
Generally, roll roofing is the cheapest shed material you can acquire, and it is also easy to install as it covers large areas rapidly by barely wrapping it out and stapling it down.
Use the best shed roof felt, as it does not only preserve the inside of your shed from water but also prolong the life of your shingles.
The basic idea of roofing your shed for cheap is to select shed roof materials that are inexpensive but durable and will serve your project.
Is Building Your Own Shed Cheaper?
Yes, building your shed is cheaper than getting a pre-built shed. When building your shed, you even get to build to your specifications.
Getting materials and building your shed from scratch to finish is very feasible, but first, you must make up your mind as it can be tasking and time-consuming.
Again, it requires you to have the needed tools, after which you research the type of shed you want to build and the materials you will need to construct your shed.
Although, getting a pre-built shed has its advantages, such as saving time, professional designs, no skill necessary, and a warranty.
While this sounds cool, getting a quality pre-built shed is expensive. And as such, opting for the option of building a shed yourself is okay, as it doesn't require any special equipment.
The first step is to decide on the design of your shed and then figure out the materials you will need.
Building your shed is not just cheaper but also has excellent advantages. Some of which include the following.
You have complete control over the quality of your shed. You get to pick the shape, size, and finishes, making it unique.
You go for cost-efficient materials, at the same time not compromising on the outcome of your shed.
You get personal satisfaction and, at the same time, become more knowledgeable while building your shed.
Build A Shed Roof For Under $500
Building a storage shed might appear challenging, as the expense and extra work might not seem beneficial.
However, labor costs form a considerable part of the overall cost of building a shed, and evaluating your strict budget, you simply can not pay enormous labor costs.
Consequently, if you plan to build a shed roof for $500, then the best way is to construct it yourself.
With this kind of budget, you are sure that most of the money, if not all, will go on the purchase of materials, meaning you are ultimately doing the whole labor.
Shed roofs exist in various shapes, sizes, and materials. Whatever the variations are, they have specific attributes in common, keeping the interiors dry and safe.
The shed roof style, its structural principles, and the type of shed roofing materials can vary.
Undoubtedly, some shed roof materials are more durable than others, so your option of a shed roof must entail its durability.
There are many factors to look out for when getting shed roof materials, as the roof of your shed is the first defense against horrible weather.
To select shed roof materials, you must consider the following:
The all-around ability of your shed material to cast off the water should be your primary concern. Go for products with seams that overlap, providing a continual outpouring for water to travel down. If you go for asphalt shingles, then be sure to use shed roof felt.
Look out for the durability of the shed roof material. Your plan is not to run repairs yearly after roofing your shed, so you must ensure to pick shed roof materials that will last. So, even with a tight budget, you must ensure to get materials that have been known over time to last.
Consider the cost of materials. Since sheds are usually small, no matter the cost of your desired material, you can always have your way around it, especially if you are running the labor yourself.
Also, the proper installation of these materials is of great importance. It won't only help in the proper maintenance of your shed but also add beauty to the appearance.
Inexpensive Roofing Ideas
One of the most vital components of a building is the roof, as it not only protects the homeowner from harm but also brings out the beauty of your home.
While roofing may often seem expensive, the market provides many options, especially if you are working on a safe budget.
You are looking at getting the best quality yet at a lower cost, which is attainable. You must note that a lower-pitched roof with a more simplified roof design will also help save money.
The idea is to get value for money spent, and you must consider your environment while choosing a roofing type.
Some products could be inexpensive when bought but need a lot of expenditure over time, leading to unanticipated future spending.
Other factors to consider before choosing a roofing type are affordability, maintenance level, and availability.
Also, while it is cost-saving to install a roof yourself, you must check your skill level because failure to install a roof right will instead cause damage to your materials and hence, more expenditure.
Roofing is costly when put in by professionals utilizing the latest materials. Although you can install a roof for less provided, you follow some crucial guidelines.
Some of the cheapest roofing materials to consider are Asphalt roofing shingles, metal roofs, clay, and concrete tiles, cedar shake shingles, and rolled roofing.
Some ways to roof a house for less include:
Choosing the suitable roofing materials for your home that suit your budget.
Simpling your roof design will go a long way to cutting costs.
Act as your contractor and consequently manage the roofing process.
Final Thoughts
Building a shed is not always expensive, especially when you build it yourself. Simply dealing with the excessive costs while designing and going for cheaper materials with good quality does the trick.