Duravana flooring is truly one of a kind. This amazing flooring option is a hybrid combination of vinyl, wood, and laminate.
The wood used for its production is of high quality and has superior treatment, contributing to its durability and water-resistant feature.
LL Flooring manufactures this hybrid wood exclusively with the expertise of creating the perfect plank.
This hybrid flooring is perfect for anyone seeking a high-quality water-resistant hardwood product.
I have carefully researched and analyzed the outstanding features of Duravana flooring. Several online reviews about the product have also provided insight into the product.
Therefore, we'll closely examine the qualities that make Duravana flooring outstanding. We'll also check out its price and worthiness.
Finally, we'll check out alternatives with qualities similar to Duravana flooring. So, keep reading to find out.
Ready for a Flooring Quiz?
Is Duravana Flooring Any Good?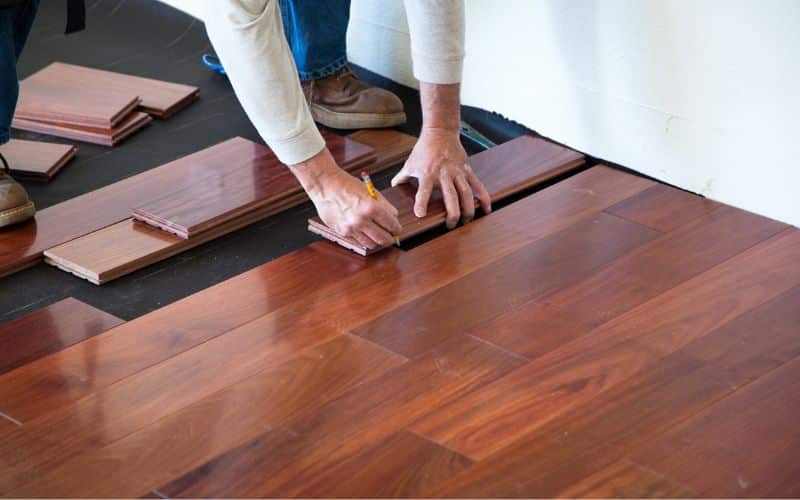 Duravana flooring possesses several qualities that make it the perfect flooring option. These qualities include its look, style, installation, and waterproof features.
In addition, some different variations and patterns make it interesting. You can't appreciate how good this flooring is without a detailed analysis.
Therefore, below is a detailed analysis of each characteristic that makes Duravana flooring a good product.
#1. Extreme Durability
Many people look forward to using the same flooring for years. A flooring that isn't durable enough to withstand wear and tear is no good.
Fortunately, Duravana flooring offers this quality. LL Flooring manufactures it to be resistant to extreme wear and tear.
This product lasts long, irrespective of its location in a building. Duravana might be the perfect choice for extremely resistant wood flooring.
#2. Environmental Friendly
Over time, converting wood to other products has put an alarming increase in deforestation. Most flooring brands go ahead to make products without considering this.
However, this is different for Duravana flooring because of its engineering. Firstly, this product isn't raw wood but a combination of wood with other materials.
Secondly, hardwood like oak and maple used to manufacture this flooring comes from certified Forest Stewardship Council (FSC) forests.
So, you can rest assured that the manufacturing company isn't contributing to deforestation.
In addition, the product is 100% PVC-free, which means it doesn't pose health risks like cancers and asthma.
#3. Appearance
Duravana flooring looks like hardwood, but the vinyl and laminate distinguish it. Nonetheless, the appearance is amazingly authentic.
It has 20 special plank patterns and 18 varieties to create unique designs. Its finishing is also unique, with two different options.
One group of eleven has the wire brush treatment, which gives it a distinct look. The other group of seven features an authentic graining, also known as Embossed In Register (EIR).
This graining technique has given the flooring the appearance and texture of real wood grain.
Although the entire variety may only be cherry, oak, and maple, the shades contribute to the distinct patterns.
This feature makes Duravana the perfect flooring that will never go out of fashion.
#4. Variations
As aforementioned, there are several available variations of Duravana flooring. This contributes to its diversity for any style, budget, or size.
Unlike other flooring types that do not offer versatility, this product allows you to choose your preference.
You can choose whichever shade, size, and texture suits your style and purpose.
#5. Stylish Designs
Another quality that makes Duravana flooring a good choice is its balance between style and purpose.
The designs are perfect for creating the exceptional style you want. All you have to do is choose from various shades, colors, and wood options.
The aesthetic of this flooring mixes the quality of traditional hardwood with the perfection of vinyl and laminate.
#6. Waterproof
To consider a good flooring option, it must have some level of waterproofing. It makes no sense if the flooring warps and swells underneath due to moisture.
This could lead to the growth of mold and mildew in the long run. The manufacturers of Duravana flooring have put this into consideration while designing it.
The product has dual-defense waterproof technology to keep moisture out.
In addition, it has an anti-lock mechanism to prevent moisture from damaging the subfloor. This keeps the integrity of the floor intact for years.
#7. Easy Installation
Another feature that makes Duravana a good option is the ease of installing it. The flooring attaches to the subfloor immediately with a click mechanism.
Additionally, the attached padding dampens sound, so you won't need to install any underlayment.
This product is convenient for anyone intending to DIY their flooring project. After installation, be rest assured that everything will turn out fine.
All you have to do is to ensure you go through the installation instructions and install it accordingly.
How Much Does Duravana Flooring Cost?
Duravana is a hardwood flooring; any hardwood product is always costlier than other standard options.
Like every other hardwood, the price of this product is high compared to its alternatives. Its price and installation cost makes it unaffordable for many customers.
Majorly, Duravana flooring comes in two different price ranges. While one is less costly than the other, they both fall under the expensive category.
Some varieties cost around $4.49 per square foot; others cost $3.89 per square foot.
Compiling the total installation cost and adequate flooring for your project will affect your budget.
Fortunately, its warranty covers a greater part of its lifespan. It has an awesome 25-year light commercial warranty.
This is enough assurance that it is worth the hype and price tag placed on it.
However, you should note that only LL Flooring exclusively sells it. Buying from them will also make you access available offers and Promotions.
Is Duravana Flooring Worth it?
Yes, Duravana flooring is worth every penny you put into it. It assures longevity due to its watertight seal and high resistance against wear.
One advantage the waterproof feature adds to the flooring is its multipurpose use. You can install it in kitchens, bathrooms, laundry rooms, and water-prone areas.
Furthermore, it has a dent resistance that makes it pet-proof and kid-proof. Rest assured that it withstands any play from kids and pests.
You don't have to worry about installing it in high-traffic and high-use rooms. In addition, it is heat resistant and doesn't react during fluctuating temperatures.
One testament to its worth is the warranty duration on it. The manufacturers are sure of their product and expect high performance from it.
Although Duravana flooring is good quality and easy to install, it is advisable to let a professional do it. That way, you'll get the best of the product.
Should I Get Duravana Flooring?: Pros and Cons
Buying Duravana flooring is going to be one of your best decisions. Although expensive, it delivers quality and style.
Most people would prefer long-lasting, high-quality hybrid flooring like this. It saves them from spending extra to change a low-quality one multiple times.
While this flooring has several advantages, consider its drawbacks before buying it. However, the benefits are greater than the disadvantages.
That said, the table below outlines the pros and cons of Duravana flooring.
| Pros | Cons |
| --- | --- |
| Attractive appearance and wood planks | The flooring often has little chips here and there |
| It adds comfort to the underfoot | It is expensive |
| It is perfect for multi-use | You can't refinish the plank to repair damages |
| It is easy to clean with a mop and water | Difficult to install without proper instructions |
| The flooring has an outstanding wear resistance | It looks like solid hardwood flooring but doesn't have the texture |
| You can easily replace any damaged plank | |
| It is ready to install straight out of the box | |
| It has an unbeatable waterproof quality | |
| It contains no PVC, which makes it Eco-friendly | |
Three Alternatives to Duravana Flooring
Duravana flooring is a top choice, and many flooring experts will approve of its quality. It is easily accessible and easy to install.
However, you may be unable to access it in some situations. Also, many people can't afford this product but want something similar.
When this happens, the best decision is to go for alternatives. Therefore, we will carefully analyze the alternatives to Duravana flooring.
Here are the available alternatives:
#1. Vinyl Flooring
Like Duravana, Vinyl flooring is also waterproof. It gives your flooring adequate protection against moisture.
In addition, it has finishes identical to wood and stone. It also comes in many patterns to choose whichever you want.
Vinyl flooring is kid- and pet-proof; it stays in perfect condition irrespective of the mess made on it. It has a protective wear layer that helps reduce dents and scratches.
However, you may need to pay more to get it than you would for standard flooring. It isn't as expensive as Duravana, but it is also pricey.
Additionally, there are different brands of Vinyl flooring. So, it is best to consider the quality of the brand you intend to purchase.
Vinyl's increased durability and water-resistant features make it a close alternative to Duravana flooring. It is best to consider purchasing it.
#2. Waterproof Laminate
As you already know, laminate is one of the materials used to manufacture Duravana flooring. However, waterproof laminate floors are also good alternatives.
It has a watertight locking mechanism similar to that of Duravana. This mechanism retains water on the surface instead of absorbing it into the floor.
It is a perfect choice for bathrooms, laundry rooms, and kitchens. Fortunately, this floor is easy to clean up.
One feature that makes waterproof laminate floors stand out is their natural hardwood appearance.
They also come in various natural colors, textures, and grains. This characteristic makes them a timeless aesthetic to the building.
These variations allow you to create unique interesting patterns. You will never get tired of the appearance it offers.
Finally, Waterproof laminates are easily accessible, and you can purchase them here.
#3. Tile Flooring
This flooring is another perfect alternative because of its durability and waterproof feature. Tile floors can withstand stains, scratches, and friction.
It is perfect for kitchens, bathrooms, and outdoor areas exposed to more water. In case you are wondering about its appearance, various tile designs exist.
You can easily select one with wood-inspired looks as an alternative to Duravana flooring. So, you can use it where wood floorings are impractical.