Ruggable is a popularly known brand for – you guessed it – rugs. Ruggable carpets and rugs are not the regular floor covers you find online or in antique vintage stores.
They are the perfect combination of traditionally loved, bespoke designs and fulfillment of the needs of a contemporary household.
Ruggable is the ultimate choice for homeowners who want to cozy up their living space with gorgeous rug designs aesthetically but don't want to compromise on hygiene and cleanliness.
So the best part about Ruggable? It is "The Wonderful Washable Rug." Yes, Ruggable has a fantastic range of rugs, carpets, and runners, all of which have this quality.
They are lightweight pieces for easy placement, while the rug is water and stain-resistant.
And even if you do happen to get a stain on it, thanks to children or pets (or even some clumsy adults), you can simply chuck it in your washing machine, and Voila! The rug would come out looking as good as new.
Ready for a Flooring Quiz?
So Is Ruggable A Great Option for Hardwood Floors?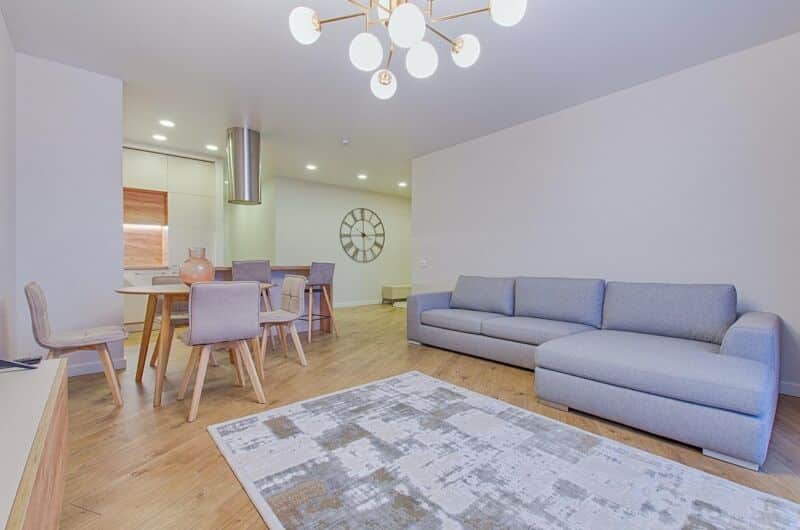 A few years back, Ruggable became the talk of the town with their range of rugs and carpets. The part where they stated that their products are machine wash safe is what attracted the most clientele they have maintained since then.
However, some people disproved the rugs because they were on the pricier side and were not useful for laminated surfaces.
That was the case initially. However, once Ruggable learned this was the one specific issue clients were having, they came up with Rug Pads.
Rug Pads are their design innovation, where they have created "latex-free thermoplastic rubbers" to make their rugs and carpets better suited to all types of flooring surfaces.
The now coveted Nonslip Rug Pad is their signature add-on that all customers add to their purchase to make the carpets grip the flooring.
So to answer if Ruggable is an excellent option for hardwood floors in terms of safety? The answer is YES. The Rug Pads have made the rugs profoundly safe and better for floor grip usually found in yoga mats.
5 Amazing Reasons Why Ruggable Is Meant For Your Hardwood Flooring
Here are the top five excellent reasons we find Ruggable the safest and most suitable option for your hardwood floors:
1) Easy Wash
The best part about Ruggable that makes them an excellent choice for people, especially with family, kids, and pets, is that it is machine washable.
That is, of course, even though Ruggable claims their pieces are stain and water-resistant.
But considering that if you have had the rug for quite some time and want to wash it for hygiene purposes, you can very well wash it in your home's washing machine and dry it out in the drier.
It would come out looking fresh and clean.
2) Nonslip Rubber Pads
One of the most common issues with placing rugs on laminated flooring types like hardwood is that the rugs slip and create a dangerous hazard for the users.
This is, in fact, the major safety concern that needs to be avoided. So Ruggable has its own rubber pads made of latex-free material found under yoga mats to grip the floors.
The rug doesn't stick to the floor but grips the surface, making it slip-resistant instantly.
3) Non Damaging Material
Hardwood flooring is not a cheap flooring option. Not only is it high-end and fancy, but it also takes a lot of effort to maintain.
So naturally, the users want something that doesn't damage their flooring by causing scratches or compromising the shine.
Ruggable is an excellent option in this case as their carpets and rugs are made of non-damaging material for all surfaces, let alone hardwood flooring.
Related: How To Measure Floor Deflection!
4) High-quality Rugs
If your priority is to keep your hardwood floor looking pristine and safe to walk around, then Ruggable is definitely worth the investment.
It is not a one-time purchase but a highly durable, superior-quality product that you will be getting for your home.
It will last a lifetime despite numerous washes, moving, renovations, etc. Ruggable might be on the pricier side, but the price is worth it and easily pays off once you realize how long-lasting it will be.
5) Amazing Design Range
Lastly, not everyone gets rugs for floor protection or covering. People like you and me want our homes to look aesthetically pleasing and inviting.
It isn't practical to get something so fancy that you don't even use it or so cheap that you have to replace it every few years.
Ruggable rugs are the perfect middle point with their quality and design options. From sizes to patterns and colors, even their website UI is maintained in a way that you can conduct searches for exactly what you have in mind.
Bottom Line
So if you have been wondering if Ruggable is the brand I should choose for my hardwood floors, you can select Ruggables for almost any type of flooring.
The high-quality rugs, along with slip-resistant padding, make for the perfect combination of floor covering to get for your home. In addition, you get a fantastic range of designs to choose from.
So the final verdict from my side is: GO FOR IT!