When you want increased insulation, prevent the rise of dust from your house's subfloor, and prevent the squeaks you make, you undoubtedly would like to go for the best flooring material.
And you may be wondering what that would be?
As this article progresses, I would do well to discuss if it is or is not possible to use felt paper for under hardwood flooring. Read more to know if Roofing Felt Be Used Under Laminate Flooring?
We will also see how thick the underlayment should be and the pros and cons of using felt paper hardwood flooring.
So please, remain poised as you go through these articles in expectation of the answers to your questions.
Roofing felt can be used under hardwood flooring; although it contains bituminous materials, it is comfortable and safe. Roofing felt is coated with vapor shields and is a water-resistant material that also lacks squeaks. And unlike roofing paper that makes use of tar, roofing felt makes use of just asphalt mixes.
Ready for a Roofing Quiz?
Can You Use Roofing Paper Under Hardwood Flooring?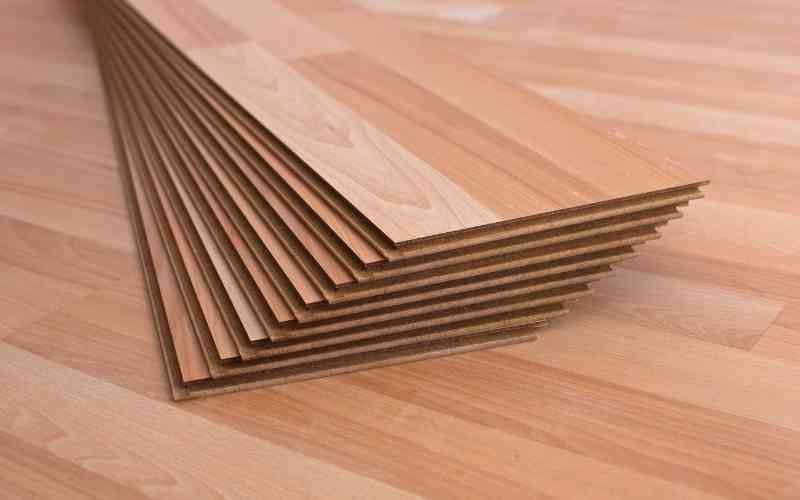 Roofing paper should not be used for under hardwood flooring by you.
As a result, its tar and bituminous compositions would begin to release a foul odor and may become toxic to you and your family members living in the house.
In addition, the fumes can cause cough, skin rash, headache, throat and eye irritation, and even cancer.
To understand the difference between roofing paper and roofing felt, we must first clear all the misconceptions that many people have long associated with it.
This means will have to discuss what sets them apart from each other, even though there are all generally called roofing paper. And their names are often used as synonyms for each other.
Roofing paper is also known as tar paper, and it is instrumental in construction as heavy-duty paper.
To form tar paper, you must impregnate a fiberglass mat or paper with tar. In contrast, roofing felt is impregnated with asphalt rather than tar.
Tar paper is not as standard in use as paper roofing felt when the aspect of waterproofing. Tar paper on its own is not resistant to wind and sun, and this is why it is often in use as roof underlayment with other materials.
These materials are shake, shingles, asphalt, and wood.
Roofing felt is the base material for manufacturing roof shingles and roll roofing. In addition, it is often used beneath other building materials as an underlayment in roofing, flooring, and siding material.
What is the Recommended Underlayment For Hardwood Flooring?
Consider different underlayments depending on the type and nature of the hardwood you are dealing with for your house. I will be discussing the four best for all hardwood that you could come across.
And so, you think about the underlayment option and hardwood species to purchase.
Underlayment Options
When going for an underlayment option, you will discover that the materials are of different ranges and thicknesses. So only your type of hardwood will determine what you will purchase.
Below are the best options:
#1. Felt:
Apart from being the most commonly used, felt is often the simplest type of underlayment. It plays a significant role in sound absorption and paper moisture barrier.
You can apply it to the subfloor with an adhesive, but some come with an adhesive.
#2. Rubber:
This is the best and most remarkable when it comes to the aspect of sound insulation; it quickly absorbs noise and disturbances. Rubber's pliability and flexibility also grade it as one of the easiest to install.
#3. Foam:
Apart from being one of the most affordable to purchase, it falls among the easiest to install. It is excellent when providing sound insulation, making it one of the ideal options to go for when aiming to limit hollow noises.
#4. Cork:
This material does pretty well in sound absorption and temperature insulation. It is an eco-friendly underlayment since its construction is from a natural material.
Hardwood Species
Not any hardwood species can you buy to floor your house. If you already have an underlayment material you intend to use, you must be careful about what hardwood to buy.
Below are the most familiar floor species there are:
#1. Oak:
Among the hardwoods used for flooring, Oak is seen mainly on the softer side, whether white or red. It gives the intended insulation and absorption capabilities when paired with rubber underlayment.
#2. Cherry:
It is also one of the softest hardwoods you would encounter, with its warm and cozy hues. When underlay with cork or rubber, it gives Cherry the padding and support it needs.
#3. Walnut:
It is also one of the softest hardwood for flooring, although at face value. It would be best to pair it with cork for support and durability.
#4. Hickory:
This hardwood is one of the hardest and most durable woods used for flooring. It pairs well with a flexible foam underlayment.
#5. Maple:
Like Hickory, it is one of the hardest wood used for flooring. It is often paired with rubber and foam underlayment because the insulation and support are given best in moderation.
Do Solid Hardwood Floors Need Underlayment?
I can not say that it is a particular or must-needed factor when flooring the house. But because hardwood floors are naturally hard on the feet, the underlayment beneath gives comfort to the feet.
Also, this underlayment provides a moisture barrier that protects your floor and saves you money.
Note that a hardwood floor without underlayment will be a squeaky, creaky, and uncomfortable floor. But in a worst-case scenario, water may cause damage to the subfloor and then even the lower floor ceilings with time.
And not to mention that a hardwood without underlayment becomes unreliable as it ages.
Nevertheless, there are situations where you can lay hardwood on existing ones. For example, there are situations in which you may have installed your floor in a way that makes it unsafe to remove.
In such a situation, the existing hardwood becomes the subfloor for the new one.
Then the next thing to do is to check carefully and ensure that the new and existing hardwood floor has no structural problems.
But before doing this, ensure that nails do not hold the older floor in your house because if it is held in place by glue, it will be best to remove the older floor.
How Thick is the Underlayment of Hardwood Floors?
Going down below the top floor layer is the underlayment. It would have a filling of padding materials with about ¼ to ½ inch thickness or a 2 to 3mm thickness.
Although, most people say that a 6mm thickness offers double what the 3mm offers in terms of sound absorption and temperature insulation.
But that is not true because factors such as type of material and density also affect sound absorption and temperature insulation.
Related: How To Measure Floor Deflection!
Pros and Cons of Using Roofing Felt for Hardwood Flooring
The main advantages of roofing felt are that:
it is cheaper, and it tends to be more affordable when compared to other synthetic ones. So if your budget restricts you, then roofing felt is your best option.
It provides underfoot comfort.
It offers protection from moisture.
Also, give structural support to your home and floor
The only disadvantage of felt is that it does not last more than thirty years, just like rubber.
Also read: 5 Reasons to Use Roofing Felt Under Vinyl Plank Flooring
Final Thoughts
I know that from this article, you have come to see the roof in felt can be used under hardwood flooring, whereas roofing paper can not.
This article has also helped you to see that felt, foam, rubber, and cork are the best-recommended options depending on your hardwood.
And finally, we've seen that your underlayment should have a thickness of 2 to 3mm.