If the ceiling tiles in your home are dull and uninspiring, you can cover them up to give them a more sophisticated look. There are some options you can explore.
However, many homeowners are confused about using drywall for their ceiling tiles. Fortunately, I'll be clarifying that.
You can use drywall and paint on your ceilings to get a more customized look. Drywall is also very durable and inexpensive. Some materials you'll need to install drywall include; a ladder, a marker, a Tape measure, Drywall saw Dust mask, etc.
Drywall is a common material for ceiling tiles. If you want to know how to install drywall and how much it will cost, keep reading.
How to Use Drywall For Ceiling Tiles?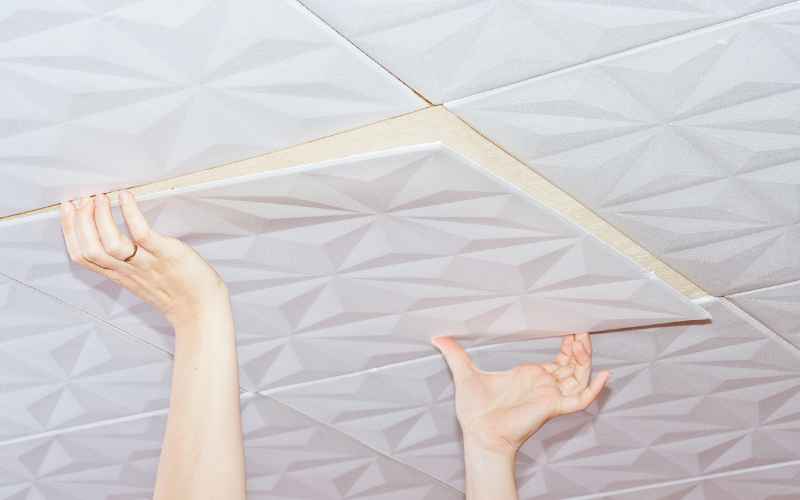 Most homeowners prefer drywall to other ceiling tiles because drywall is good to look at and costs less. Drywall installation is a straightforward process.
You'll need the following materials to install drywall.
A ladder
A marker
Tape measure
Drywall saw
Dust mask
Goggles
When you have all your tools together, you can begin following these steps:
Climb the ladder, place a stud finger on the ceiling, and use a marker to mark the position of the joists.
Use a tape measure to find out the length and breadth of the ceiling. If the floor is the same as the ceiling, you can measure the floor instead.
You can use the above information to figure out how many sheets of drywall you'll need for the project. Usually, drywall sheets are four by 8 feet, which will help figure it out.
Get your drywall panels and cut them up to cover the ceiling space completely. You can use a drywall saw if you have to.
Hold the sheets against the ceiling and use a screw gun to drive the screws into the joists. You may need someone to hold up the drywall while you fasten the panel against the ceiling.
Put some tape on each joint where the drywall panels join, then use a putty knife to spread the joint compound on top of the tape.
Let the compound overlap the tape on both sides.
Sand over the joint compound with fine-grit sandpaper until it is smooth and level with the drywall. Wear your dust mask and goggles before you begin.
Apply some primer to the drywall with a roller and let the primer dry for three hours. Afterward, apply a coat of paint and wait for four hours.
After the first coat is dry, you can apply a second coat of paint and wait for it to dry. That's all about applying drywall to the ceiling.
Are Drywall Ceiling Tiles Fashionable?
Drywall ceiling tiles are fashionable, and most people consider them more aesthetically pleasing despite all the other hassles that come with the installation.
The lovely smooth appearance of drywall ceilings is a pleasing aesthetic; the ceiling blends into the room and makes everything easy on the eyes.
With drywall, the other prominent features of the room can catch the eye more easily. It's simple, elegant, and classic.
With drywall, you can put a fresh coat of paint over the ceiling tiles after you install them. Drywall is a good option for people who prefer a more traditional-looking ceiling finish.
Also, you can easily repaint your drywall ceiling if the old finish gets dirty or you want a change. And if you have visual focus elsewhere in the room, drywall is your best option.
Drywall ceilings are easy, neutral, and just relaxing. They're also straightforward to clean if you paint them with washable paint.
In addition to being more fashionable and aesthetically pleasing, drywall tiles are less expensive than other options like drop ceilings.
Although drywall ceilings are beautiful to look at, and they are significantly less expensive, there are several other reasons why people prefer to install dropped ceilings than drywall ceilings.
Drywall is messier than dropped ceilings and others you might choose to install.
Drywall ceilings may add beauty to your home, but they are also cumbersome and bulky.
Because of the weight of drywall, you'll need at least two people to install drywall ceilings. One person will need help to lift the drywall and hold it in place to be installed.
Installing drywall ceilings is very dusty and gets dust all over the place, so you'll have to do an extensive cleanup after installing it.
In addition to the cleanup, you still need to sand and paint drywall before getting anything beautiful out of it.
Drywall ceilings do not reduce noise levels or control any sound.
Will Drywall Ceiling Tiles Last?
Drywall ceiling tiles last for a very long time. The average lifespan of drywall ceiling tiles is 30 years.
However, some drywall ceiling tiles can last up to 50 years if the conditions in the home are ideal.
Drywall can last for decades; however, damage from water, termites, or hard usage can cause ceiling tiles to deteriorate faster.
Be that as it may, you can replace the drywall in sections, which means you won't have to completely replace the drywall at a time.
Most contractors prefer to use drywall because it lasts longer and looks better, but some conditions can significantly reduce the lifespan of the drywall ceiling tiles.
#1. Moisture
Normal moisture levels won't damage drywall; you can sprinkle water on a rag to clean your drywall without any adverse effects.
However, the paper component in drywall absorbs water which means that any severe exposure to moisture can damage the ceiling tiles.
If leaks are in the roof or the plumbing, the drywall will peel, sag, and swell. Eventually, the boards may begin to fall off.
#2. Damage from Termites
Termites eat wood and paper, including the paper in your drywall ceiling tiles. So, you will notice drywall damage if you have termites in your home.
If you notice little holes in the ceiling, termite waste, and tube-like structures on the ceiling, that could mean termite activity.
#3. Reasonable Wear and Tear
Wear and tear are inevitable, it happens slowly, but with time you'll begin to notice holes and dents in the ceiling. Over time the damage will become visible.
You can choose to replace only the affected sheets, but you can also decide to change everything based on the level of damage.
In addition to the long-lasting nature of drywall ceiling tiles, it also has their pros and cons.
| Pros | Cons |
| --- | --- |
| Drywall tiles are fire resistant | Susceptible to water damage |
| It's easy to find a contractor for the installation | They're difficult to install |
| They're less expensive | You can't install it in showers and restrooms |
How Much Does it Cost to Install Drywall Ceiling Tiles?
You can install drywall ceiling tiles yourself, but if you want a professional to install them, you'll have to pay the installation cost.
The average cost of hanging drywall is $0.15-$0.65 per sqft. A professional will also charge $0.40-$0.70 for taping and mudding after the professionals have hung the drywall.
In addition, sanding and priming will cost $0.10-$0.50. Finally, drywall finishing usually costs $0.50-$1 per square foot.
That means installing and finishing drywall can range from $1.15 to $3 per square foot. 
Drywall costs between $12-$20 per panel. The average price for a drywall panel is $15.
If you want to determine how much it will cost to install drywall tiles, here's how you can go about it.
Measure the width by the height of the portion of the roof that you want to drywall. That will give you the square footage of the area.
If you're using 4-by-8-foot sheets, divide the initial square footage by 32, but if you're using 4-by-12 feet drywall, divide the initial square footage by 48.
Add the cost of drywall tape, half a gallon of a ready-mix compound, and drywall screws.
If you want to install drywall in a 12ft by 12ft room, the materials you need will cost between $250-$350.
The overall costs may be higher because of waste, corners, and the thickness of the panels. In addition, a panel may break, making it useless, and so on.
Finally, paying professionals will also increase the overall cost of installation. However, if you decide to install the drywall yourself, you'll save money on installation costs.