Engineered hardwood vs. LVP is a raging debate among flooring enthusiasts. While the former has been a popular flooring choice, the latter has recently taken the world by storm.
Engineered hardwood and LVP have distinct benefits, but which should you choose for your floors?
This blog post will cover the distinct benefits to help you make an informed decision!
Engineered Hardwood vs. LVP – How to Choose Between the Two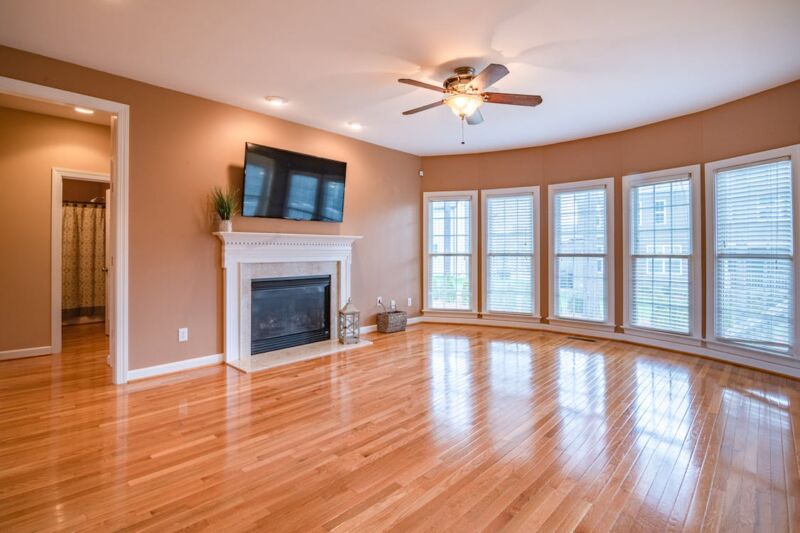 Choosing between Engineered hardwood vs. LVP can be challenging. LVP is water-resistant and easy to maintain, but it can peel and isn't as unique as hardwood.
Engineered hardwood is unique and is the closest flooring to real hardwood, but it's also comparatively expensive and can be scratched.
What Is Engineered Hardwood?
As the name suggests, engineered hardwood is wood engineered to produce flooring planks. It consists of layers of thinly milled wood pressed and glued together.
These layers consist of the top layer, also known as the wear layer, made of real wood. It's the same as a solid hardwood surface.
The layers below the top one also consist of wood and are milled to serve a functional purpose.
The layering enables engineered hardwood to offer better moisture resistance than solid hardwood.
It also enables the word plans to expand and contract based on the weather, which prevents the floor from checking and cracking.
Engineered hardwood is less expensive than hardwood floors, but it doesn't last as long as hardwood.
What Is LVP?
LVP, or luxury vinyl plank, is a highly popular alternative to actual and engineered hardwood floors.
The core layer in these planks is made of 100% vinyl, stone plastic composite, or wood-plastic composite.
LVP is durable, 100% waterproof, and affordable. It's well-suited for various commercial and residential applications. It also has an easy installation process and is relatively easier to maintain.
When installed properly, luxury vinyl planks can offer real hardwood's appearance, texture, and warmth. It is slip-resistant and does not dent, scratch, buckle, or warp.
Engineered Hardwood vs. LVP – a Comprehensive Comparison
Here are some factors to consider when choosing between engineered hardwood vs. LVP:
#1. Installation
#1. Engineered Hardwood
Engineered hardwood has multi-thin layers of resin and condensed wood, topped with layers of natural hardwood.
It's better at moisture retention, so you can install it in the basement and other humidity-prone areas.
It can also be installed on various floorings, such as concrete, real hardwood, linoleum, tile, etc. However, the existing flooring should be level.
Engineered hardwood planks are fixed into place via grooves on either side of the plank. Since they are not fastened underneath, engineered planks make a floating floor.
#2. Luxury Vinyl Planks
LVP is easy to install, and you don't need a leveled floor. However, the surface needs to be immaculate before installation.
You can install luxury vinyl planks on wood, concrete, and other floorings.
Luxury vinyl planks come with sticky backs that can be glued to the floor surface.
The material is moisture-resistant, so you can install LVP in humid rooms like the bathroom, basement, and kitchen.
#2. Cost
#1. Engineered Hardwood
Engineered hardwood is affordable compared to actual hardwood flooring. However, its price depends on the wood type and the planks' quality.
The planks with a larger wear layer are typically more durable, but they also cost more since wood takes time to grow and stain.
#2. Luxury Vinyl Planks
On the other hand, luxury vinyl planks are less expensive than premium engineered hardwood.
#3. Durability & Maintenance
#1. Engineered Hardwood
While engineered hardwood is fairly durable, you must not use water to clean this flooring.
Even though it offers some degree of moisture-resistant, consistent exposure to water will warp the wood over time.
Additionally, engineered hardwood will never peel, but it is less resistant to scratches. You must use a wood flooring cleaner to remove debris and dust to maintain your flooring.
#2. Luxury Vinyl Planks
LVP is highly resistant to scratches, but its upper layer can peel. It is comparatively easier to maintain and offers flawless moisture resistance.
#4. Design
#1. Engineered Hardwood
Engineered hardwood comes in many styles and designs, including traditional planks, custom designs, and multi-tonal hues. Some specific designs, such as extra wide planks, are only available when you buy engineered hardwood.
#2. Luxury Vinyl Planks
Thanks to technological advancement, the difference between luxury vinyl flooring and hardwood floors is barely noticeable.
Due to the advancements in the field of digital photography, the printed top layer of LVP can mimic the appearance of natural wood with textures. It makes the vinyl surface look like it's solid hardwood.
#5. Water-Resistance
#1. Engineered Hardwood
Engineered hardwood isn't waterproof, but top-quality planks can withstand humidity and moisture. That said, continued exposure to water will stain the engineered hardwood surface.
#2. Luxury Vinyl Planks
On the flip side, luxurious vinyl plans are 100% waterproof, making them ideal for high-humidity places.
#6. Underfoot Sound
#1. Engineered Hardwood
Engineered hardwood planks can sound slightly hollow when you move on them because of the floating flooring.
However, if you staple the planks to the floor below, you can eliminate the hollowness.
On the other hand, premium engineered hardwood planks are solid and reduce the underfoot sound quite a bit.
#2. Luxury Vinyl Planks
Luxury vinyl planks are sound-absorbent; you can expect lighter and more muffled footsteps when walking on LVP floors.
Engineered Hardwood vs. LVP – The Bottom Line
Still confused between engineered hardwood vs. LVP? The former offers durability and uniqueness as the hardwood planks are unique.
The latter is easy to take care of, resistant to water damage, and easily replaceable.
LVP also costs less, but it does not offer the uniqueness of hardwood. When using LVP flooring, you will have a repeat of patterns every 6 to 12 planks.
On the other hand, even engineered hardwood planks have a distinct finish, making each plank unique in appearance.
Ultimately, your chosen material will depend on your distinct needs and aesthetic preferences!