Are you planning on going into the roofing business and wondering if you'll make as much as you expect?
Are you already a roofing company owner but not making so much money and wondering how you can make your business more profitable?
You've come to the right spot as I've written this guide to answer all your questions about a roofing company's profitability.
The answer to how much roofing company owners make isn't streamlined because different factors affect that. First, the kind of industry these roofers own is important because it'll greatly determine how much they make. Also, the geographic location of the roofing company will help determine how lucrative the business gets.
Ready for a Roofing Quiz?
Is a Roofing Company Profitable?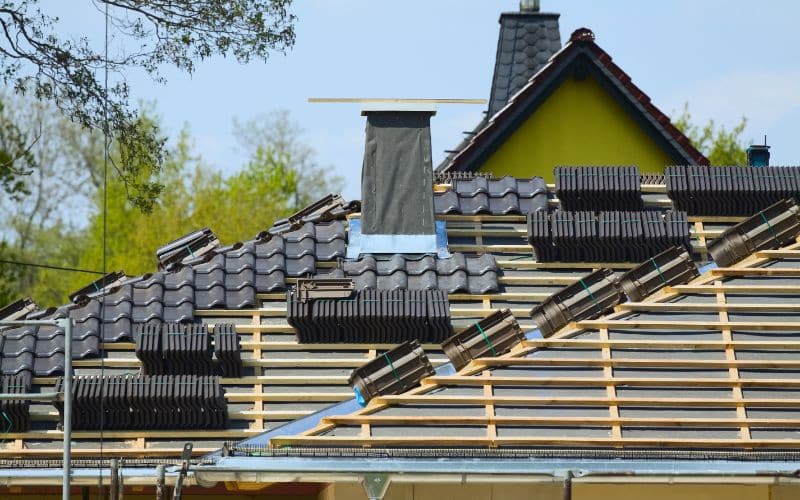 The roofing business can never go out of business and is highly profitable. However, the profitability of your roofing company, if you already have one, solely depends on you.
It depends on your mindset, your goals, and ambition, as well as the business tools you have available for the roofing business.
Also, the type of team you have working for you is very important because it determines how you attend and please your customers.
If you have the right team, your customers won't only give you good reviews, but they'd also recommend you to others.
And that adds up because you need publicity to grow your roofing business. Hence, aside from your drive and ambition as the owner, focus on building a good team.
So as long as you have all those factors in check, nothing can stop you; you'll make as much money as you want from your roofing company.
To make your roofing company profitable, you'll have to know how to engage your customers. Good communication skills are important in this business because you'll need to sell what you have.
Strive to be on top of the game because competitors rise every day, and the question will be, what makes you different?
Your resilience, hard work, mindset, drive, sales skills, and team strength will determine how much you make in the roofing business.
Another thing that'll help you go very fast and make money easily is learning to lean on technology.
Gradually, the traditional way of roofing is going out of business, bringing the use of technology into the limelight.
This table summarizes the average annual roofing company earnings by percentages and annual earnings in some US states.
| Annual Earnings by Percentage | Annual Earnings in US states |
| --- | --- |
| 23% of roofing companies make close to $50,000 yearly. | Texas makes about $72,000 from roofing companies yearly. |
| 24% of roofing companies generate between $100,000 to $200,000 yearly. | Florida generates an average of $100,000 per annum from its roofing companies. |
| About 40% of roofing companies make up to $50,000 to $100,000 yearly. | |
How Do You Make Money from a Roofing Company?
Making money from your roofing business is easy if you know your way around things. First, you must have the mindset of wanting to do and earn more.
Hence I'll show you simple and easy steps to boost the revenue of your roofing company.
#1. Sell According to Worth
Don't sell your products too cheap; if you devalue your products by selling too cheap, you won't be making any money but rather losing.
You know the quality of the roofs you sell and the certification your workers have; build on that and sell your products to meet the standard of the roofs you make.
If your roofing standard is low, you'll need to charge low; however, if you make quality, standard, and durable roofs, please charge accordingly.
The important thing is that people want to know that what they're paying you for is original and won't disappoint them. So if you have that in check, nothing should stop you from making money.
#2. Change Your Method of Advertisement
If you're still using the traditional method of advertising your products, there's a high chance that you're spending a lot doing that.
It's high time you change that and go into the digital path. Technology makes life easier at very little cost.
With social media, you'll reach a larger targeted audience while spending very few dollars.
Social media is the cheapest and most effective method of advertising your business while saving some dollars.
#3. Take Advantage of Your Vendors
You can reduce spending on insurance by negotiating with them to exchange services at lower prices. That'd go a long way in saving some costs.
#4. Take Your Efficiency to Another Level
Boost your company's efficiency and see how much time and resources it saves. A simple example of how you can do that is using technology for data entry.
Manual data entry is prone to errors, and it's tasking to do; If you change to the use of technology, you'll be saving a lot.
#5. Search Niche Markets
Look for niches and make products to fit into those niches. That's one way to make money fast in the roofing company.
Because the roofing competitors are increasing daily, you can try creating a difference. For example, you can develop a unique and different roofing style from what's available.
That'd attract consumers your way, helping you make more money. Also, you can decide to provide additional services involving windows, gutters, and others to distinguish you from the lot.
#6. Good Customer Service
Good customer service is important to keep your consumers coming and attract new ones. If you treat people nicely, they'll not just want to return but recommend your business to others.
And by now, you already know the importance of publicity to your roofing company.
Related: What Certificates Do Roofers Need?
How Can Roofing Companies Improve Growth?
It can be frustrating when you look around and see that other roofing businesses are growing, but yours isn't.
You may wonder what you're doing wrong or not doing right. Well, in this section, I'll get you through ways you can grow your business.
#1. Launch a Roofing Website for Your Business
The first thing to do is to ensure that you have a good website for your roofing business.
These days people will go online looking for specifications before purchasing anything, including a roof.
So if you don't have a website where you can display your products, growing your business will take a longer time.
#2. Give Your Website a Makeover
After building your website, the next thing is to optimize the site. Optimizing involves adding your contacts and some of your good works there.
You can go a step further to categorize the site into different sections so that consumers can navigate through it easily.
#3. Boost Your Local SEO
Boosting your local SEO will enable consumers around you to easily find and reach out to you.
To do that, follow these steps;
Add locations to your website on Google for easy tracking by customers.
Inform your customers to leave reviews after every purchase on your website.
Ensure that your business information is up to date.
Give accurate business hours so that you don't mislead your customers.
#4. Get Better at Sales
Your ability to strike good sales is important to grow your roofing business.
#5. Positive Word of Mouth
When you assure your customers of delivering appropriately, they will likely trust you. However, aside from face-to-face communications, you can leave good assurance on your website.
#6. Do Giveaways
Once in a while, it's helpful to do giveaways to encourage your existing customers and attract new ones.
#7. Google Ads
This advertisement method will go a long way in publicizing your roofing business.
#8. Social Media
The use of social media helps a lot when you want to keep your business glued to faces constantly.
Social media platforms such as Linked In, Instagram, Facebook, Twitter, and YouTube are there to help you with publicity and growth.
#9. Look for Niches to Fill
You'll grow in your business if you always think about ways to solve problems and not just sell products.
Related: What Does A Roof Certification Cover?
What Should You Consider Before Starting a Roofing Company?
It's ok to want to start a roofing business but have you thought about what it entails? This section will guide you through the things to consider before starting a roofing company.
#1. Create a Business Plan
Having a business plan is important, and it entails;
#2. Decide on a Business Structure and Name
An attractive business name that explains what you do is a major chunk of what you need. However, ensure that you register your business in your region.
#3. Set Up Your Business Account
You must have a particular account dedicated only to your business.
#4. Sort Out all Legal Requirements and Business Insurance
Your business must cover workers, vehicles, and general liability. Additionally, all legal matters must be in place.
#5. Promote your Roofing Business
You can achieve that by setting up a website for your business with functional internet marketing strategies.
Related: GAF Roofing Certification
Conclusion
The roofing business is highly lucrative, and many companies compete with you. To make as much money as you want, ensure that the necessary factors are in place.
In any case, ensure that you have a good business name that tells the public what you offer and a functional website.