Many of you might have seen the letters 'GAF' written here and there while researching roofers or searching for roofing services in the market. It is a huge name within the roofing world and not without reason.
It is a roofing authority that has been in the business for more than 150 years and boasts more than 3,000 employees throughout the United States. The roofing company offers GAF certification levels to roofers as well as GAF roofing materials.
In this article, we will take a detailed look at what is GAF and GAF certification, how they can assist you in finding the right replacement roof, as well as the right roofing company for any roof-related work, and the different types and levels of GAF certification.
Ready for a Roofing Quiz?
What Is GAF?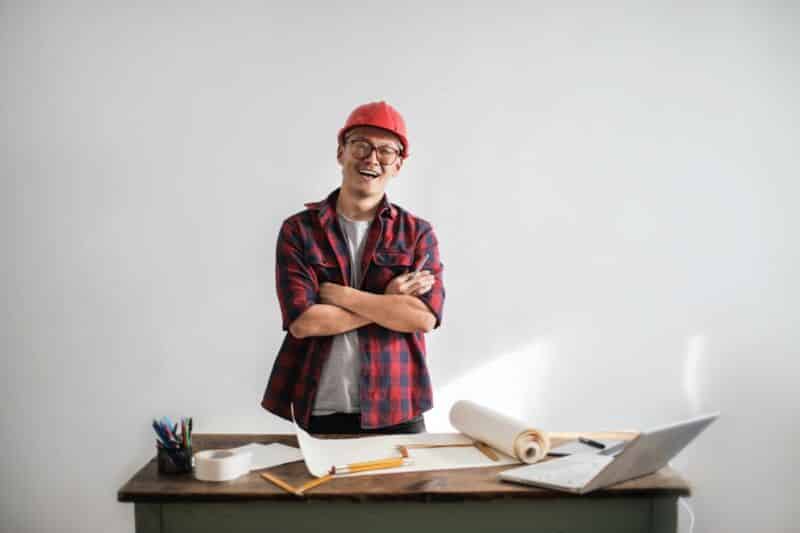 GAF Materials Corporation is a roofing company that manufactures residential as well as commercial roofing materials and has been operating since 1886. GAF stands for General Aniline and Film.
True to the name, the company used to manufacture high-quality photographic films and was even the official film supplier for Disneyland and Disneyworld.
Now, however, the manufacturers are specialized in producing top-notch roofing materials.
In 2005, GAF Materials Corporations created the first-ever asphalt shingle that was energy efficient. GAF is also responsible for introducing solar grade, single-ply Thermoplastic Polyolefin (TPO) membranes to the commercial roof materials market in 2010.
The company has always led the way within the roofing industry and, with their GAF Golden Pledge, offers entire roof systems with limited lifetime warranties.
GAF also offers highly durable and energy-efficient shingles that are laminated with fiberglass. The roofing company sets trends that roofers around the globe seek to catch up to and adopt.
This is the reason why even the biggest and most well-established roofing companies across the world offer GAF products for their projects.
What is GAF Certification?
GAF certification is a certification offered by the GAF Materials Corporation to roofers that it trusts to have good and reliable roofing skills and craftsmanship.
As GAF has established itself as an authority within the roofing industry, a roofing company that has a GAF certification stands out in the market.
As the quality of the roofing materials GAF offers is quite high, the roofing company is selective about the roofers they certify or use.
The screening and eligibility criteria of GAF certification have such high standards that even though most the roofers wish and try to earn it, only 3% of all the roofers in North America have succeeded in obtaining it as of yet.
As commercial building owners or homeowners, opting for a roofing company that holds GAF certification means a number of assurances and benefits for their roofing projects:
Reputation and trustworthiness
Ethical qualification
Tailored installation processes
Experience in troubleshooting
GAF-enhanced roof warranties
Free roof inspections
Workmanship coverage for 25 years
Industry-leading insurance coverage
Peace of mind
Utilization of modern roofing technologies
Levels of GAF Certification
GAF offers different tiers of GAF certification depending on the different types of roofs that a roofing company or roofers install. Let us take a brief look at each of them.
#1. Steep Sloped GAF Certification
Most residential roofs in the US are steep-sloped. This type of roof allows debris, snow, and water to easily move away from the house by rolling off the roof and flowing into the gutters.
The minimum level of certification level roofers required to be able to install GAF roofing materials for roofs that are steep-sloped is "Authorized Homebuilder."
This GAF certification not only authorizes a roofing company to use GAF products, but GAF Materials Corporation helps generate leads for it as well.
What is more, is that roofers with this certification can offer the System Plus Warranty to their customers as well, which provides a 2-year workmanship coverage.
If roofers want to take a step further, a type of GAF certification for steep-sloped roofs that is even better is the "GAF Certified."
It allows a roofing company to offer a 10-year workmanship coverage through the GAF Silver Pledge Warranty. Roofers that are given the GAF Certified certification are highly trained and extremely reliable.
The cream of the crop in the steep-sloped category is the GAF Master Elite Roofers, which is a GAF certification that only 3% of the roofers in the United States have.
Each of the roofing companies holding it can offer their customers the GAF Golden Pledge Warranty.
#2. GAF Golden Pledge Warranty
When it comes to the duration of the warranty on shingles, most roofers and roofing companies offer up to only ten years of it. However, the GAF Golden Pledge Warranty is a limited lifetime warranty.
GAF is able to offer that as it arguably has the best, most energy-efficient, and most durable roofing materials within the roofing industry. The GAF Golden Pledge Warranty is one of the best, if not the best, manufacturing warranties in the US.
Not only that, but the warranty includes 50 years of non-prorated coverage as well. Furthermore, this coverage is not limited to just the shingles but covers the entire roofing system.
On top of all that, GAF offers a 25-year workmanship warranty as well, backing the roofers that hold a GAF certification.
#3. Low Slope GAF Certification
The most commonly found type of commercial roof in the US is flat or low-sloped roofs. GAF offers two types of certifications for this type of roof, i.e., "GAF Master Select" and "GAF Master."
All roofers with any one of the two distinctions can offer the industry's longest warranty (35 years), the Diamond Pledge when it comes to TPO roofs.
#4. Solar GAF Certification
GAF Materials Corporation places significant value on energy efficiency when it comes to roofing systems, both commercial and residential.
The roofing company has been a major innovator in the efficient roofing domain and likes to partner with roofers that can be trusted for their energy-efficient ways and processes.
In the roofing industry, solar is a crucial element, and roofs should be able to preserve energy consumption by disallowing too much heat to enter homes.
A roof is energy efficient as well as healthy if it effectively reflects the rays of the sun to keep the harmful UV rays out. The GAF certification offered to roofers that GAF trusts in this regard are "GAF Solar Elite."
A roofing company with this certification is not only proficient in preserving the consumption of energy in your home but in installing solar panels on your roof as an additional or alternative source of energy as well.
Related: GAF Camelot Discontinued?
Final Thoughts
A GAF certification is a highly respected distinction within the roofing industry and offers homeowners a number of advantages.
A GAF stamp not only significantly enhances the reliability of a roofing company but speaks wonders about the quality of roof materials as well.
I recommend all homeowners work with roofers that hold a GAF certification for all kinds of projects related to their roofs.