The high possibility of slipping and falling off roofs makes it harder and more dangerous to climb roofs and work on them.
This is especially true for a steep slope roof that rises more than four feet for every 12 feet of horizontal spam. For this reason, you would need safety equipment to walk on steep roofs.
Safety materials wouldn't be enough to carry you through when re-shingling, but your most important asset is common sense. So, how do you climb a 12/12 roof?
You can climb a 12/12 roof safely by taking a few safety precautions. The major and most important ones are using a sturdy ladder, wearing loose-fitting clothes that restrict your movement, and rubber-soled shoes for traction. Also, if the weather is too windy, choose a different day for the job, making you lose your balance.
Ready for a Roofing Quiz?
What Is A 12/12 Pitch Roof?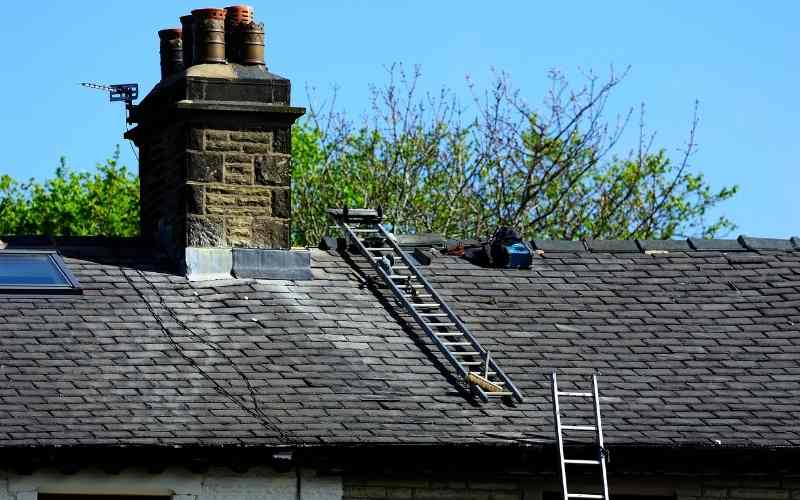 A 12/12 roof, also mostly referred to as the 12 over 12 roof, is a roof where the first twelve pitch runs along with the roof's rise while the second twelve runs along the roof run.
The angles between them are approximately 45 degrees and maybe a bit more or less, depending on how exactly you would love to be in your measurement.
You might not understand what I mean by this, so I'll explain a little more.
A pitch roof slope tells you how many inches the roof rises for every inch of depth, and for the 12-pitch roof, it is the amount of time the roof rises for every 12 inches of depth.
The 12/12 pitch is a good example of the pitched roof, and it means that the roof rises 12″ for every 12″ inwards towards the peak. 
How Do You Climb on a Steep Roof?
Walking on a steep slope roof is not so easy, but you would be able to get through it like a piece of cake with the proper safety knowledge.
Roofing is not an easy job, even for skilled professionals, as enough caution and proper safety measures must be maintained, especially for steep roofs. 
Safety begins even before climbing the steep roof because preparing beforehand creates you with an accident-free job site. Also, getting all the necessary equipment would make your work run smoothly.
Some safety tips you should adhere to before going up the roof include:
Knowing the condition of your weather. 
Knowing the condition of the roof before climbing, whether it is wet or has been snowed on before walking on a steep roof. 
Wearing appropriate clothing. It is essential to wear loose-fitting clothes for increased flexibility and movement. Wearing tight-fitted clothes may restrict your movement, which may cause a fall. Rubber-soled shoes are also most preferable as they ids in maintain a good grip on the roof shingles. 
Wearing a roof harness would make climbing a steep roof easier. Even a highly recommended climber can slip off a roof, and using a roof harness would ease the risk of falling. However, installing a roof harness would cost about $300, and this system consists of a rope, roof anchor, harness, and lanyard. 
Make sure you use the correct ladder size with an extension of about three feet past the eaves of the building. Make sure you set the ladder on a balanced ground level, and even if the floor surrounding the building is not balanced, you can use wood pieces to create a balanced floor. 
You should always avoid climbing close to a power line as it is perilous. The potential danger that this would cause is undeniable, mainly if you use an aluminum ladder. If you must climb close to a power line, you should use a wooden ladder. 
Don't work all by yourself; always ensure that another person is present, especially when working in a quiet area. You may see this as unimportant, but this can help when you need somewhere to help you reinforce the ladder or pass your equipment. 
In fall cases, another person present would serve as an aid as the chances of sustaining many injuries are high and even higher when climbing a steep roof.
Always secure the tools you are working with. Doing this might be a bit of stress, and that is why we recommend you use a 5- gallon bucket for keeping your hand tools. You can now install your roof jack at the top of the roof and hang this bucket on it. That way, your tools are safely secured in one place.
Maintaining a correct body posture would also help. You should lean your body towards the slope to help you maintain balance. Once you've gotten to the top of the ridge on the roof, you can now move around a bit more freely.
Do not walk around the roof with your arms close to your body; walk and work with your arms out.
You should avoid stepping on mosses because they can be very slippery, causing a potential hazard when walking on steep roofs.
Ensure that you use equipment and materials like a roof jack and a roofing hammer for enhanced movement on the roof.
Finally, you should ensure that you descend safely from the roof, and once that is done, your work is done.
Is a 12 Pitch Roof Walkable?
Yes, a 12-pitched roof is walkable with the help of a few pieces of equipment. It would help if you weren't walking naturally on a roof without aid, as many roofers consider roofs non-walkable until they are 8″ or even more.
When working on a steep roof like the 8/12 or more, ensure that you come along with your jacks or scaffoldings.
How Do You Walk on a 12 12 Roof?
Walking on a steep roof like the 12/12 roofs requires a lot of carefulness. While walking on a steep roof isn't impossible, you have to be extremely careful as a bit of mistake can cost you a lot.
You should always ensure that the ladder you will be using should have about a 7 to 10 feet overhang at the top of the roof.
Additionally, you should secure it to something sturdy or on a sturdy surface.
It would help if you also refrained from carrying heavy materials up the ladders with you, as they can easily throw you off balance or make it a lot more difficult for you to climb.
Instead of doing this, you can haul these materials up the roof with a rope and a bucket after safely getting to the top.
After getting to the top of the roof, make sure you install your harness, which is a material that helps protect you in cases of fall.
Also, ensure that this harness is securely tied to a sturdy anchor, which would not suddenly give way under pres. Instead, you can attach it to a sturdy tree.
When doing all these, you should be able to let your common sense handle the rest, as safety should be your primary concern while you handle cases like this.
Make sure you adhere to all these and use adequate safety equipment. Some major equipment that you would need include;
Roof jack
Harness
Proper shoes
Ladder
Guardrails and nets
Conclusion
Working on a lower slope roof is very easy, but when it comes to a very steep roof like the 12/12 pitched roof, you have to be extra careful because a wrong move can cost you a lot.
Make sure you don't go up there without equipment because you would need them no matter the roof's situation.