The medicine cabinet is a very important fixture in almost every home; this fixture is very convenient and serves as a secure space to keep your fire aid essentials.
We all know the first aid kit is handy occasionally, especially when you still have little kids around the home.
Still, many homeowners overlook a crucial aspect when installing.
So, how high should this medicine cabinet be from the floor?
The standard height of the medicine cabinet from the floor should be around 60 inches from the floor. Sixty inches is suitable because it allows easy access and still manages to be high enough not to be easily reached by your little ones.
This article will guide you on installing your medicine cabinet and the type of drugs and first aid materials you need; please stick with us.
Ready for a Flooring Quiz?
How High Off the Wall Can You Install a Medicine Cabinet?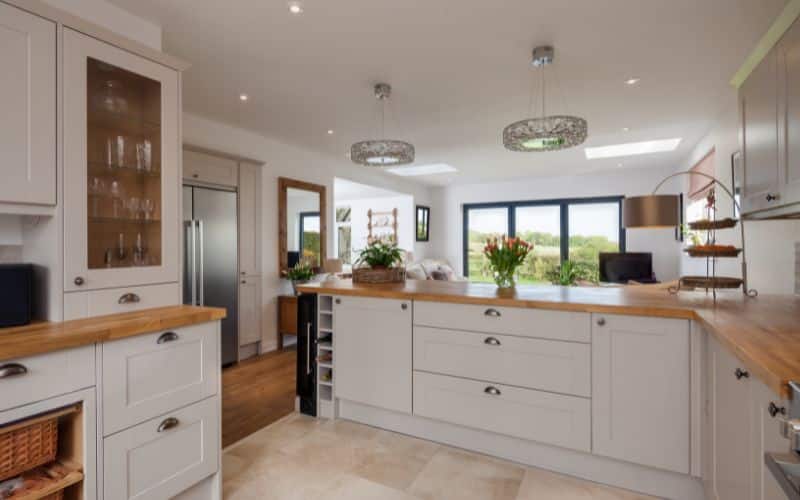 The medicine cabinet is a very important fixture in each house, especially when you have children or people with limited mobility.
The best height for most medicine cabinets is about 60 inches from the floor. With this height, the cabinet is not too high from the floor, making access easier.
With that height, the cabinet is also not too close to the floor, making it perfect for homes with kids.
It is also important to note that this height may vary depending on the house members' height.
There are several factors that you can use as a determinant when determining the height of the medicine cabinet; some of these factors include;
#1. Individual Height
A very important factor that plays an important role when determining the height of your cabinet is your height and the height of your family members.
The distance from the medicine cabinet to the floor is usually around 48-60 inches.
Still, if you are a very tall person and equally have taller family members, you would want to raise the bar higher.
Likewise, when you are shorter and have shorter family members, you wouldn't want to place the cabinet too far from your reach to prevent complications when it's time to access the cabinet.
So, by installing your medicine cabinet height based on your height and height of your household, you would be ensuring easier accessibility and more convenience.
#2. The Age Grade of Family Members
Sometimes, there are certain medications that your children and elderly ones would need and are also safe enough for them to get themselves.
If your kids or elderly are on special medications, you can install the medicine cabinet lower for easier access.
In cases where you have other harsher medications, you can install a separate cabinet for your kid's medications and get the general cabinet installed higher.
How Large Should A Medicine Cabinet Be?
The usual sizes for many high-end medicine cabinets range from 16 by 30, 20 by 30, and 24 by 30.
Although there are some other amazing sizes you may want your medicine cabinet installed in, those mentioned above are the most common sizes.
The size of your medicine cabinet also depends on factors like; 
The size of the room
The material used in making the medicine cabinet.
#1. The Standard Width for Medicine Cabinets
The standard widths for most medicine cabinets usually begin at 16″ and increase up to 24″ for the single-door versions.
You would prefer a width of 30″ ranging up to 40″ in double doors.
The above measurements are finished dimensions and the dimensions you would see when you face the cabinet.
#2. Standard Heights for Medicine Cabinets
The standard height for most medicine cabinets ranges from 48-60 inches.
However, due to several factors that can affect the height of these cabinets, some cabinets go as low as 20 to 40 inches high.
So, you should consider certain factors, like the average height in your family or your height, before you settle for how high your cabinet should be.
For rooms with a standard ceiling, 30 inches from the floor is perfect, and this height is also, by far, the commonest height.
If you want your medicine cabinet to have less presence, then it is advisable to install it 25-28 inches from the ground.
This would also be perfect if you installed your light bulbs on your walls and not on your roofs.
How to Install a Medicine Cabinet (A Step-by-Step Guide)?
Installing your medicine cabinet is not all that difficult when following the steps. In this phase of this article, we will provide you with steps to install a medicine cabinet.
But before then, here are some things you should consider before installing your medicine cabinet:
#1. The Type
The type of medicine cabinet that would fit your space is a very important factor you should consider.
Carefully select the type that fits your toilet surface or whatever room you are going to be installing the cabinet in.
If you find doing this difficult, your plumber or whoever has an idea can help you choose.
#2. The Size of Your Space
A very important part of these medicine cabinets is their varying sizes. Some can be found in sizes as large as 60 inches and even a lot smaller.
You also need to consider other factors, like the toilet sinks, to get the perfect size to fit your toilet.
Some materials you would need to install your medicine cabinet successfully include;
Stud finder 
Utility knife 
Saws: handsaws and keyhole saws
Rasp
Flashlights 
Drills 
Below are the steps you can follow to install your medicine cabinet successfully:
#3. Map Out a Plan
The first and most important part of installing a medicine cabinet is mapping out a plan of when you place the cabinet.
Ensure that the top of your cabinet sits about 72 inches above the ground, depending on how tall the house members are.
Many manuals come with dimensions that would guide how you should install it, but if yours doesn't come with a guide, you can assume a height suitable for you.
You need someone to help you hold the cabinet on the wall while you trace around it to get your plan.
#4. Find the Studs
Now you have drawn out the plan, use the stud finders' to help you locate the studs around the areas you traced.
Once you locate the studs, mark the areas with light pencil markings to ensure you do not lose track of where they are.
Many studs are generally placed about 16 inches apart, but in special cases, they might be placed farther.
#5. Cut the Area Open
Cut about four 4-inch square holes on either side of the studs with your keyhole saw, and ensure that you keep a shallow angle so you do not cut through any pipes or electrical wires.
Remove the pieces of the wall you just cut open, and with the aid of your torchlight, look inside to ensure no obstructions like electrical cables or pipes.
Still, with your keyhole saw, cut through the area outlined for your cabinet on your drywall.
Look inside the cut area and clear out any debris or dust. Ensure that you carefully do this part to not damage the wall surrounding the area.
After you do this, carefully slide the cabinet block into the hole to see how well it fits. Removing the cabinet door beforehand would make this a lot easier.
If it fits perfectly, you are almost ready; put the adhesive at either end of the parts and place them between each stud.
Hold each part, and screw all pieces into the surrounding wall studs with a drill or screwdriver.
Ensure that the adhesive dries properly before moving on to other steps to continue with the installation.
#6. Mount Your Cabinet
Carefully install the medicine cabinet into the space you created on the wall and gently but firmly press it against.
If it is not a perfect fit after placing the cabinet in the hole, then you can use caulk around the areas and caulk if there are some minor flaws.
#7. Finish Your Installation Process
After inserting the cabinet into the wall, you can install the doors into the cabinet and finish with the rest of the installation.
If there is also any extra hardware, please ensure that you install it on the cabinet and check around for some finishing touches.
Now, your medicine cabinet is ready to be used fully.
Are Medicine Cabinets Still In Style?
Medicine cabinets are still in style; you can find them in many houses today.
As time goes on, the designs and styles keep being more modern, and all you need to do is find a style that fits your personality, and you are good to go.
Below are some medicine cabinet styles and their corresponding sizes:
| Style | Size Range |
| --- | --- |
| Recessed | 14 by 18. 16 by 20 and 24 by 30 |
| Surface mounted | 16 by 20, 24 by 30, 30 by 36 |
| Corner | 16 by 36, 20 by 30, 24 by 36 |
| Frameless | Various sizes are usually available |
| Wall mounted | 12 by 36, 16 by 40, 20 by 48 |