Do you have a hole in your drywall and some Gorilla glue lying around and don't know if they'll create magic together?
Are you scared of applying that Gorilla glue on your wall, wondering if it'll harm the drywall?
Well, guess what? You're at the right site! So, read on to find out.
Gorilla is one of the toughest glues in the market that blends well with drywall if you do it correctly. When you're using Gorilla glue, to get the best result, you should wipe dirt and debris off the surface of the drywall before application. Additionally, you can use this amazing adhesive to seal up holes of all sizes in drywall.
In this article, I'll disclose much about Gorilla glue's compatibility with drywall. I'll also tell you if it's possible to cover those holes on your drywall with Gorilla glue.
Ready for a Drywall Quiz?
Does Gorilla Glue Hold Drywall?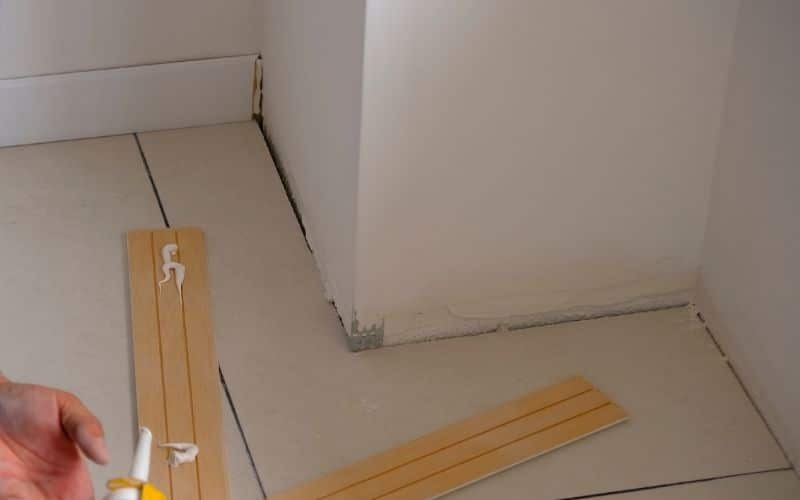 Yes, Gorilla glue holds drywall, and that's because of its strong gluing capacity.
You can use Gorilla glue to hold various structures like walls, cracks, ceilings, and holes (both small and large ones).
One unique feature that makes the Gorilla glue a perfect blend for your drywall is that it doesn't crack easily and gives off a sparkling finish.
If you use Gorilla glue to hold your drywall, you'll find it easy because of its lightweight nature.
Additionally, with Gorilla glue, you won't need to worry about painting and sanding your drywall.
The Gorilla adhesive glue is tough and supports adhesion to all surfaces, and that's why it has an all-purpose use.
Its durable, 100% waterproof formula gives it an advantage over other glues for both indoor and outdoor use.
Apart from using the glue to bind drywalls, you can use it for landscapes, gears, trim, soft floors, marbles, and more.
Gorilla construction gives off a fast-grabbing seal and perfectly dries off after 24 hours.
A unique thing about Gorilla glue is its waterproof nature, which allows it to work well underwater.
Besides holding your drywall, Gorilla adhesive is great for tough projects, including landscapes, bathrooms, desks, etc.
That said, here are tips to help you get the best out of the Gorilla glue on a drywall;
Clean off dirt and debris from the surface of your drywall.
Cut the glue's nozzle to the shape you like before applying it to your drywall, giving it a smooth finish.
After applying the glue, press firmly but gently for 20-30 minutes to keep it dry in place.
If you left a mess, use a piece of clothing to wipe off the site.
Can You Use Gorilla Glue to Hang Drywall?
You can use Gorilla glue to hang drywall anytime, any day; the only thing is that you'll need to be careful while doing it because it's a tough job hanging drywall.
Using Gorilla glue to hang drywall is cost-effective and reduces the need for nails and jolts.
Also, using Gorilla glue to hang drywall depends on your preference, what you're hanging the drywall over, and what's coming on top of the drywall.
Drywall has a lightweight design that makes it thin and easily destroyable, so the type of glue you use on it matters.
The best way to know if Gorilla glue would go perfectly well with the drywall is to try it and see if you like the effect you get.
That's because Gorilla glue is an all-weather, all-surface, and all-purpose glue, meaning it can blend in any situation you put.
Although I've seen the effect of Gorilla wood glue on drywall, you'll need to try it out to see if it suits your taste.
Using glue to hang drywall has positives and negatives.
This table peruses the pros and cons of using Gorilla glue to hang your drywall.
| Pros | Cons |
| --- | --- |
| Noise reduction. | More expensive than screws and nails. |
| Faster installation | Messy installation. |
| Cracks reduction. | Difficult removal. |
What Is the Best Glue to Hang Drywall on Wood?
The Loctite Drywall Construction Adhesive is the best glue for hanging your drywall on wood.
This premium-grade adhesive helps apply drywall to wood, providing a solid permanent bond.
If you have a drywall, you'll know it's not all glue type you can use to avoid damage. That's why most times, it's easier to use nails and screws to hang drywall to wood rather than glue.
That said, if you find a good glue, in this case, the Loctite Drywall glue, you'll get the drywall hanging on the wood with less struggle.
Although using nails and screws has advantages, glues come in handy by doing the job quicker and faster than nails and screws.
Loctite adhesive glue has high grab and bridging capabilities and reduces nails and screwing requirements by up to 50%.
And yes, this unique glue is expensive, but when you consider the risk of damage screws would do to your drywall, it becomes worth it.
One good thing about using Loctite glue for your drywall is that you can apply it for indoor and outdoor projects.
Loctite glue is waterproof and temperature-resistant, making it a hard target for random damage.
Additionally, the Loctite adhesive cleans up easily and quickly with soap and water.
It's also the best for your drywall if you're looking for non-inflammable, low-odor, and environmentally-friendly glue.
Can You Fill Drywall Holes With Gorilla Glue?
You can use Gorilla glue to fill a hole in your drywall. In this section, I'll show you exactly how to do that.
If you have a hole in your drywall, the first thing that prompts your mind is if it's possible to blend that hole in with some glue. Now, not just any glue but a Gorilla glue.
Gorilla glue has a lightweight formula that makes it easy to spread on drywall. Also, since it doesn't sag, sink, or crack, it's perfect for fixing holes in drywall.
So, how do you seal up a hole in your drywall using Gorilla glue?
Here are simple steps to follow;
Using a clean towel, neatly wipe the surface of your working area off dirt and debris.
Open your Gorilla glue and mix it evenly to create a smooth glue for your drywall upon application.
Next, apply the glue into the hole and the surrounding surface with a putty knife and spread it out neatly.
Alternatively, if you're using a wall repair kit, you'll have a meshy liner; after cleaning the surface, apply it to the drywall before covering it with the Gorilla glue.
Ensure to cover the edges of the mesh for good blending.
When dry, smoothen the surface by sanding it with a pad. You can use paint afterward to blend the site with the remaining parts of the drywall.
FAQs
What Glue Can Stick Wood to Wall?
The best glue that sticks wood to walls is Polyurethane glue. This glue is a durable, versatile, and strong glue that works well for both indoor and outdoor projects.
Can You Use Drywall Adhesive to Stick a Wood?
Drywall adhesive is a special adhesive that can easily attach to any wood, gypsum wallboard, hardboard, rolled steel, aluminum, etc.
How Do You Screw Drywall to a Stud?
The standard way of screwing drywall to a stud is using screws and nails. Those instruments help to fasten your drywall to the stud and keep it strong in that position for a long time.