As a homeowner, are you searching for the best way to give your drywall a lasting feel and durability? Have you considered using Redgard?
Applying Redgard over your drywall is not as tedious as most people presume.
While Redgard comes highly recommended for this effect, you must follow specific guidelines to make the whole process work.
Interestingly, this article fully explains the best way to apply Redgard over drywall. Read on if this interests you already.
Applying Redgard on your drywall is necessary to prevent water leakage or bubbles on your wall. It is one of the best waterproofing products homeowners use to prevent cracking on walls. In addition, it is best to apply Redgerd immediately after drywall installation because it is ineffective on damaged drywall.
In this article, I'll walk you through the step-by-step process of applying Redgard over your drywall.
I'll then outline the pros and cons of waterproofing products like Redgard on your drywall.
Ready for a Drywall Quiz?
Must I Use Redgard Over Drywall?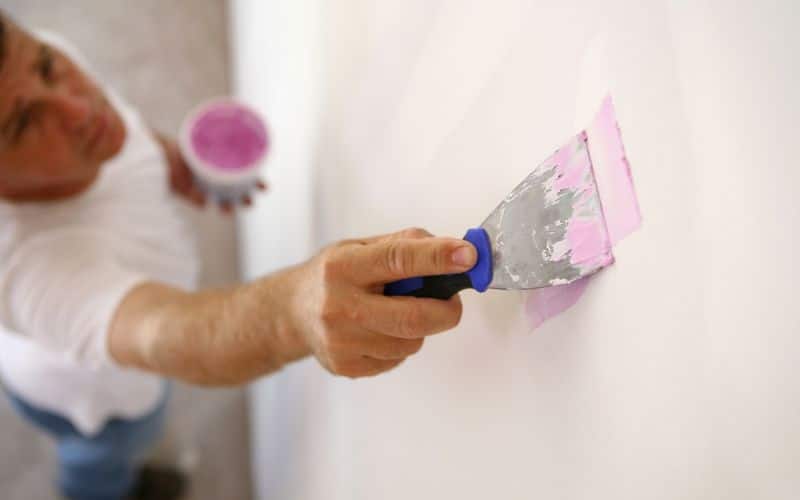 Yes, it is a necessary precautionary measure you should use in your home.
Using Redgard on your walls after plastering can save you the stress of dealing with leaks and future damages. It also saves you the cost of preventable repairs from damaged drywall.
As a waterproof product, Redgard makes your walls remain dry even in very cold environments, reducing the rate at which your drywall gets slacked, rotten, or damaged.
To this effect, there are certain areas or surfaces that you need to take note of when applying Redgard to your drywall.
They include; around the plumbing area, your window edges, and any visible spaces you may have left while installing your drywall.
#1. Around the Plumbing Area
The plumbing area is one of the easiest and fastest places in your kitchen or rooms where water can escape onto your drywall.
Any negligence may cause water to escape from the plumbing area onto your wall and cause severe damage over time.
You can increase the quantity of caulk you apply to the plumbing area to strengthen the drywall after applying the Redgard.
#2. The Window Edges
The weather condition of any environment is not stable but are bound to change with the seasons. Sometimes, they can get severely hot or cold weather.
For instance, water will likely settle on your windows during rainy seasons after a heavy downpour.
However, applying Redgard to your wall absorbs moisture and prevents water from entering your house, splashing through the windows, and damaging your drywall.
#3. Around Cracks
As expected, everyone can make mistakes; professionals are not exempted from this.
While applying Redgard to your walls, you may unintendedly skip some spaces, holes, or cracks around the major places you have applied Redgard.
Fortunately, you can always double-apply Redgard to your work. However, you should always seek the services of a professional to help you do work.
These professionals will help you do well and cover up for any missed tracks or spaces you may have overlooked.
Can Redgard Be Used On Painted Drywall?
Using Redgard on a painted wall reduces its effectiveness. Also, when used inappropriately, Redgard on drywall may not stick or even peel off soon after it is applied.
On the flip side, paint and Redgard are abstract products to each other, which is why most people think having Redgard on your drywall is achievable when you have painted walls.
However, If you must apply Redgard on an already painted wall, ensure you do so with only high-quality primers applied as an underlying surface before Redgard.
Primers are particularly essential for smoothening your work and also enhancing durability. You can also use primers on your walls as waterproof paints for your exterior and interior walls.
One such waterproof primer is acrylic paint. However, you should only apply Redgard on a painted wall when dry.
Lastly, the type of paint, quality of primer, and quantity of primer you use before applying Redgard to the painted wall are important.
These factors determine the effectiveness and durability of the Redgard applied on the painted wall.
What To Expect When You Use Redgard On Painted Dry Walls?
You can achieve several things with Redgard on your wall if you apply it appropriately.
On the other hand, even though Redgard is a highly efficient product, some downsides may come from using it.
Below is a table showing the advantages and disadvantages of using Redgard on a painted wall.
| Pros | Regard could damage your painting and walls if applied wrongly |
| --- | --- |
| It adds beauty to your painting | Redgard could damage your painting and walls if applied wrongly |
| It is also used as a water-resistant product | It also reduces the effectiveness of your work |
| It is durable and efficient | It is expensive to manage |
Will Redgard Bond Directly Over Paint?
Yes, Redgard can bond directly over painted walls, but you should follow the process judiciously using strict guidelines and preventive measures to ensure it bonds completely with the surfaces you are applying.
Some of these important guidelines include:
Thoroughly clean out any contaminated substances like oil, dirt, and grease on your walls.
Mix your Redgard appropriately using a dedicated brush or stick
Apply high-quality additives or primers to enhance the bond between the Redgard and the wall's surface.
Will Redgard Stick To Painted Dry Walls?
Of course, Redgard is a waterproofing and crack-prevention membrane most homeowners apply on any surface with holes or cracks.
Redgard can be applied to both exterior and interior surfaces, which serves as a protector from water penetration.
However, for Redgard to stick to the surface, you must also follow some guidelines that will help you get a good finishing.
Ensure that the surface you apply Redgard on is thoroughly clean and dirt-free.
Cover all the holes and cracks you may have ignored while plastering.
When applying Redgard on any concrete, endeavor to prime the concrete to dryness before plastering
FAQs
Can You Paint Redgard Over Silicone?
Silicon and Regard do not blend when applied on the same surface. There is always a tendency for one of the two products to damage the other.
What Is Redgard Designed For?
Redgard is mostly used to prevent wall cracks or penetration of water on your drywall.
When you do this, it not only reduces the chances of future damage but also prevents water from entering your windows or doors.
Can Redgard Be Toxic?
Redgard can only become toxic to your health if you mistakenly swallow it.
Do not overlook the manufacturer's safety and health precautions guide since most of these products are made from highly corrosive chemicals.
Redgard can also be toxic when inhaled for too long. You can prevent this by using a face mask or any cloth covering your nose.
.