Roofing felts not only come in varieties of colors but also have different types and unique thicknesses.
When they become old or worn out, you must replace them to avoid unnecessary challenges and discomfort, especially on your roof.
Replace old and worn-out felts to avoid roof leakages, rottenness, and leaks that could arise from holes in the roofing felt where water can pass through. Another reason why you should remove old roofing felt is to protect your roof from mold and bacteria accumulation, and infestation on the old felts. 
Ready for a Roofing Quiz?
Can You Felt Over Old Felt?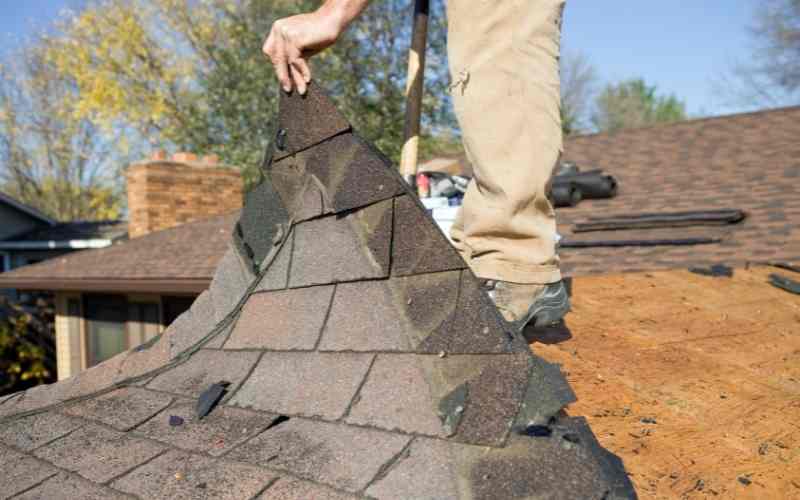 Before installing felts on a roof, you must remove all old and existing felts from the roof. However, this majorly depends on how old the previous felt is.
Generally, adding extra layers of the felt sheet on the roof helps the felt to last long, become water and weather-resistant, and durable, and keep them from being affected directly by UV rays. 
Old felts usually become cracked, damped, torn, have hollows on them, and dry. So, if you felt over the old felt, you would have just covered the weakened and damaged layer with a fresh one.
In the end, you would only succeed in hiding the damages.
Can You Put 2 Layers Of Felt On A Shed Roof?
Felting a shed roof is entirely different from felting a flat roof and often requires precision in installing them for added protection. In addition, due to the diagonal design, it sheds water easier.
They are water suitable for any location with their ice water shield, especially in cold environments. Adding double-layer felt or extra layers of felting paper is a pro-action.
Using double-layer felt for a roof enables the roof to last for a longer time and serves as a firm seal against dirt, insects, and water. 
Adding a double layer of felt on a shed roof requires straightforward steps without the help of a professional.
Remove all old cracked and worn-out felt before installing the roofing felt underlayment on your shed roof. Also, ensure to remove all wood particles and ensure that the roof is stable on all sides and can withstand any weight, even that of a person.

The next step is to measure the roof carefully. Its width and length. That is why it has to be stable and firm on all sides. For example, when using a double layer felt, you calculate how much felt is needed by multiplying the length by the width of the roof.

The next thing you should do is unroll the roofing felt underlayment, spread it on the roof or the floor, and let it lie there for at least 30 minutes. This strategy allows the felt to be slack and flexible enough to be rolled and fixed into the roof spaces.
You can now start installing the felt onto the roof. You can use galvanized nails or roofing staples to fix the roof's felt. Endeavor to give each pin or staple a space of 5 cm and be careful so that the sheets do not become loose or shift from their specified line position.

You can achieve this by nailing or stapling the edges of the felt. Start from the middle of the advantages and install them reversely. Do this till you cover up all the spaces and points where you should install the felt.
After this, spray adhesive on the laid felt and place another layer of felt underlayment. Again, make sure to cover up all possible space bubbles, and just like how you install the first layer of felt, give at least 5 cm between each nail or staple.

Make sure that you straighten and smooth all the edges by walking on it or using a trowel to plaster the felt down to give it an even look and edge on all sides.

Finally, add one more layer of adhesive. This layer helps for weatherproofing and acts as an ice water shield. Ice and water shield is a suitable adhesive you can use as an ice water shield. When waterproofing the roof, seal the felt with gravel for better holding power.
Can You Felt Over Old Felt On A Flat Roof?
Felting over old felt is completely fine and does not pose any harm because they serve as extra protection for your roof.
However, felting over old roofs is not advisable and is just a waste of funds especially when they are spoiled or damaged beyond remedy.
The best thing to do at this point is to remove all old felts, nails, and wood particles to enable you to have a smooth installation process without any hitches.
Removing these particles will create a smooth surface for you to work without any issues.
Before installing new felt sheets over old sheets, ensure that you have considered things like the age of the felt, material used in making the old felt, and the visible condition of the felt, and be sure enough that they can not be repaired or fixed.
Besides, one of the significant reasons roofers opt for additional layers of felt is to create additional protection against the time when roofing felts get old or worn out.
Should You Remove Old Felt From Shed Roofs?
Roofing felt has been used for a long time and has proven satisfactory results. However, when the felt become old and cracked, they pose severe harm and change the outlook of the roof.
Therefore, roofing felt should be removed when they become old and can no longer serve the purpose.
You can detect the condition of your roof by carefully observing how they look. Some other glaring signs that you should replace the felt include damping on the ceiling, water leakages, cracks, and insect infestation.
You may have discovered that you always have peculiar issues with your roofing and wonder why they get old or damage faster.
The possible reasons include;
#1. Age
As your roofing felt underlayment gets exposed to water and harsh weather conditions for many years, they become expanded.
Roofing felt mostly made from bitumen become expanded therefore losing its elasticity.
As a result, the roof usually extends with diverse weather conditions while the felt only becomes extra hard and cracked.
#2. Poor Installation
Poor installation can result in cracked or rusty felt joints. A paint in waterproof adhesive can go a long way to remedy the roof.
Otherwise, they may get damaged, and you will have no other choice but to remove them. Several online aids like Burton Roofing provide excellent guides to help you with this.
#3. Blisters And Bumps In The Asphalt Shingle Roof
When moisture is in the asphalt shingle roof, it expands, and the roof's surface, with the increase in sunlight heating directly on the roof, becomes extra dry.
This process eventually leads to your roof bursting or becoming vacuous.
Conclusion
Old felts should be removed from the roof when they become visibly old and cracked, dry, or have blisters on them. These are capable of causing leakages, insect infestation, and also causing discomfort.
The age, installation placement, and physical condition of the roofing felt underlayment all contribute to why they should be removed and replaced with new ones.