Choosing the perfect materials for your house construction can be quite challenging. And, of course, roofing isn't left out because it's one of the most crucial parts of your building.
However, making use of particle board for roofing is kind of controversial. So, in this article, I will explain why and I will reveal if particle board is or not a good option for you.
Yes, you can use particle board for roofing. However, you need to seek the help of a roofing expert before proceeding with the roofing of your building. Particle board is available in different sizes, and a particular one is approved for potential roofing. The particle board you want to use for roofing must be labeled as ASTM type 2-M-W.
Is Particle Board Good For Roofing?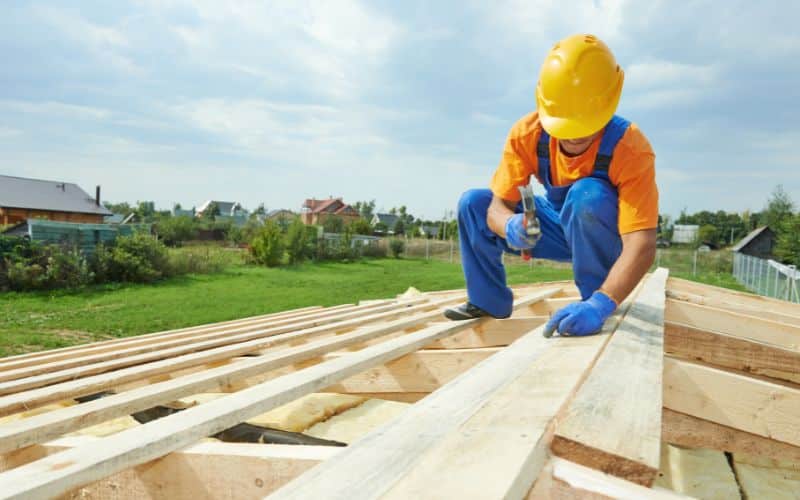 You see, this particular question doesn't have a definitive answer. It depends on the location of your building, and also your decision.
For example, using particle board for permanent roofing isn't a good choice.
Particle board is an engineered wood product produced from dry wood particles such as wood shavings, sawdust, and so on.
A binder resin is then used to spray the carved board. With the application of heat and pressure, the boards bond together.
Because particle board is produced from dry wood chips, it's neither strong nor a good option for long-term roofing.
Moreover, particle board is susceptible to moisture and cannot be used in damp environments.
Do not try particle board roofing, even if it's for a short time in an area exposed to weather conditions such as fog, rain, or snow. If you try it, the particle board will absorb water just like a sponge does water.
The particle board will then swell and tend to crumble as the water dries out. This situation can lead to mold growth in the particle board and termite infestation.
Over time, it will cause significant damage to your building. Therefore, particle board can only be used for a short time of roofing and, most importantly, in an environment free from moisture damage.
And if you decide to opt for particle board roofing, the particle board you want to use must be approved, and it must be marked as ASTM type 2-M-W.
Plywood or Oriented Strand Board are the ones that are generally approved and mainly used for roof sheathing. They're stronger and more durable than particle board.
What Type Of Flooring Can You Put Over Particle Board?
You can use particle board under carpeting, parquet, wood, linoleum, or vinyl plank flooring.
If you decide to use particle board as an underlayment in your roofing, it's good because it provides a thick and strong base.
Though, it does not apply to all types of flooring. In addition, you need to note that you can't use particle board for sub-flooring or single-layer sub-flooring.
The particle board is not strong and can't provide your building with the necessary strength and stability. So, using particle board for sub-flooring isn't safe and advisable.
Therefore, instead of using particle board for sub-flooring purposes, particle board is highly recommended to be put under carpet flooring.
Can You Use Particle Board For Attic Flooring?
Yes, you can use particle board for attic flooring. The attic floor is always loaded with insulation. The reason is to keep your house warm during winter and cool during summer.
Particle board is made from wood shavings, papyrus fiber in particular. The logic behind the production of this fiber is to be able to develop something compelling that has low thermal conductivity, like thermal insulation.
If you use particle board for your attic flooring, it will help to reduce the energy consumption of your building. And, of course, particle board is economical.
Therefore, particle board is suitable for attic flooring because it's a good source of adequate thermal insulation for your buildings and is inexpensive.
Can I Use Particle Board For Flat Roof?
Yes, you can use particle board for flat roofs. Just like I have mentioned above, particle boards have different types and even different sizes.
However, one particular type of particle board is suitable for flat roofs. Cement-bonded particle board can be used for roofing, but single-layer particle board is the approved one for flat roofs.
Single-layer particle board wood is thin and made up of wood particles of the same size that are bonded together.
Single-layer particle board is dense at the same time, flat, making it suitable for flat roofing.
But, above all, it's super crucial for you to contact a professional roofer before roofing to prevent unwanted circumstances.
Plywood Vs. Particle Board For Roofing
There are some main things people do consider before choosing their roofing materials, and they are cost, durability, and attraction.
#1. Cost
In terms of cost, plywood is more expensive than particle board. Therefore, people tend to opt for particle board roofing their buildings when they can't afford to purchase plywood because of its cost.
So, if you do not have enough money to get plywood for your roofing, you can get particle board instead. First, however, ensure that the roofing is for a short-term purpose.
For long-term roofing, plywood or oriented strand board are the best you can use, and you should try your best to get any of the two instead of a particle board because the sacrifice would be worth it.
#2. Durability
Plywood is an engineered wood panel or an OSB-oriented strand. That is, plywood is also produced from wood and is made up of delicate layers of wood veneers that are bonded together.
On the other hand, particle board, as the name implies, is always produced from wood leftovers bonded together with heat and pressure.
Therefore, plywood manufacturers also use strand board particles to produce particle boards.
Plywood is produced from solid wood, making it stronger and more durable than particle board. Besides, particle board is susceptible to moisture.
When exposed to water, it becomes swollen, thereby losing its resilience and eventually crumbling, while plywood is water-resistant and can even become waterproof when painted.
Particle board is softer and weaker than plywood and is liable to distortion over time. However, plywood is solid and can last long without any problems.
All these features make plywood more durable than particle board, making it safer than particle board roofing.
#3. Attraction
In terms of attraction, particle board is much more delicate than plywood. This is because particle boards have a more delicate texture than plywood.
Due to what plywood is made from and its manufacturing process, plywood has a more coarse surface than particle board.
Particle board is made from wood chips, not solid wood; that's why particle board is also known as chipboard.
The particle board manufacturing process isn't that rough, so its surface is smoother than plywood.
Apart from the three things explained above, there are some other things we can use to compare them both, and they go as follow;
It's pretty easier to work with plywood because of its flexibility. If there's any need to bend the plywood while working with it, plywood will bend easily without breaking. However, if you try to bend the particle board, it may break easily. Though, plywood can't hold crews, nails, and so on as particle boards would.
Plywood is best used for roofing, flooring, stairs, and furniture, while particle board is better used for furniture.
Conclusion
If you're left with the option to choose between particle board and plywood for roofing, then plywood is the best choice.
However, you can use particle board for roofing, provided it doesn't exceed the instructions above.
After reading this article, you must be able to choose the best roofing material for your buildings and why you should choose it.