When choosing a ceiling for your bathroom, you have to be extra careful. The reason is that the bathroom is one of the most functional parts of the home.
For a while, the Drywall ceiling has been prominent for several reasons. Recently, a lot has changed.
Unfortunately, it is no longer preferable because it is difficult to install and time-consuming. Presently, other alternatives suit your preference.
There is a list of alternatives for your bathroom ceiling apart from Drywall. Some examples are; Plywood, Plaster of Paris, PVC, Veneer plaster, gypsum board, and wood plank ceilings. These alternatives have water-resistant properties that make them suitable for a bathroom ceiling. Their performance is similar to drywall, so you don't have to worry about the result.
In this article, you will discover alternatives to Drywall ceilings for your bathroom.
The good news is that you will know different options for Drywall in the end, and I will ensure you make the right choice.
Below are some of the choicest alternatives for Drywall ceilings for your bathroom. I will explain each of them well, their pros and cons, functionality, and cost.
Plaster of Paris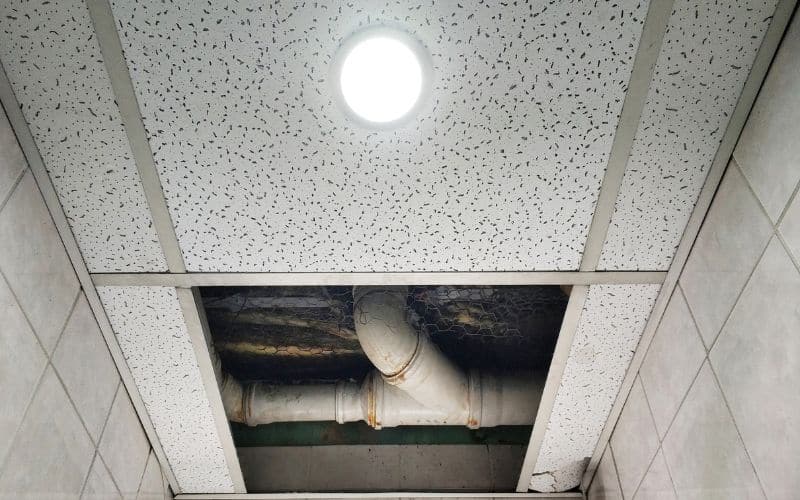 Plaster of Paris, also known as POP, is a suitable alternative for Drywall, especially for the bathroom ceiling.
This gypsum ceiling is environmentally friendly and also provides a wonderful aesthetic. It is usually white and gives the aura of a pristine setting.
It is a good option because of its water-resistant property. Although installation can be a little tasking, it is worth the time.
The bathroom is a convenient room that allows you to shower and do other private activities. So it is best to have it to your taste.
Consequently, if you prefer a classy interior, especially in your bathroom, the plaster of Paris is the best option.
#1. Pros
It provides a classy aesthetic.
It is water resistant, unlike the traditional Drywall ceiling.
It allows for the flexibility to create unique designs on the bathroom ceiling.
It adds more light to the bathroom than the Drywall ceiling, which has more weight.
Low thermal conductivity.
It is lightweight.
It is durable.
It is fire-resistant.
It is smooth and glossy.
#2. Cons
It is expensive.
It has a short shelf life.
Over time, it absorbs moisture and starts to deteriorate.
There may be better options for the bathroom since it absorbs water easily.
#3. Cost
Plaster in Paris is less affordable than other types of ceilings. The reason is that there are many factors to consider before you can ascertain the cost of the gypsum ceiling.
For instance, the cost depends on the square meter and the type of gypsum plaster you want to use.
It can cost you between $2000 and $5000 to install 400 square meters of this material. Although it may seem expensive, it is worth the installation.
However, if this cost is too much for you, other cheaper options serve the same purpose.
#4. Functionality
Plaster of Paris is another alternative to Drywall made from gypsum, but their implementation differs.
Drywalls are gypsum boards pre-casted from the factory, while Plaster of Paris is not.
Plaster of Paris offers many advantages to traditional Drywall; you get good water resistance, customization alternatives, and overall better bathroom aesthetics.
Cement Board
Cement Board is another alternative material you can use for your bathroom ceiling. Although it is a perfect alternative, it isn't advisable.
You must ensure to use cement boards with strong and long-lasting fiber and cement mixtures.
Cement boards have some redeeming qualities like good durability and water/mold resistance.
#1. Pros
Cement boards usually last the entire lifespan of the building.
They have good water and mold resistance.
They resist fire better than Drywall.
Cement boards are cheaper and more readily available than Drywall.
#2. Cons
Cement boards are very heavy.
They require more than one person to install.
Cement board ceilings can make your bathroom musty if there is a lot of moisture in the air.
#3. Cost
Cement boards are easier to manufacture, so they are cheaper than Drywall. You can purchase a 3 by 5 feet ½ inch cement board for $10.95.
#4. Functionality
Using cement boards instead of Drywall on your bathroom ceiling is not advisable. They have low water resistance, and they are heavier than Drywall.
Cement boards are more suitable for cement wall backing in interior and exterior walls.
Plywood
Generally, plywood and other wood products are best for bathroom ceilings. One of the most noticeable features that make plywood a better alternative to Drywall is it's lightweight.
Also, the best type of plywood for the bathroom ceiling is BWP-grade plywood.
This plywood has water-resistant properties that are second to none, allowing it to withstand the humid bathroom environment.
It is pressure-treated wood and is best for such purposes. Unlike Drywall ceilings, plywood is very light and available in varying thicknesses according to your taste.
#1. Pros
It is inexpensive.
It is soundproof.
It is durable and offers the perfect aesthetic.
It is easy to install and highly flexible.
BWR alias boiling water-resistant plywood is water resistant after treatment.
#2. Cons
The following are the cons of using plywood as an alternative bathroom ceiling:
If it is not BWR, it will be susceptible to damage from moisture.
Longer lines of wood will sag if you don't install it correctly.
#3. Cost
Plywood is more cost-effective than Drywall and MDF. The cost will depend on the square feet.
For one square foot, plywood can cost around $2. This price is very affordable and makes plywood one of the cheapest alternatives.
The best thing to do is to measure the bathroom ceiling area first to ascertain the amount of plywood needed.
#4. Functionality
It is durable and also perfect for roof covering.
Ceiling Tiles
You can use ceiling tiles as another alternative to drywall for your bathroom ceiling. Ceiling tiles are boards made from gypsum, sawdust, and even Cork wood.
They are known for their good acoustic properties that partially soundproof your bathroom.
Depending on the material used to make the tiles, water and mold resistance will vary from tile to tile.
Ceiling tiles might not be as flashy or pretty as the other drywall alternatives, but they are cheap and do their job well.
#1. Pros
Ceiling tiles have good acoustic properties.
They are very reflective, so lighting your bathroom won't be a problem.
Ceiling tiles are good insulators and prevent rooms from heating or cooling rapidly.
They lower the ceiling height of bathrooms.
#2. Cons
Ceiling tiles are more expensive than Drywall per square foot.
Unskilled persons won't be able to install ceiling tiles because it requires constructing a complex hanging frame.
Ceiling tiles have set dimensions from the factory, so you cannot cut them easily.
Drywalls have a longer lifespan than ceiling tiles.
#3. Cost
A 24-pcs pack of 2×2 ft costs about 137.99 USD and can cover up to 96 square feet, which should be enough for most bathrooms. You can purchase this product here.
#4. Functionality
Ceiling tiles have good soundproofing, and office buildings and bathrooms benefit from this property.
They are a good alternative to Drywall as they are mold resistant and partially soundproof.
You can also purchase special ceiling tiles with LED strips that provide light without installing a separate lamp holder.
PVC Ceiling
PVC, known as polyvinyl chloride, is another good alternative to drywall for bathroom ceilings.
This ceiling is waterproof, immune to mold, and very easy to install. You can cut PVC boards into different sizes and even bend them to fit curved parts of your bathroom ceiling.
PVC comes in different colors, but pristine white is the most popular color. If you don't want pure white panels, PVCs have a lot of multi-colored designs that will suit your needs.
PVCs are also a good alternative to Drywall because they reflect a lot of light, so your bathroom will be well-lit even if only sunlight illuminates it.
#1. Pros
PVC ceilings reflect enough light to brighten even the darkest bathrooms.
PVC is waterproof and mold resistant.
You can install PVC panels easily.
Temperature fluctuations do not affect PVC boards so that they won't crack like Drywall.
PVC doesn't rust, so you can expect a life expectancy of 50-100 years.
#2. Cons
Modern PVC panels can be expensive more expensive than traditional Drywall.
PVC is fire-resistant, but it burns when subjected to high temperatures.
Burning PVC produces dangerous hydrogen chloride that can choke inhabitants.
#3. Cost
The cost of PVC panels varies from manufacturer to manufacturer and whether you buy in bulk or small quantities.
You can purchase 12 pcs of 2 feet by 2 feet pack of PVC panels for just $83.82. Prices are subject to change.
#4. Functionality
PVC is one of the best drywall alternatives you can install in your bathroom. Plain white, green, red, or even multi-colored options are available.
They are also very lightweight, so you can install them yourself, granted you have experience installing Drywall before.
If you are searching for a waterproof, mold-resistant, and long-lasting ceiling for your bathroom, PVC is your best friend.
Here is a table showing the major differences between Drywall and its alternatives.
| Drywall | Drywall Alternatives |
| --- | --- |
| Absorbs moisture | Highly water resistant |
| Heavy | Lightweight |
| Difficult to install | Very easy to install |
| Short life span | Very long lifespan |