Drywall anchors are vital equipment supporting the drywall and the load when you install nails, screws, and clips.
You can use drywall anchors to support pictures and paint on drywall, but their high unit cost and low support weight are problems that would leave you searching for better alternatives.
So, below are the best alternatives for drywall anchors.
The best drywall anchor alternatives are drywall nails, studs, drywall hooks, adhesive hooks, hanging strips, and picture hangers. You can use any of the above alternatives instead of a drywall anchor. The best alternative depends on whichever suits your present need. I have here a cheaper, sturdier, and overall better alternative.
In this article, I will show you the best anchor alternatives, their strengths, weaknesses, and what makes them valuable alternatives to drywall anchors.
Ready for a Drywall Quiz?
Studs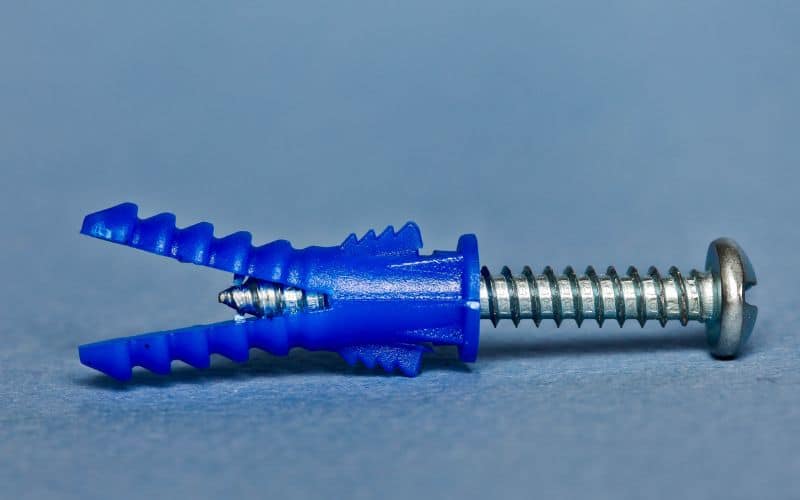 It is a common misconception that drywall anchors are the best way to screw/install things into drywall. But you can also use studs.
In fact, drywall studs are the best alternative to drywall anchors.
They're suitable for hanging loads heavier than 20 pounds, as loads above 20 lbs can damage sheetrock boards.
Thus, screwing into studs is the best alternative to secure delicate pieces like paintings and pictures or hang decorations in your home.
Drywall screws are not only cheaper, but they are also way more sturdier than drywall anchors.
Let's look at the pros and cons to buttress the efficiency of studs.
#1. What We Like
Screwing into the stud is easy because you only need a power drill or a screwdriver.
Studs have the highest durability and holding capacity of all other anchor alternatives.
Studs are suitable for heavy-duty applications like holding 80-plus pounds of decorations.
#2. What We Don't Like
Since you can only screw/nail in locations where studs are, your decorations might not be in the center of your room.
#3. Cost
If you have drywall in your home, there's a very high chance studs support it, so it won't cost you extra to use it.
#4. Functionality
Drywall studs are the best alternative to anchors because they have better-holding strength and are more durable.
Studs can also support a variety of home decor, including canvas, artwork, pictures, and flower pots easily.
Drywall Nails
The Cheapest alternative to drywall anchors is drywall nails.
Drywall nails are durable and cheap, plus they come in up to 6 different sizes, which is suitable for dry walls with varying lengths from the walls.
You can nail them into the drywall or locate the position of the studs behind your drywall and hammer the nail into it for extra support.
Below are interesting things you should know about drywall nails.
#1. What We Like
Drywall nails are the cheapest alternative to anchors to hang stuff on your drywall.
They are easy to install with a hammer.
It doesn't require a screw gun.
You can install drywall nails faster than drywall screws.
#2. What We Do Not Like
Drywall nails can easily tear and damage the drywall
Drywall nails have low load-bearing capacity unless you drive them into a stud.
If you hang your decorations with drywall nails into bare drywall, they will likely fall and get damaged.
#3. Cost
Drywall nails are the cheapest alternative to drywall anchors. Though their length, brand, and quality will affect their cost, it won't be more than a few extra dollars.
You can get a 700-pcs drywall nail for $5.99 when shopping online. Click on this link to purchase a 700-pcs drywall nail.
#4. Functionality
Drywall nails are perfect substitutes for drywall anchors. They support loads better than anchors, and you can hammer them into Studs.
Thus, they perform a good job when put to use.
Drywall Hooks
Drywall hooks, or Gorilla hooks, are the easiest drywall alternatives to install. They can withstand up to 100 pounds and don't require tools for installation.
You can install it by pushing the pointed end of the hook into the drywall and using the inside as a pivot to hold the hook in place.
But, before you proceed to purchase the hooks, briefly skim through their pros and cons.
#1. What We Like
Drywall hooks do not need powered or non-powered tools for their installation.
You can make bulk purchases of drywall hooks as they come in sets of 20 on shopping sites.
They have a load-bearing capacity of up to 100 lbs.
Drywall hooks are versatile so that you can hang many things on them, e.g., pictures, clocks, and flower pots.
#2. What We Don't Like
Drywall hooks can crack/tear into drywall if the load is overweight.
Its sharp pointy end can cause injuries.
Drywall hooks need much space between the drywall and the house wall.
#3. Cost
Drywall hooks are expensive if you buy them individually. You are better off buying complete sets because they are way cheaper.
Drywall hooks retail at $8.99 on sites like Amazon. So, click this link to purchase drywall hooks.
#4. Functionality
The main selling point of drywall hook is its ability to be installed by hand without a hand tool.
They are so strong they have been nicknamed "gorilla hooks" because of their large weight-holding capacity.
So, consider purchasing a drywall hook if you want to hang a heavy item.
Adhesive Hook
If you don't want to bore a hole in your building, drywall Adhesive hooks are the least invasive alternative.
Unlike anchors and drywall hooks, adhesive hooks attach to the surface of drywall without requiring a hole.
The adhesive hook has a curved metal head you can hang things on and a flat or round backplate with a sticky adhesive that sticks to the drywall surface.
They are commonly used in bathrooms and kitchens to hang towels and utensils.
If you don't want your drywall filled with holes from screws and nails, you should get adhesive hooks, as they don't puncture or damage your wall.
#1. What We Like
An adhesive hook is one of the safest drywall anchor alternatives.
Adhesive hooks do not puncture/ damage the surface of drywalls.
They are suitable for drywalls and tiled surfaces in kitchens and bathrooms.
They have a minimalist and pristine look and are the least invasive hangers in production.
#2. What We Don't Like
Adhesive hooks have low load-bearing capacity.
Oily walls and paint jobs can weaken the adhesive layer.
High temperatures weaken the glue in adhesive hooks, causing it to fail and leading to property damage or injuries.
#3. Cost
Adhesive hooks are more expensive than most drywall anchor alternatives, but their non-invasive properties make them worth it.
You can buy an adhesive hook for $ 9.99 by clicking this link.
#4. Functionality
Adhesive hooks are among the top 3 best drywall hooks and hangers you can choose for your kitchen and bathroom.
Adhesive hooks stick directly to your drywall and peel off easily if you wish to remove them. Thus, they have the edge over anchor screws as they accord you damage control.
Hanging Strips
Hanging Strips are the stealthiest alternatives to drywall anchors. A four-by-four strip will allow you to hang decorations on drywall without protrusion.
If you have ever seen a picture or painting flush with the wall, with little to no gaps, they likely used hanging strips to attach it to the drywall.
Hanging strips are two pieces of velcro tape that you join together, and both sides have a sticky surface.
The lack of visible hangers, pins, and screws makes hanging strips important for stealthy decorations.
A 4X4 hanging strip can safely hold up to 16 pounds without tearing or falling off the drywall.
However, when using hanging strips, you must clean the drywall by rubbing alcohol(isopropyl) to remove dirt and oils that prevent the strip from sticking to the surface.
Avoid using hanging strips to hold expensive paintings or fragile products because they can fail without warning and cause damage.
Also, don't hang heavy pictures with strips in dangerous positions, like above your bed or in your children's room.
To further understand its functionality, here are the advantages and disadvantages of using hanging strips.
#1. What We Like
Hanging strips are super easy to install
You can install and remove hanging strips without damaging your drywall
Hanging strips are stealthy, allowing users to hang things flush with the wall.
4x hanging strips can hold up to 16 lbs which is enough to hold pictures, clocks, and decorations.
#2. What We Don't Like
Reusability is lower compared to other adhesive hooks.
It is expensive for just 14 pairs.
#3. Cost
If you want hanging strips, you must shell out more cash because they cost $11.17 for a box of 14 pairs. So if you're ready, you can purchase high-quality hanging strips here.
#4. Functionality
The stealthy nature of hanging strips makes them perfect candidates for hanging lightweight decorations that need to be level with the drywall.
Hanging strips are also a good alternative to drywall anchors because they do not require any screwing or hammering for their installation.
You place the strip on the frame of the decorations and place it on the drywall, and voila, the installation is complete.
Picture Hangers
Picture hangers are the sturdier alternative to drywall anchors. They can withstand up to 100 lbs.
Unlike the name suggests, picture hangers are not to be used exclusively for hanging pictures; you can also hang other household decorations on them.
You can hammer the picture hangers directly into the wall or the drywall studs for better strength.
Ensure you attach picture screws to drywall studs for things heavier than 20 pounds. You can choose to drill into plain drywall for weights lesser than that.
Read the pros and cons below to expand your knowledge of picture hangers.
#1. What We Like
It comes with hangers of different sizes that can hold different amounts of weight.
They are durable and can hold up to 100 lbs when installed on drywall studs.
Picture hangers have an attractive golden finish that protects them from rust.
You can hammer them into the drywall or the wall studs if you want them to be sturdy.
#2. What We Don't Like
The hanging pins extend too much from the picture hanger.
Picture hangers cannot penetrate concrete walls; they are only suitable for wood and drywall.
#3. Cost
Picture hangers are cheap. You can buy a 160-pcs box for just $6.99. Use this link to purchase yours online.
#4. Functionality
Picture hangers can withstand up to 100 lbs and come in various sizes so that you can choose your preferred one.
If you plan on hanging heavy decorations, you should nail them into the stud behind your drywall.
All the products listed above have properties that make them suitable alternatives to drywall anchors.
Here is a chart comparing the drywall anchor alternatives.
| Alternative | Features | Maximum Weight | Cost |
| --- | --- | --- | --- |
| Drywall Nails | Cheapest alternative | 50 lbs | $5.99 |
| Stud Screwing | Best Alternative | 100 plus lbs | |
| Drywall Hook | Easiest To Install | 80 lbs | $8.99 |
| Adhesive Hook | Least Invasive | 5 lbs | $9.99 |
| Hanging Strips | Stealth Alternative | 16 lbs | $11.17 |
| Picture Hangers | Sturdy Alternative | 100 lbs | $6.99 |