It's very satisfying to hang your pictures, mirrors, and paintings on a strong mount, knowing they won't fall over. Thankfully, you can rely on drywall anchor screws for the job.
When you insert a drywall anchor with the appropriate screw, the combination provides excellent support for whatever you're hanging.
However, when the drywall anchor and screw are not compatible, there could be a problem with forming a strong mount.
The best anchor screw for drywall is the Amsoon Zinc Self-drilling drywall anchor. The drywall anchor kit comes with 25 sets of screws and can hold up to 50 pounds.
This article contains in-depth knowledge of the various types of anchors and screws that match best.
It will help you to know the best drywall screw based on the weight capacity, material, and size of the anchors and screws.
Ready for a Drywall Quiz?
13 Best Anchor Screws For Drywall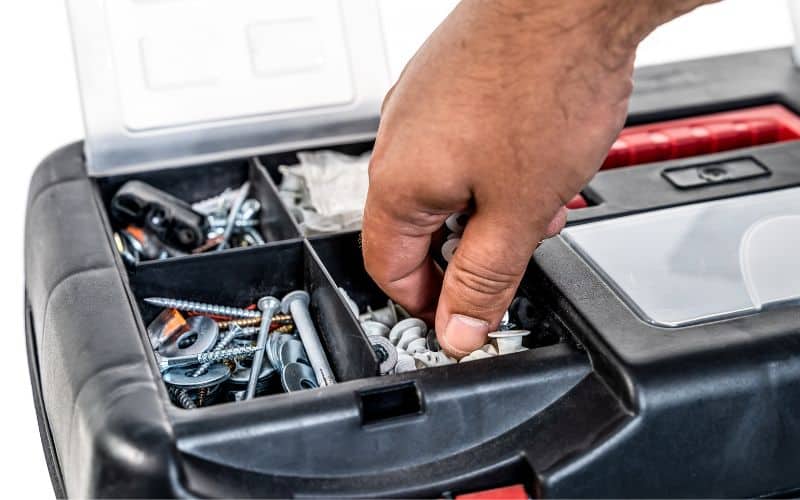 There are lots of drywall anchor screws available, but not all are good enough for the support you need.
Therefore, if you are going for an anchor screw, it should be one that would guarantee a strong mount.
And only a few drywall anchor screws can do the job. An anchor screw is the best, depending on where you want to use it.
Some of the best anchor screws for drywall include the following.
#1. Ansoon Zinc Self-Drilling Drywall Anchors (Overall Best)
Although drywall anchors are best in specific areas, this brand is top-notch in several niches. The self-drilling and reusable drywall anchor screw is the best lightweight.
The Ansoon kit has exactly 25 anchors and screws, all zinc material. 
Combining the anchor and screw provides a better grip, allowing your paintings and pictures to hang very well.
The length of anchor screws is about 1.25 inches long, and like many other screws, it has no specific screwdriver for installation.
The power drill could make things easier and faster, though.
You can remove and reuse this brand of anchors and screws when changing the position of your pictures and artwork. Its reusability makes it outstanding.
It's good for the 3/8-inch and 1/2-inch drywall and the 5/8 thick. Each pair of anchor screws can carry up to 50 pounds.
It sits on top of the drywall anchor screw series as the overall best. As of this writing, the package costs about $ 10.
#2. E-Z Ancor Self-Drilling Drywall Anchor
Another popular self-drilling drywall anchor is the E-Z Ancor. It has fine and durable Phillips head screws. 
When it comes to hanging your lightweight shelving units, you can rely on it for a good result.
Their mechanism is similar to screwing shelves into drywall, where there's a twist and lock. It comes with 50 sets of zinc screws and plastic anchors.
You can pre-drill a hole in the drywall to allow for the entry of the plastic anchor, even though it's not mandatory.
A hammer and a nail can help create the hole. But using a power drill is preferable in making the guide hole.
By introducing a screw compatible with the anchor, the metal screw expands the plastic anchor and locks in perfectly.
You will have no problems mounting your pictures, artwork, or other lightweight items. Nevertheless, it can only hold up to 75 pounds.
As of this writing, the anchor screw costs $15.
#3. TooFix Self-Drilling Plastic Anchor
Toofix is another popular self-drilling plastic anchor that is a great option for domestic usage. The anchors and screws are very easy to use.
They have a weight capacity of 50 pounds, and you can use them differently.
The kit contains 20 pieces of anchors and screws. The advantages of this set over others are the ease of use, budget friendly-cost, and average weight.
However, it comes with only a particular length of screws—1 ¼-inch.
#4. Leanking Plastic Drywall Wall Anchor
The leanking plastic drywall wall anchor is specifically for heavy-duty usage. Each screw has a weight capacity of 50 pounds, yet the drywall is still for heavy-duty usage.
While this may be true, it comes with about 300 pieces of anchors and screws, beating other kits by far. Also, it comes with different lengths of screws ranging from 25mm to 80mm.
Considering its excellent kit containing plenty of anchors and screws, its various content sizes and the warranty it offers rank above many others.
And its only challenge is that the weight capacity falls behind the list of good heavy-weight anchor screws.
#5. Toggler Bolt Drywall Anchor
For extremely heavy-weight items, you can trust this set of drywall anchors. Aside from the heavy-weight capacity of 802 pounds in concrete, it is also reusable.
It requires a power drill for pre-drilling a hole. It works in drywall thicknesses ranging from 3/8 to 3 5/8 inches. They hold up to each in drywall. 
This set of drywall anchors is perfect for your heavy-weight items, including your mirrors.
You can remove it and reposition your items using the same screws. It costs $4 despite its reusability, steel, zinc material, and 238 pounds weight capacity -weight.
#6. Toggler Snaptoggle Drywall Anchor
Using the Toggler Snaptoggle, you don't need a stud to mount your TV onto the drywall. You can comfortably mount your TV directly to the drywall using this set of drywall anchors and screws.
This heavy-duty drywall anchor can hold the weight of your TV, keeping it in place. The snap toggle has a weight capacity of 265 pounds.
They have many packs, including 4, 6, 10, and 25. But you can use only the 4-pack to mount your TV onto the drywall.
While this set of anchors and screws seems to apply mostly to mounting flat TV screens, using the same method for full-motion mount TVs can be problematic.
If you try to mount such TVs, with time, the screws will begin to loosen due to the movement. Therefore, stick to using this anchor only on flat-screen TVs.
You can use a power drill to pre-drill a hole into the surface. Also, onto can remove and reuse the anchor anchors, unlike average toggle bolts.
I recommend this drywall anchor and screw due to its high weight capacity, reusability, and multiple sizes. The Zinc and Steel made costs $8 at the moment.
#7. The Hillman Group 370066 Toggle Bolt
Although with an undisclosed weight capacity, reviews show you can rely on the Hillman Group toggle bolt for a good amount.
It can secure large or heavy-weight items and ensure no mobility of the mounted items.
The anchor's spring wings spread open in the cavity of the hole for a perfect grip. At the point of attachment, the toggle bolt spreads the weight along the wing's surface area.
I recommend you use many toggle bolts to ensure heavier objects. This toggle bolt has 59 anchors and machine screws, like most drywall anchors.
This heavy-duty set needs to be more specific about its application, as you can use it to hang various items depending on the item's weight.
While this may be true, the zinc made is not reusable. This set goes out for $25 as of this writing.
#8. Qualihome Heavy Duty Plastic Self Drilling Drywall Anchors and Screws Kit
Qualihome has great, versatile, and budget-friendly anchors. They come in large quantities and are easy to install. 
This set of anchors can hold the many things you have to hang. You don't need to drill a deep hole.
You can use a nail to drill a small pilot hole in the drywall to accommodate this set of drywalls. They do not require a power drill or any such tools for installation.
You can remove and reuse the screws. Notwithstanding, always use new anchors each time you carry out installations.
This set of anchor screws costs up to $19 at the moment.
#9. Kurui Self-Drilling Drywall Anchor
The Kurui drywall anchor is a reasonable option for diverse applications. It holds up to 50 pounds as the standard weight capacity of the anchors and screws.
The exciting part is that this anchor comes with 100 pieces of anchors and screws. However, they come with a single length of screws, which is 1 ¼-inch.
That the anchor is relatively great for large-scale applications makes it considered for a good position.
Also, the large size kit and average weight all seem nice, despite not having additional length sizes.
#10. TK Excellent Plastic Self-Drilling Anchors
TK Excellent and its hardware tools and accessories are familiar in the drywall anchor market.
The set is, however, popular due to its low price, even though it is still great for a drywall anchor.
The TK Excellent drywall anchor is budget-friendly, so many buyers want it. Thankfully, despite the lower price, it still has a weight capacity of 50 pounds.
Similarly, the kit contains 66 pieces, and it's great for the price tag. The sizable kit comes with screws and anchors of sizes ranging from 1 to 1 ½-inch.
The kit is the perfect drywall anchor for buyers on a tight budget. Plus, the different sizes of screws in the box and average weight capacity considering its price.
However, the build quality could be better, maybe that's why it has a low price.
#11. Confast Zinc Self-Drilling Drywall/Hollow Wall-Anchor Kit
Despite the expensive nature of the anchor and screws, this kit, in confast zinc is worth it. It contains the best Zinc anchor and screws.
It requires a Phillips head screwdriver for installations, not any power tools. When installed right, each holds up to 50 pounds.
The Zinc anchors and screws last longer and are more expensive than plastic. It has a sharp and durable tip that can remain in the same form even though it runs into a wood stud.
While HongWay is one of the newer brands when discussing drywall anchors, it is still a great option for those who want something made for large-scale applications.
#12. HongWay Plastic DryWall Anchor Kit
HongWay's drywall anchor kit is another drywall kit with plenty of pieces. It is a great option for users who go for numbers.
You can use the many anchors and screws on different items around your home. The kit contains a whopping number of 370 pieces, higher than many others.
Unfortunately, the anchors and screws have a low weight capacity of 20 pounds, which is too light for the main home usage.
Considering many pieces, you can still make do with the low-weight capacity. Thankfully, the kit has various screw and anchor sizes ranging from 25 mm to 38mm.
#13. Simpson Strong-Tie Flip Toggle Anchor
Simpson anchors are an excellent option for heavy-duty usage. The kit offers solid-build drywall anchors compared to most other drywall anchors. 
You can rely on this anchor and screw as it is one of the strongest options for hanging heavier objects. It has a great weight capacity of 188 pounds, heavier than many drywall anchors.
However, due to the drywall anchors' quality, there is not plenty of it in supply. The kit comes with 20 pieces in the box.
The fewer pieces can be problematic for others, considering that the save only comes with a single screw size, too, a 2 1/2-inch.
Notwithstanding, the screws are very long for stability. The challenge is that the kit size is small, at least for a heavy-duty anchor.
Drywall Screw Anchor Buying Guide
Considering certain features before buying a drywall screw anchor for your home can be helpful. You should know what you want to buy and go for it.
Consider the following features in no specific order.
#1. Mode Of Installation
While some anchors are self-drilling, others you must hammer in. The self-drilling anchors are easy to use and time efficient, especially if you are good with a screw gun.
However, you must be careful with the hammer-in anchors so they don't break or tear apart.
#2. Type Of Support
Another thing to consider is the support the anchor screw offers. Pop-open anchors are easy to install and provide a great mount.
Even with a heavy-weight item, an anchor that will disperse the weight evenly will be preferable.
#3. Screw Size
The size of the screw matters a lot, so you should be mindful of the anchor. The screw size must match the anchor, or there will be no cohesion.
If the screw is oversized or undersized, there will be no chance of a strong grip.
#4. The Design
It would help if you always went for the design you like best. The anchors and their screws are either reusable or not.
If you prefer an anchor and screw you can remove and reuse, go for the reusable ones. But if not, do otherwise.
Tips For Selecting The Best Drywall Anchor Screws
Selecting the best anchor screw has to do with some features. When deciding which drywall is best, you consider the following features.
#1. Weight Capacity
You can choose your best anchor screw based on the results you expect. The one that is most capable of holding your item is the best.
Many people advise that you only hang half of the weight, despite the weight capacity of the anchor screw.
Hanging items from the ceiling can be life-threatening. Therefore, it's best to hang half of the total weight capacity.
The review shows that the E-Z Ancor Drywall Toggle Anchor is the best for ceiling hangings.
The anchor screw holds up to 50 pounds. Any weight above 50 pounds is not ideal for it.
#2. Anchor Type
In general, you mostly see three types of anchors. First, there is the type that cuts into the drywall.
Next, one fastens on mildly in a special mechanical action in and behind the wall.
Lastly, those fasten on tightly on the front and behind the wall.
It is also important to consider the anchor type because it is useful in determining the best drywall anchor screw.
#3. Size Of Anchor Screw
Generally, drywall anchors come with specific screws that fit their design. The grip will slack if the screws are incompatible with the drywall anchor.
Notwithstanding, you can get screws the right length for your drywall anchors. This principle is best for heavier objects, which must go deep into the wall for proper balancing.
#4. Material of Anchor Screw
Anchor screws come in different materials, including plastic, zinc, and other forms. You can determine the best anchor screw depending on the best material of your choice.
The table below differentiates between Plastic and zinc screw anchors.
| Plastic | Zinc |
| --- | --- |
| Less expensive | More expensive |
| Less strong | More strong |
| Less weight capacity | High weight capacity |
| Not reusable | Reusable |
#5. Number of Pieces(Safety)
Your safety is paramount, so you can't leave it out. You would risk fastening loose items on your ceiling.
Two or more anchors and screws while installing guarantee more safety.
If the anchor kit contains many pieces, you can be more comfortable. Two or more anchors and screws double the reliability.