Are you tired of constantly sifting through endless mediocre toilet products? Look no further because we have found the holy grail of must-have items.
We are excited to present our review of the Briggs toilet, the game-changing solution that will revolutionize your life.
However, a good idea would be to start by choosing a popular and good toilet brand, and this is what we'd be helping you out with today.
Briggs toilet is one the most popular toilet brand in the US. Many contractors and homeowners have come to trust this brand for their toilet fittings. The ease of installation, efficiency, and unique aesthetics are some of the features many love about this toilet brand.
One of the best things about modern toilets is that they guarantee proper sanitation and reliable/efficient flushing power.
Toilet brands manufacture their toilets using high-intelligence technology and innovative designs.
Stick around, and by the end, you'd be guaranteed more knowledge on the Briggs toilet model and its most popular alternatives in the market.
Who Makes Briggs Toilet?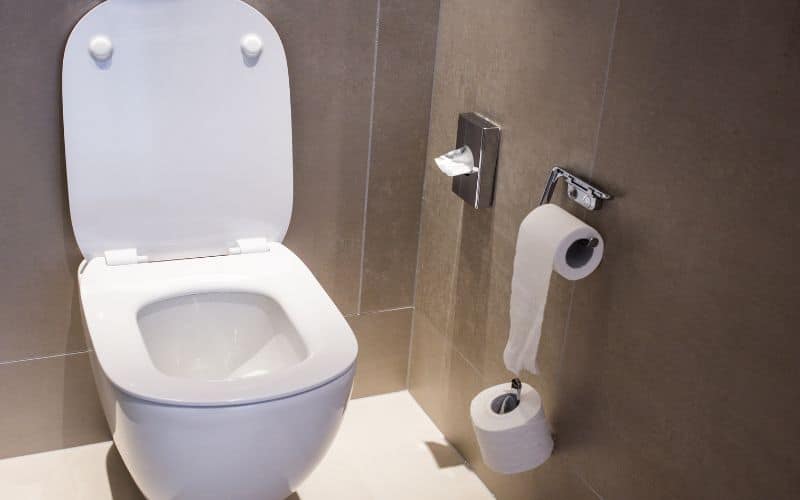 Briggs toilet models are manufactured by Briggs® Plumbing Products, LLC, which is an American-owned company focusing on business expansion.
The company is based out of South Carolina, where it's been producing the Briggs lavatories, toilets, bidets, and urinals.
Briggs supplies lavatories, bidets, toilets, and urinals for various applications.
Also, the company is involved in developing and manufacturing different types of toilets and related plumbing products.
Briggs has been credited with developing the first one-piece toilet and manufacturing toilets in a variety of colors.
Regarding replacement parts for Briggs toilets, several options are available from various suppliers, such as Korky Toilet Parts and Danco Complete Toilet Repair Kit.
It's also worth noting that Briggs offers a range of toilet models, including
Toilet-In-A-Box Round Bowl and the Glenwood tall elongated front, a two-piece toilet, among others.
These models have different features and specifications, such as insulated tanks, low flow rates, and elongated bowls.
5 Outstanding Features of Briggs Toilet
Many features of the Briggs toilet distinguish it from other toilet brands in the market today.
However, for this, we shall briefly examine five of the most outstanding features of the toilet, some of which are:
#1. Efficient Flushing System
Briggs toilets are designed to save water by featuring an efficient and powerful flushing system that can clear waste effectively with less water.
For example, the 7004L Toilet Express Round Insulated 1.6 GPF, the 7006-130 Altima Elongated Toilet Express, the 1.28 GPF.
#2. Wide Range of Styles
Briggs toilets come in a wide variety of styles, colors, and shapes to fit different bathroom designs and preferences. For their products, including toilets
Briggs supplies lavatories, bidets, toilets, and urinals for various applications.
#3. Durable Build Quality
Briggs toilets are constructed using high-quality materials that are durable and can withstand regular use for years
#4. Easy to Install
Many Briggs toilets feature a simple design that makes them easy to install, even for non-professionals.
Installing a Briggs toilet can be a straightforward process. Some of the search results mention that the toilets are easy to install, and installation instructions are provided.
It's important to note, however, that the ease of installation may vary depending on the specific model and any additional features or complexities.
If you're unsure about the installation process, it may be helpful to consult a professional plumber or refer to the manufacturer's instructions.
#5. Affordable Price Point
Compared to other toilet brands, Briggs offers affordable options without sacrificing quality or performance.
Briggs is known for affordable performance and has product lines that include high-efficiency toilets.
How Much Do Briggs Toilets Cost?
The cost of Briggs toilets can vary depending on the specific model and where it's being purchased from. 
Some Briggs toilets can cost as low as $150, while others can cost several hundred dollars.
So, it's best to check with retailers or visit the Briggs website to get an accurate price for a specific model.
The cost of Briggs toilets can vary depending on factors such as the specific model, features, and location of purchase.
Some listings, like the Briggs ComfortFit White Elongated Bowl 1.28 GPF Toilet Express, have a sale price listed.
While others, like the Briggs Abingdon 2-Piece White Tall Elongated Toilet, can be obtained at a discount through a mail-in rebate.
It may be best to visit a retailer that sells Briggs toilets, such as Ferguson, to get a more accurate idea of the cost and options available.
There are a few mentions of the cost of Briggs toilets. However, the answer is not clear cut as it seems to depend on the type and features of the toilet.
Nevertheless, power-assisted toilets like those made by Briggs generally cost around $100 more than regular toilets.
Similarly, dual-flush toilets like those made by Briggs can end up using more water than single-flush toilets and may not be worth the extra cost.
Are Briggs Toilets Worth The Cost?
Some customers have reported them to be reliable and good value for money, while others have had issues with the quality and functionality of the toilets.
So, yes, certain Briggs toilet models can be considered expensive.
However, the cost of a toilet model is not solely dependent on its brand but also on its features, material, and design.
Factors such as water efficiency, ease of installation, and durability can also affect the cost of a toilet.
Pros and Cons of Briggs Toilet
While it's true that this toilet model has its general comforts and usefulness, it does come with a few limitations, which you'll find below.
So, some advantages of using a Briggs toilet could potentially include:
#1. Water efficiency
Many modern Briggs toilets are designed to use less water per flush than older models, which can help to reduce water usage and lower water bills.
#2. Durability
Briggs toilets are typically made with high-quality materials and designed to withstand frequent use over time, which can help to extend their lifespan and reduce the need for repairs or replacements.
#3. Easy Installation
Some Briggs toilets may be designed with easy installation in mind, which can save time and money during the setup process.
#4. Comfort and Convenience
Briggs toilets may offer features such as ergonomic or customizable seats, easy-to-use flush handles, and other amenities that can enhance comfort and convenience for users.
#5. Affordability
Some models of Briggs toilets may be priced competitively compared to other brands, which can make them a more affordable option for homeowners or businesses in need of new toilet installations.
#6. Standard Fill Valves
Briggs toilets use a fill valve that's considered reliable as long as the flapper, lever, and fill valve are functioning correctly.
The Briggs 4800-130 model has a flush valve size of 2 inches and is made of vitreous china material.
There are universal adjustable toilet fill valves available in the market, such as Fluidmaster 3-in Universal Adjustable Toilet Fill Valves.
In addition to the Korky D DRP KORKY QUIETFILL TLT FILL V, you can use it as a replacement for inefficient fill and flush valves.
Its cons are also as follows:
#7. Clogged Drains and Toilets
Clogged drains and toilets are common plumbing problems that can occur with this brand of toilet (and many other toilet brands, as a matter of fact).
A clogged drain is typically caused by a buildup of debris, such as hair, soap scum, or food particles.
Which can slowly accumulate over time and obstruct the flow of water through the drain pipe.
While some toilet brands like Briggs may be more prone to clogging than others, the root cause of these issues is typically related to misuse or neglect rather than the specific brand of toilet.
However, to avoid clogged drains with your Briggs toilet, properly dispose of waste materials, avoid flushing non-flushable items, and regularly clean and maintain your plumbing fixtures.
If clogs do occur, they can often be remedied with a plunger, drain snake, or other simple plumbing tools.
In more serious cases, a professional plumber may be needed to diagnose and repair the underlying issue.
#8. Running Toilets and Flush Problems
Running toilets and flush problems can be common issues with this toilet brand. A running toilet occurs when water continues to flow into the toilet bowl after it has been flushed.
That can be caused by a faulty flapper valve that's not sealing properly, a damaged fill valve, or a problem with the chain connecting the flapper valve to the flush lever.
Other flush problems can include clogs in the toilet drain or trap that prevents proper flushing, a loose or broken flush handle, or a malfunctioning flush valve. 
These problems are caused by various factors, such as corrosion, mineral buildup, or wear and tear over time.
While some toilet brands like Briggs may be more prone to running toilets and flush problems, these issues can occur with any type of toilet.
Fortunately, many of these problems can be resolved by making simple repairs or adjustments to the toilet components or by replacing parts that are no longer working properly.
If you're experiencing running toilets or other flush problems with your toilet, it may be helpful to consult a plumber or follow the instructions provided in the manufacturer's guide to troubleshoot and fix the issue.
#9. Toilet Leaks, Including from the Base or Tank
Toilet leaks are a common plumbing issue that homeowners experience, and they can occur either from the base or the tank of the toilet.
Your Briggs toilet leaking is an indication that the wax ring between the toilet and the drain pipe needs to be replaced.
Leaks can be caused by natural wear and tear over time, improper installation, or even a shift in the toilet's position.
On the other hand, if you notice water pooling around the toilet tank or running down the sides of the toilet bowl onto the floor, it could be a sign of a leaking tank.
This may occur due to a crack in the tank, a faulty fill valve, or even loose or damaged tank bolts.
Nevertheless, it's important to note that toilet leak issues can be experienced across different brands of toilets.
Some of the common plumbing problems associated with toilets include clogging, leaks, running water, flushing problems, weak flushing, and problems due to age or regular wear and tear.
3 Most Popular Models of Briggs Toilet
Here, we'll take a look at some of the popular Briggs toilet models, which have some of the most modern and innovative features.
#1. Briggs 7006-130 Altima Elongated Toilet Express
This Briggs model is a one-piece toilet with an elongated bowl and a 1.6-gallon per flush capacity.
The toilet is sold on Amazon and other retailers, and there are customer reviews available to read.
It comes with everything needed for a quick and easy toilet installation in one easy-to-carry carton and is available for local delivery or pickup.
Additionally, there are other Altima toilets available from Briggs, including a ComfortFit model and an Express Round model.
Briggs 7006-130 Altima Elongated Toilet Express is available for purchase on Amazon.com and is a one-piece toilet.
It has an elongated design and is designed to fit in bathrooms with a depth of 24-25 inches.
The toilet has received positive reviews from customers on Amazon.com, with some praising its easy installation and comfortable design.
Additionally, another source states that the Briggs Altima toilet has a powerful flushing system and a low water consumption rate.
Some product descriptions and specifications claim that the toilet has a 1.6 gallons per flush (GPF) capacity and an elongated bowl design for added comfort.
Also, this Briggs toilet model comes with an express feature which makes the installation process easy and quick.
It's worth noting that different individuals may have varying needs and preferences when it comes to toilets, so it's best to consider your priorities when selecting a new toilet.
#2. Briggs Altima ComfortFit Model
The Briggs Altima ComfortFit model is a specific type of toilet from Briggs Plumbing Products.
There are several different models of Altima ComfortFit toilets available, including the AltimaMAX 4048 ComfortFit ADA 1.28 GF and the AltimaMAX FMBO ComfortFit ADA 1.28 GPF.
These toilets are designed to be high-efficiency toilets (HET), which use 1.28 gallons per flush (GPF) and comply with the Americans with Disabilities Act (ADA) standards for accessible design.
They feature an elongated front bowl and are available in both two-piece and compact elongated designs.
Additionally, they have color-matched trip levers and tank lids and are made of vitreous china.
#3. Briggs Altima Express Round Model
The Altima Express model is a type of elongated toilet produced by Briggs. It has a 1.6 gallon per flush flow rate and is designed for quick and easy installation.
The model number for the Altima Express toilet by Briggs is 7006-130. It appears to be available for purchase in-store. But, shipping is unavailable to certain states in the US.
Additionally, there are other popular Briggs Altima toilet models available from Briggs with GPFs worth considering. They are:
| Toilet Model | GPF |
| --- | --- |
| Altima 4234 Elongated ADA | 1.6 |
| Altima 4233 Elongated | 1.6 |
| Altima 4232 Round | 1.6 |
5 Best Alternatives to Briggs Toilet
Maybe you're tired of the same old Briggs product and looking to try something new. The good news is there are many legacy brands on the market you can try out.
We know that making this choice can be difficult, this is why we've curated a list of the best alternatives that will leave you impressed and satisfied.
Let's dive in and find your new go-to product!
#1. Kohler
Kohler is a well-known brand in the plumbing industry. They offer a wide range of toilets that go beyond standard models.
Some of their features include touchless flush technology, advanced cleansing, and luxury bidets.
#2. American Standard
American Standard has been a top toilet brand for over 100 years. They offer a wide range of styles and designs, including one-piece, two-piece, and wall-mounted toilets.
Some of their features include PowerWash rims, easy-clean surfaces, and innovative flush technologies.
#3. TOTO
TOTO is a Japanese brand that has been in the toilet industry for over 100 years.
They offer innovative designs and technology, such as their Washlet systems that provide advanced cleansing and bidet functions. They also feature water-saving technologies.
#4. Gerber
Gerber is a trusted brand for affordable and high-quality toilets.
They offer a solid variety of two-piece toilets that include smart gravity flush technology and a compact elongated bowl design.
#5. Delta Faucet
Delta Faucet also offers a variety of toilet models that feature advanced technology, such as SmartFit tank-to-bowl connections and easy-to-clean surfaces.
Delta also provides WaterSense and ADA-compliant toilets, aiding water conservation and universal design alignment.