Epoxy flooring is widely used for its ease and strength all across the globe. It can withstand extreme weather conditions, fluids, oil, chemicals, machine traffic, and footsteps.
Cleanup on an epoxy floor is effortless and doesn't trap stains; even if that happens, that is a rare case.
However, the question arises on the licensing part. Do we need a license to install epoxy flooring in our buildings and houses? Let's find out the answers together in the blog below. Scroll down to know more.
Ready for a Flooring Quiz?
Does Epoxy Installation Require Licensing?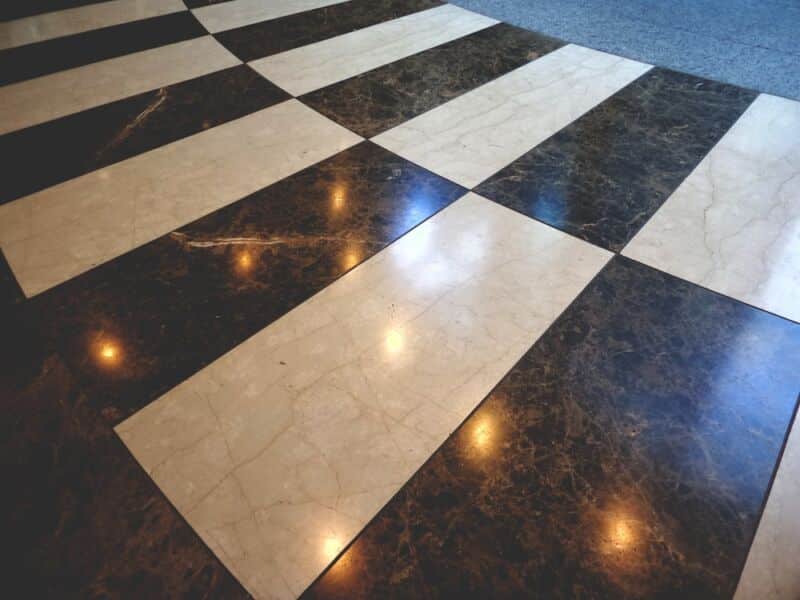 It has been found that the installation of epoxy tiles does not need a licensing contract from anyone.
However, if you hire a professional contractor to install your epoxy tiles, check if they have the license.
An unlicensed contractor can damage the entire look of your floor, as he will need to be more experienced to do the job with proper techniques and strategies.
Even after hiring a licensed professional, make sure you research everything from the start till the very end so that you do not make a fool by getting deceived by some fraud contractors.
You should know what the other person is doing to your floor to determine if he is doing it the right way.
A Licensed Contractor
The installation of epoxy tiles requires extreme delicacy with care, which can only be done by a professional licensed by the authorities, which makes his work reliable.
You can check their website, page, or portfolio for a review of previous work to identify if they are suitable for the job.
You should also check for their reviews from previous clients to see if they were satisfied enough with their job, which will help you make a decision.
Online reviews also help check whether the contractor was responsive to complaints from their clients.
Making a mistake is not in anyone's hands but correcting it becomes a duty that a contractor must fulfill at any cost.
Epoxy Flooring Pros
It is eco-friendly and hence doesn't harm the environment while leaving behind much less waste than some of the most famous types of flooring.
It is easy to maintain and will last for years. It is widely installed for being a durable, versatile, and reliable option, as you won't have to worry about cracks and damage.
Epoxy flooring is an attractive option because of its seamless, shiny, and smooth appearance.
Epoxy Flooring Installation from a Licensed Contractor
Your epoxy flooring can only look perfect if you know all the basic requirements. Even if you are hiring a professional for this job, having to look over the entire process yourself is necessary so that no one can fool you from under your nose.
Epoxy flooring is first blended with two chemical components of different natures to ensure safety and quality appearance.
Those components make it less likely to peel or chip like other traditional paint contractors use on the floor.
1. Choose the Right Material
Before buying the materials for your epoxy flooring on the recommendation of your contractor, it is essential to do your research before coming down to a decision.
Some contractors need to be more reliable and guide you in the wrong way for their profit.
Determine your flooring budget and choose the suitable materials according to that. If you only go for the cost-effective ones, you might damage the look of your epoxy floor.
2. Clean the Concrete Surface
Before applying the tiles or paint on your floor, clean the entire debris carefully so that it does not make your flooring surface uneven from any side. The entire floor should be dust and debris free before you start working on it.
Preparing a clean surface can be time-consuming, but it is worth all the effort since it provides a base for your perfect epoxy flooring surface. After cleaning, make sure you use the primer for an extra clean concrete slab.
As we speak of the surface, never forget the foundation! Check if there is building foundation over tree roots as it might cause some damage to the floor and, ultimately your epoxy flooring.
3. Mix the Components
Mixing the two most essential components is one of the initial steps of your tile installation: base and hardener components.
Get a huge pot or container that is big enough to hold the entire solution so that the spilling doesn't waste your material.
You can mix the components using a high-speed drill for a streak-free mixture. After the mixing part, transfer the solution to a large roller tray to prepare it for the coating process.
4. Apply Initial Coating
On a clean surface, apply the initial coating of the component mixture from a starting point and roll it from there consistently.
The cross-rolling method is highly recommended for an application that coats the floor continuously without reapplying the mixture on the roller.
5. Let it Dry
It is essential to let the surface dry out completely before adding in the next part; otherwise, your epoxy tiles will not get a glossy look.
It only provides a finishing look after drying out entirely. Allow the floor to dry for at least twelve hours but at most twenty-four.
6. Clean the Tools
While the floor is drying after the initial coat, try to clean all the tools in your spare time.
Cleaning the remaining residue from the tools will help in a better application of the second coating without the appearance of any bubbles.
7. Apply the Second Coat
Before applying the second coat, ensure you have everything close by for a better performance.
Pour your epoxy the same way you did with the initial layering. After the second coat, use a leveler to ensure that the surface is even to achieve a much smoother look.
After applying the second layer, wait twenty-four hours before using it, leaving you with a masterpiece for a lifetime.
Conclusion
Even though it can be expensive to work with epoxy flooring, you can create a beautiful look for your floor by taking the necessary steps. Make sure you hire a licensed professional contractor to do the job so your epoxy floor can avoid blunders.
You do not need a license for epoxy flooring, but you definitely need a licensed professional and proper research before starting on one.