Perhaps, you have been making plans and saving money to repair or completely reroof your house. And when you are finally ready, your roofer then says, 'oh I am sorry but your GAF Camelot shingles have been discontinued.
If you have come across such an expression, you are not alone.
Keep your mind open as we will examine the meaning of discontinued shingles and what to do if we have one.
We will also consider the difference between a GAF Camelot and a GAF Camelot II and the best roofing shingles alternative to GAF Camelot shingles.
Yes, GAF Camelot is indeed discontinued and no longer available for purchase. Yet, you can still roof your house with the available alternatives: Timberline and GAF Camelot II. They are far better than the GAF Camelot in terms of their upgrade, which is lacking in GAF Camelot.
Ready for a Roofing Quiz?
What Are Discontinued Shingles?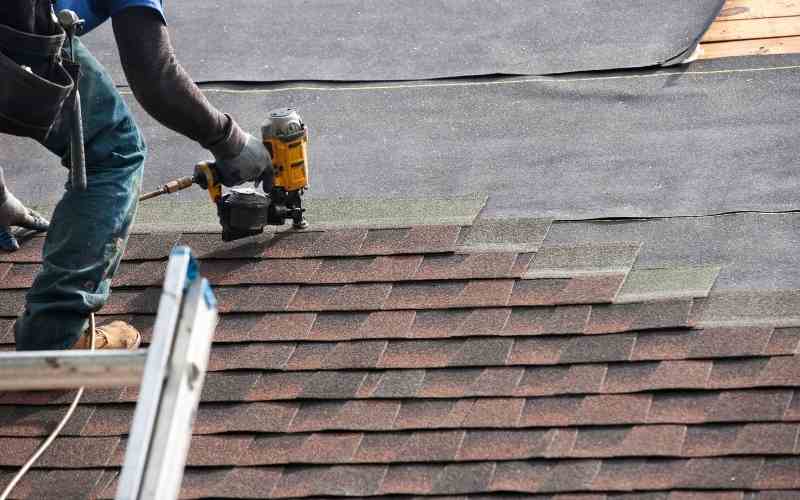 Discontinued shingles are shingles that manufacturers stop producing because they fail to reach their expected sales. And also often when the product line is defective or when there is a change in the production process.
Most times, manufacturers discontinue a particular color or an entire line. However, an opposing point of view that you should avoid is the idea that because a shingle is discontinued, it is defective.
That is not true since many do not know about the discontinuation of their roof for a long time only until they decide to repair or reroof their house.
If you find yourself in a situation where you have discontinued shingles and are about to repair or reroof your house, do not worry; it's okay.
Below are the four things you can do with discontinued shingles;
#1. Consult Your Insurance Company
You need to contact your insurance company and know more about their policies on discontinued shingles. How the policy reads in their guideline will go far in determining how the handling of the matter turns out.
Your insurer will inspect before approving either a repair or a total replacement.
You need to include that your shingles are discontinued while consulting with your insurer. And this is because not all insurers know which roof shingle is still in production or discontinued.
#2. Talk to a Trusted Contractor
Only a trusted contractor who wants the best for you will table before you the best options. Most times, if the shingle is a recently discontinued product, your contractor may still be able to access it.
And this is because contractors are often certified to source directly from the factory. Talking to your contractor should be done before consulting your insurance company since he will know best what roofing shingles are available.
He should also be present when the insurance adjuster comes to ensure that all damage falls under consideration.
#3. Confirm Rules of Your Homeowners Association
If you live in an area where the homeowners association keeps specific rules on house design, you will have restrictions on how far you will go on designer roofing shingles.
Therefore, you will have to consider other shingle options to avoid picking a fight with your homeowners' association.
#4. Test Samples
If there is anything I have come to learn when choosing a shingle, it is to never pick from a phone, catalog, or laptop.
At times, your choice will appear different when you see them physically and often different from what you have. So, ask your contractor to provide them physically so you can confirm it with the one you have.
What is the Difference between GAF Camelot and Camelot II?
Just like GAF Camelot, the manufacture of Camelot II is also to serve as a luxury shingle. Except that in 2014 Camelot II came with a DuraGrip adhesive pattern that gives enhanced wind uplift performance.
For a long time now, the roof shingles used are those of asphalt-based mat shingles, which GAF Camelot falls in this category. And this shingle usually weighs about 450 lbs per square.
However, unlike GAF Camelot, the Camelot II uses the fiberglass mat shingles that appear to be everywhere today and about 280 lbs per square.
Although they may look very similar, the Camelot II has made itself the standard for many years by offering a 30-year warranty.
Also, the wind rating of Camelot II is as high as 130 mph and a lot less expensive than GAF Camelot.
Nevertheless, the essential thing about Camelot II is that there is not much variability in color; they look the same. Camelot II is thinner in comparison to the GAF Camelot.
Best Alternative to GAF Camelot Shingles
Depending on what you are looking for, the best alternative for your GAF Camelot shingles may be Timberline UHD shingles or Camelot II shingles.
For instance, in terms of color choice, Timberline can provide a similar color to your GAF Camelot. In contrast, Camelot II will offer a similar shape and product line.
But before we take a deep dive into which is the best roofing shingle alternative, let us first learn about GAF Camelot shingles.
GAF Camelot shingles are the first affordable luxury designer roofing shingle that its company developed, and its dimensions are appealing and have durable construction, not to mention a luxury look.
Yet it costs a little more than the standard architectural shingles.
GAF Camelot incorporates with its company proprietary, advanced protection shingle technology. And this helps to improve the performance of your shingles while reducing unnecessary filler.
In addition, it comes with smart choice protection covering material and a 110 mph wind coverage.
Below are alternatives of GAF Camelot and what makes them unique or fitting to use for your discontinued shingles;
#1. Timberline UHD Shingles
Apart from being very cheap and affordable, Timberline offers a thicker and ultra-dimensional wood-shake view of your house, particularly the roof.
All of these put together boost the resale value of your house whenever you are ready to sell.
Characteristics of Timberline UHD shingles
It has a good housekeeping seal that is earned and can be trusted.
It stays with the highest class in fire rating roofs.
It stays in place thanks to DuraGrip adhesive seals.
The transferable warranty with Smart Choice gives you peace of mind.
The finishing touches are usually excellent.
The advanced protection in shingles offers excellent home protection.
It is more than 50 percent thicker than the standard shingles.
It has a 25-year limited warranty against the appearance of blue-green algae.
#2. Camelot II Shingles
These shingles also give the house a crafty-artisan and classic outlook at a far less expensive cost. So apart from making your house appealing by 40 percent, they also boost your house's resale value.
Apart from giving a luxury look that goes hand in hand with the house's walls, it also has an entire lifetime limited warranty.
In addition, it features blends with a variety of colors that add more meaning to the house's exterior. As a result, Camelot II has also earned a good housekeeping seal.
Characteristics of Camelot II Shingles
It offers peace of mind from a transferable warranty with Smart Choice.
The advanced blending technology of GAF combines the latest granule colors.
The DuraGrip adhesive seals always keep it in place.
The fishing touches often end up in a perfect state.
It has high performance due to the presence of advanced protection shingle technology.
It also stays with the highest class in fire rating roofs.
It offers a 25-year limited warranty against the appearance of blue-green algae on the roof.
Conclusion
GAF Camelot is now discontinued and no longer available for purchase and use. Also, this article has given us a deeper understanding of discontinued shingles and what to do if we have one.
It has also provided recommendations on excellent alternatives: the Timberline UHD shingles and Camelot shingles.