The importance and vase use of trusses in our modern-day construction cannot be overemphasized, from bridges down to rooftops.
Trusses can be in various designs, shapes of which every truss construction method/technique varies.
Adequate planning and resources are Key for constructing any type of truss that will stand the test of time. Let's look into how to build a 24-foot roof truss.
The first step to building a 24-foot roof truss is making the right plans and providing the needed resources. Trusses are an excellent choice when constructing large structures meant to hold weight. But, as daring as the need for trusses is, so is the knowledge to pull one together.
What Are Roof Trusses?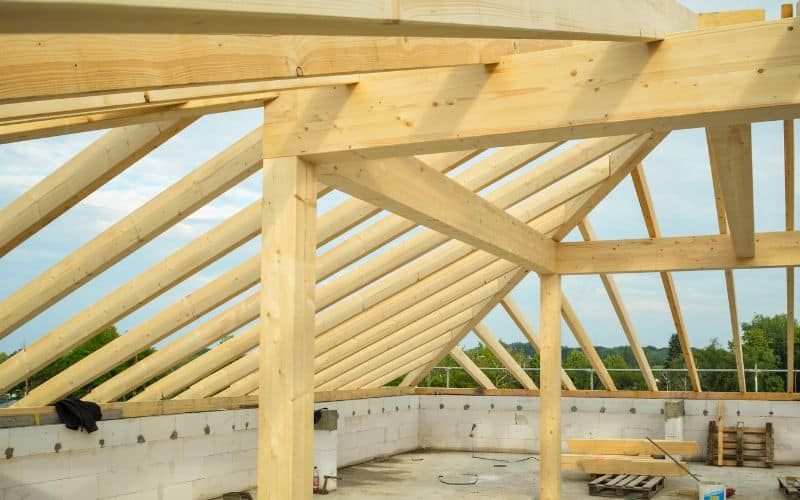 A truss is the skeletal framework of construction that supports a roof. The trusses are light-weighted materials for structural buildings which help to support weight and maintain structures.
Trusses can support weight, but the degree of stability varies in design, size, length, and other factors.
Ideally, roof trusses can balance off horizontal and vertical forces, providing structural integrity for structures.
Trusses are essential in house building as they carry weights and prevent the entire house from collapsing. There are different materials used for framing a truss, of which timber is the commonest.
Not only are trusses used for house roofing, but they also find uses in several other construction works. Trusses are in bridge constructions, service providers' towers, stadiums, and the like.
Rooftops support, amongst other truss applications, is the most common use of a truss in construction industries.
Due to the verse use of trusses, it is often common to see various designs, styles, sizes, and shapes in use.
There are different truss types today with diverse designs and outlooks manufactured for specific use. It will amaze you that even roof trusses offer different levels of stability for other kinds.
It is needful to know that roof rafters trusses aren't the same as roof trusses even though they perform the same purpose.
A distinctive line is in their use as roof rafters trusses are for small structures while roof trusses are for large networks.
Hence, we can say that the requirement of a system necessitates the type of truss to be together.
How to Build a 24-Foot Roof Truss?
Every truss design has measurements, specifications, and building techniques. Truss roof designs come in different shapes and sizes, and their building technique will for sure vary from one another.
The importance and demand for trusses in construction are why trusses must be structured well.
Building roof trusses is a complex task; precision and accuracy are vital things to have at arm's length.
Pieces of building materials need to be together, and any wrong calculation will utter the desired outcome.
Here is a step-by-step guide to building a 24-foot roof truss.
The first stage of building a 24-foot roof truss is plotting the exact specifications of the truss.
Make a rectangular frame the exact size of the house upon which the truss will stand.
Measure and cut the timbers according to the specifications of the roof truss (preferably two by 6 and 2 by 8). The dimensioning of the wood should be on the speculative weight and size of the truss.
You can now begin the design of your truss. Choose a roof truss design that offers truss stability and even weight distribution. For a 24-foot roof truss, add a beam in the middle (90 degrees) of the triangular-shaped roof truss.
It's time to assemble the truss noting all the standard measurements.
Secure the beams' connections with a steel plate gusset and screws 1-1/2 inches long. You can decide to use plywood to serve as a gusset for lightweight trusses. For stability, use any affordable construction adhesive to hold the truss together.
Viola, you have a 24-foot roof truss ready for use.
How Much Does a 24-Foot Roof Truss Cost?
The average cost of a 24-foot roof truss is $75 – $150 per truss frame. It means a 24-foot roof truss should cost around $2000 per square house.
Roof truss costs vary by size and pitch, meaning that the 24-foot truss is the cheapest.
However, several other lower-priced truss types are as low as just $35 per truss frame per the demand. However, you should be aware that many factors influence the cost of a 24-foot roof truss.
For instance, a 24-foot roof truss depends mainly on the kind and quality of the materials used for construction.
Wooden timber roof truss spans are the cheapest among other materials and the most efficient. Aluminum or steel materials are much more expensive than timber.
There is no standard price for a roof truss in any city, and the cost varies from one roofing company to another.
Again, the type of roof truss design will also influence the cost of the 24-foot truss size either way. The more the truss roof spans for stability, the more the truss cost, regardless of its size.
In addition, the dimensioning of the roof truss span is also a selling point for different types of built roof trusses.
Do 24-Foot Trusses Need Center Support?
Generally, you will not find center support on a 24-foot roof truss since they are basically for a domestic setting.
However, I must point out to you that the roof truss design determines if the truss needs center support or not.
For instance, while the Howe roof truss comes and needs center support, it is not the case with other roof trusses.
Center supports on roof truss designs are majorly for industrial applications, enormous house roofs, or other heavy constructions.
Simple build roof trusses do not require any center roof truss span support. For example, a 24-foot truss without center support is still capable of serving its purpose.
Although it doesn't mean that a 24-built roof truss cannot have center support, it is just unnecessary.
Roof truss design using a roof truss calculator considers all the width, pitch, and loads of the truss. Therefore, if it doesn't call for alarm, you don't have center support for the roof truss rafter.
Mathematically, adding center support will not affect the calculation of the acting force. Plus, with prefabricated trusses having engineered roof rafters, the option for center support is blurred out.
But if you feel like adding one, it will only increase the integrity of the truss, preventing collapse.
The use of a center roof truss span is basically to increase the stability and firmness of the roof truss.
However, a truss roof calculator will show that the center support carries zero force on most roof trusses. Therefore, we can infer that most center roof truss span doesn't take any energy.
Are Trusses Made With 2×4 Or 2×6?
Trusses are generally light-weighted materials with a 2×4 dimensioning. However, occasionally, you find a rooftop truss with a 2×6 measurement.
It stands to be another distinctive line between roof trusses spans and roof rafter's trusses.
All roof truss span members are equal in lumber size with the regular 2×4 measurement as their dimension.
But as much as they are smaller in bulk, their numerous uses make them maintain the required stability. However, a double 2×4 is the solution for widely spaced houses rather than a 2×4 roof truss span.
Trusses don't come in 2×6 dimensions because of the chances of buckling for a 2×6 span. Using a 2×6 roof truss span for rooftops in most cases demands the support of a center beam.
You are aware that every little space in the room is desirable hence the use of a 2×4 roof truss span as a dimension.
Conclusion
House roofing in residential construction is one of the most critical considerations to consider. Using wooden roof truss spans in building roof trusses has made roofing tops a little less expensive.
However, building roof trusses is a tasking job that demands enough skill and experience.