Building a shed is ideal for storage and workspaces, which will include correct and safe electrical installation. However, without the electrical codes, hazards are bound to happen.
Hence, knowing what NEC requires for electrical wiring and installation to your sheds is essential..
The National Electrical Code (NEC) is a standard code that ensures the safety of persons and property from electrical hazards. Some of their codes for sheds include using one wire from the house to the shed and GFCI protection.
Ready for a Roofing Quiz?
What Does the NEC Require?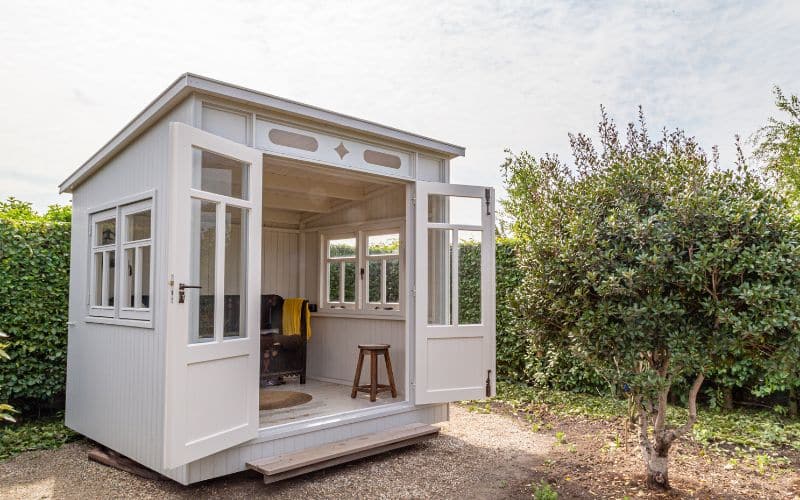 NEC requires that you use one wire from your house to your shed or any outdoor building. So, you can't run more than one wire from your main building for any pressing reason.
Instead, you should use a sub-panel to eliminate the need to run another wire into your shed.
Your main concern should be a safe installation against physical damages, moisture, and corrosions. Also, For any building, including a shed, you will use GFCI protection for every receptacle.
NEC requires that cables should be inside a conduit for protection. However, using a riding metal conduit is a better option for wiring a shed outdoors.
Its rigidity and build( a protective layer of zinc or steel coating) make it fit for cable protection. 
However, if you have a less complex shed appliances and wiring plan, you can use a 20A circuit.
With the 20A circuit in such less wiring, you won't need a sub-panel aside from your house panel for extra loads. Going more than the 20A circuit will entail not meeting up to NEC requirements.
In other words, if your shed is a simple design, you need a headlight and 120V outlets without a sub-panel. But for a more complex shed, you will need a 240V outlet and a sub-panel
NEC requires that all your circuits have a switch that turns the whole circuit off. And the switch must be easily accessible for any emergency.
What Do I Need to Wire a Shed?
The first thing you need to wire a shed is safety, and it's the most important thing you need.
In other words, you should follow all electrical codes NEC requires to wire a shed. Below are some materials you will need:
Electrical wires
Pliers
Cordless drill
Receptacles, switches, boxes, and circuit breakers.
Electrical fishing tape
Wire stripers
Sub panel
Shovel
Conduit
Also, what you will need to wire a shed will vary depending on what you intend to do with the shed. For instance, if it's for a storage facility or small shed, you won't need more heavy equipment.
But, on the other hand, an extra workspace will include more sockets and other equipment you will need.
In some cities, you will need a permit to do any electrical-related work in your house or shed. Also, in places where permits are not common, you will need them for bigger jobs like wiring your shed.
A permit is more like insurance; when any disaster happens to your shed that damages it, insurance will cover your loss.
However, getting a permit is no big deal; if your city provides it, the permit protects you and your shed. Besides, accidents can happen, and fire can outburst if you don't correctly install them.
You will also need a GFCI while wiring your shed for protection against any electrical abnormality.
However, there are different configurations of a GFCI for any use; a GFCI circuit breaker and GFCI protection receptacles.
The GFCI circuit breaker will shut off power during an interruption, and GFCI protection receptacles protect against electrical shocks.
NEC recommends GFCI because of its extra protective feature, unlike ordinary fuses and circuit breakers.
For example, a circuit breaker can only open a circuit when the current exceeds the normal current and has a time limit to close back.
How Do I Run Electricity to My Shed above Ground?
Running electricity wire to your shed above ground is not something an electrician will recommend.
However, you can follow these steps below to guide you on running electricity to your shed:
#1. Planning
The first thing to do is make a plan depending on the type of shed you have. And you are to run only one cable from your main house.
This is because the electrical current from the house is essential, so your house electrical panel should have more Amps to run to your shed. 
Secondly, plan how you want to make your circuit. You will need a sub-panel if you plan on having more than one circuit. You will also need a sub-panel if the panel from your house is not big enough.
Also, you should have a wiring diagram to guide you on how to assemble all the materials in the shed. And you can quickly identify faults if there are any.
#2. Running The Wires
Wiring a shed involves wiring the receptacle boxes, connecting outlets to the boxes, and channeling electricity from the house.
So doing the wiring job isn't that difficult, but the planning is. Before running your wires, make sure you use the proper wire size capable of the current to carry.
You should use at least one pole to help support the wire from your house. And your wire should run from the main panel to the shed.
When the wire comes from the indoors, passing it through a door exit is a no. Instead, you should drill a hole where the wire will pass, its more safe this way.
However, some houses have a dedicated space for outdoor wires.
If you don't have years of experience in electrical wiring, don't try it, it's not like any DIY project. Any significant error can lead to property damage and even death.
Wiring above ground can be reliable but requires hiring a licensed electrician or following electrical codes NEC requirements for a quality job.
Before you carry out wiring a shed, you will need to consider some things around the project.
For example, you have to consider your shed's location, its distance from your house, and what cables to use.
How Do You Wire Multiple Outlets to a Shed?
You will need a 'sub panel' if you plan on wiring more than one circuit for multiple outlets. However, a sub-panel has its GFCI circuit breaker and won't rely on the main panel after a power interruption.
And a sub-panel will eliminates circuit overload, allowing your new appliances to have good electrical flow.
Before starting any connection, turn the power off from its primary source. I will be discussing two methods you can try out below.
Daisy chain wiring
Pigtail witing
#1. Daisy Chain Wiring
This wiring has to do with a parallel circuit connection, whereby current passes from one outlet to another. It's primarily used in sheds since a GFCI circuit breaker is available.
The daisy chain connection will have two cables in the outlet box. One of the cables is the live cable from the panel, and the other will connect to the next outlet, and the chain continues.
Now you must keep these critical things in mind; black to brass and white to silver.
Your black wire from the life wire connects with the brass terminal of the live cable and the white to the silver terminal. Lastly, twist the ground wires together and connect them with the green terminal.
#2. Pigtail Wiring
You can also make pigtails in each outlet and leave the last one on the connection chain.
This involves joining wires of the same color to create a pigtail-like twisting and covering the twisted wires with a white cap.
Also, you have to connect the black ones to the brass terminal and the white to the silver. But it's not highly recommended for your shed because it has no GFCI protection.
NEC Codes for Small Shed
NEC codes for small sheds are similar to other types of sheds, just that they will require less complex equipment installations.
In addition, the codes are similar to your local codes because all local codes follow the requirements of NEC.
However, national electrical codes still require you to have a permit from your local codes before taking an electrical task.
Now let's see some of these NEC codes for small sheds:
Your circuit should have GFCI protection
Use protective conduits for your cables, conduits like the rigid metal conduit, capable of protecting your wire underground.
Have the correct gauge wire and breakers for your wiring.
Conclusion
Safety is the main priority here, so always switch off the main power supply to your house before wiring your shed.
And follow the national electric code relating to your shed, then have an electrician check your wiring for any mistakes.
Nevertheless, if you are unsure of the right thing to do, you can always consult an electrician.