We want the best whenever we decide to take on any construction work for residential or business purposes. The sturdy and reliable state of a building enables us to live or work in it comfortably.
Whoever is involved must follow specific procedures to ensure the protection of the interior of the building from any weather.
For proper protection of the interior of your building, especially during construction, you must be conscious of the roof's state.
Roof dry-in inspection is the proper inspection after roof flashings and the underlayment is entirely installed. This process is to check that the roofing work has been done well. In addition, it confirms if the roof is strong enough to keep out wind, rain, and any other harsh weather condition.
What Is a Dry-In Inspection?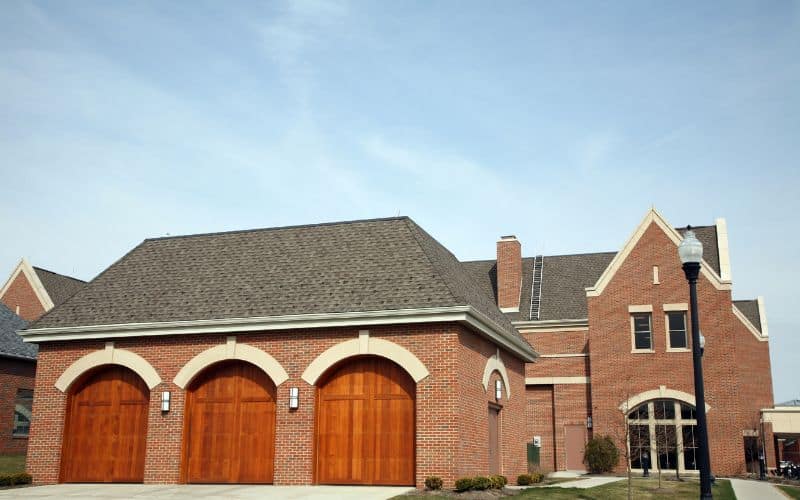 A roof dry-in inspection is of utmost importance to ensure that your roof is resistant to rain and weather.
During construction, a dry-in assessment is carried out after installing underlayments and roof flashings.
The roofers in charge employ the services of an inspector to check the quality of the materials and work done.
The roofing underlayment is installed as a weather-resistant material and keeps the structure's interior dry.
This process is done to ensure that weather-sensitive work can begin inside with no threat of weather interference.
The roofing underlayment is installed before any other roofing material and must be done correctly. If the underlayment is installed wrongly, your roof will get leaks during the entire dry-in process.
Dry-in, or dry-box, as others call it, is an effective protective measure against harsh weather conditions during construction.
The roof dry-in makes the structure sufficient to keep out the weather in general. This enables weather-sensitive materials to be kept inside and safe from weather damage.
Does a New Roof Need to Be Inspected?
Anyone getting a new roof or replacing the old one permanently tries to get a professional roofer.
This may seem to some people like an automatic guarantee of a job well done, notwithstanding roof inspection is very crucial.
Roof inspection reassures you that your roof is sturdy and will be resistant to harsh weather conditions.
Not every homeowner is well informed in roofing and therefore should seek the services of a professional inspector.
A good number of roofers do well in installing a structurally reliable and aesthetically excellent roof. However, some try to rush things up, leaving you with a poor-quality roofing system.
When faced with severe weather conditions, these poorly done roofs won't last long enough. To avoid this low-quality roofing system, You must thoroughly inspect your new roof.
The roof inspection checks every little detail to ensure the quality of the newly installed roof. The roof inspector checks the structure for sagging, weak fascia, and soffits and gutter systems.
It would be best to inspect the chimney for cracks, damaged caps, or disintegrating grout.
The chimney edges are meant to direct water away from the house's interior and must be fixed properly. Furthermore, the quality of materials used is not to
be overlooked. If the shingles or roofing sheets are not correctly aligned, it could lead to water leaks. A roof inspection is needed to ensure the sheets and shingles are fitted perfectly to avoid future roof leaks.
Foot traffic is well known to cause damage to shingles of poor quality. Inspectors find it easy to check this effectively. You should properly check the attic venting system.
Another thing to be checked is the interior. You must scrutinize this to ensure that there's no loose ceiling. The interior inspection is an easier and safer way to detect problems with the shingles or tiles.
In the case of a metal roof, You must inspect the position of the screws and nails to prevent leakage. You should check the flashing well, as having a durable roofing system is vital.
Every detail should be inspected by the inspector and should be fixed immediately.
Florida Roof Dry-in Inspection: How Long Does It Take to Dry In a Roof?
Many cities have building inspectors to overlook any ongoing or just finished construction project. The new construction phase in North Florida is in charge of inspections in the city.
They have laid down standards for any newly constructed building that The repairer or builder must follow. This is a way of contributing to avoiding poor construction problems in the city.
When a roof is not done correctly, it may collapse and lead to severe damage. There are certified inspectors available to see to all your needs for a reasonable sum.
The Florida building code contains the particular items and manner a building project must abide by.
The inspectors thoroughly inspect the finished construction work before it can be approved as suitable for use.
All roofing work must comply with the Hurricane mitigation retrofit manual, Florida building code for existing buildings, chapter 7; the Florida building code residential, chapter 9; and the Florida building code, chapter 15.
These contain protective measures laid down by the city of Florida. The inspection is mandatory, and there are no exceptions.
High humidity and other inappropriate weather conditions play a role in roof drying. Generally, it takes two to four weeks to dry out completely.
What Do You Require For a Dry-In Inspection?
Whenever you're building and get to the dry-in stage, you are advised to employ the services of an inspector. Every city has a way of handling its dry-in inspections.
Each inspector knows the necessary steps for a dry-in review in whichever jurisdiction he is assigned.
Generally, the assessment is to ascertain that the roof is weatherproof. A proper dry-in inspection can only establish the durability of a roof.
You must take specific steps to ensure this, which are the requirements for a dry-in inspection. First, you should protect the exterior part of the building against the elements.
Second, dry-in assessment requires a thorough examination of individual components. The review may include the exterior siding, foundation, doors, windows, framing, and roofing system.
As you already know, the dry roof inspection is usually done after installing the roof underlayment and flashing.
The examination is necessary to ensure that the materials used are not of low quality and can be trusted to last.
In addition, the dry in assures you that your roof is sufficient enough to resist weather damage.
Until the building has reached the dry-in status, interior work that requires weather-sensitive materials can not be done.
There are situations where weather-sensitive work such as insulation is to begin on a building without a dry-in status.
In such cases, the certified contractor or engineer must recommend a reliable temporary exterior covering for the structure.
When this temporary measure is put in place, interior work may begin. However, this is not always acceptable or effective in some jurisdictions as the temporary covering may not hold.
Final Thoughts
Living or working in a building without fear of the roof falling on our heads is great. However, constant re-roofing is not even an enjoyable ordeal.
Well, you can easily avoid this right from the construction of your building. Roof dry-in inspection enables you to fix whatever fault that might ruin your roof easily in time.
Always get a dry-in review if you want assurance that a roof is impervious to hazardous weather conditions.