If you want to install a protective layer on your walls and aren't sure about the best type to use, you're in the right place.
Roofing underlayment should be one of your foremost options; it has many other advantages apart from using it as a guide for the roofs of your buildings. In this article, I will be revealing the best types of wall underlayment.
Roofing underlayment can be used on either the walls of your homes or other commercial buildings. Roofing underlayment doesn't only play an essential role on your roofs; it also plays a crucial role when you attach it to the wall of your constructions. In addition, it protects your walls by functioning as a weather-resistant barrier.
Ready for a Roofing Quiz?
Can Roof Felt Be Used On Walls?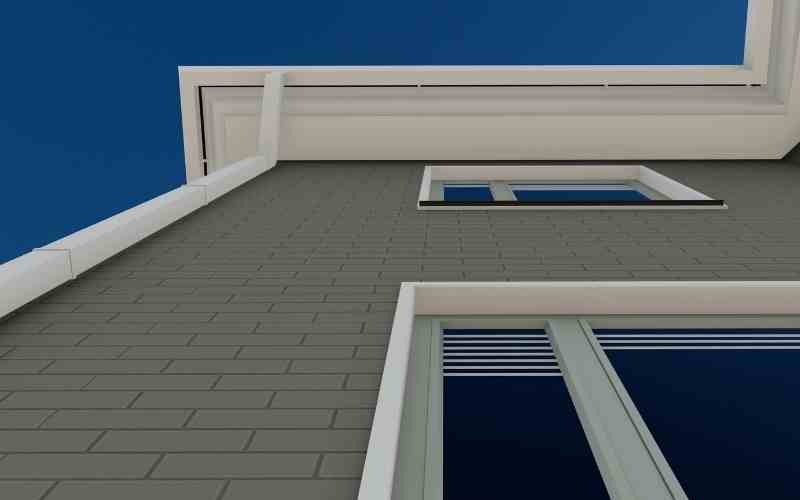 Yes, roofing felt can be used on walls. Just like roofing felt serves as extra protection for your roofs, so does it function as additional protection for your walls.
Of course, you can always use asphalt felt paper as a water-resistive barrier to prevent vapor from infiltrating your house's interior.
Even though veneer insulation and siding also protect your walls well, moisture can still seep into the interior of your home through the insulation.
But with the help of a quality underlayment, the vapor won't be able to infiltrate the sheathing, thereby saving your home from water leakage. Felt paper is also known as felt tar paper.
Advantages Of Roofing Underlayment To Your Walls
Roofing underlayment has many advantages, and these are some of them;
Roofing underlayment serves as secondary protection for your house against unfavorable weather conditions such as snow, rain, sun, etc.
It improves the strength of your walls. It makes your wall stronger, lasting for a very long time.
It prevents water vapor from passing into the interior of your buildings.
What's The Difference Between Roofing Underlayment And Roof Felt?
Perhaps, you're wondering if there is any difference between the two, then this is for you.
Roofing underlayment is the material that's permanently installed between the roof deck and your home's roofing shingles.
It serves as a secondary defense for your home against unfavorable weather conditions such as rain, hot, humid climates, snow, etc.
In addition, roofing underlayment makes your roof more durable, thereby lasting for a long time and giving your roof a beautiful look.
While roof felt is one of the most common types of roofing underlayment, and it's also known as asphalt-saturated felt.
Other common types are synthetic felt which is also called non-bitumen synthetics, and rubberized asphalt.
Therefore, roof felt also functions as a waterproofing material, protecting your building from water leakage.
What's Housewrap?
House wrap is a synthetic material that is similar to synthetic roof underlayment. However, the primary purpose of house wrap is that it's used as an underlayment to protect the walls of your high-quality house.
It's usually installed over the sheathing before siding; it is usually found behind the siding.
House wrap can come in the form of fabrics, paper, board materials, etc. House wrap functions as a weather-resistant barrier that protects the interior of your buildings from water and air infiltration.
Therefore, House wrap is sometimes called building paper.
The most common types of house wrap that builders use for walls are plywood, house wrap barricade, and non-perforated house wraps such as Tyvek or Typar.
Felt Paper vs Housewrap, Which Is Best Used As An Underlayment Material For Walls?
Firstly, the weather conditions of the area where your building is will determine the type of underlayment you're to use for your walls.
Therefore, check out the advantages and disadvantages of both asphalt felt paper and house wrap and choose the best one for your wall protection.
Advantages Of Roof Felt Paper
The following are the advantages of using felt tar paper as an underlayment for your walls;
Asphalt felt paper serves as a water-resistive barrier that prevents snow or water from leaking into your house. This is quite helpful in an area where rain disturbs a lot, where water finds its way through the sides of your wall easily and doesn't get enough sun for drying. The felt paper used as an underlayment will absorb the water and prevent the moisture from infiltrating the sheathing of your walls. Therefore, it will gradually release the absorbed water to the exterior of the walls without causing any damage to its interior.
Asphalt felt paper is inexpensive compared to a house wrap, especially a house wrap barricade. So, that's why most people go for it.
It makes your wall more durable by functioning as extra protection for it.
Disadvantages Of Felt Paper
Below are the shortcomings you should be expecting when you use felt tar paper as a layer of protection for your walls;
Felt paper only protects your buildings from water leakage. Therefore, if it's used as a wall underlayment, the wall won't be able to breathe, and with time, it may cause damage to the wall structure.
Felt paper isn't as strong as a house wrap. In addition, it can easily tear if you do not handle it well during installation.
And lastly, due to its weight, it's not easy to install compared to a house wrap.
Advantages Of House Wrap
Below are the benefits of using house wrap as an underlayment material for your wall;
House wrap functions as a weather-resistant barrier. It doesn't only prevent moisture from penetrating your buildings; it also prevents air from infiltrating the interior of your buildings. Also, it protects your home from other elements of weather as well, such as hot, humid climates, heavy wind, UV exposure, and so on.
It's stronger than felt paper. This feature makes it more durable, thereby lasting longer, saving you from irrelevant spending on maintenance.
It's lightweight, and this makes its installation very easy.
Disadvantages Of House Wrap
The main disadvantage of a quality house wrap is that it is pretty expensive. But this shouldn't be a barrier as you should be going for quality when choosing materials for your building's construction.
How To Install A Wall Underlayment?
Installation of underlayment materials for walls, either felt paper or house wrap, is straightforward if you follow instructions.
Therefore, these are the step by step processes of installing either felt paper or house wrap on your walls;
Perhaps, you want to replace the old underlayment of your wall; the first thing is to get rid of the old siding, nails, and the old wall underlayment from the wall.
The next step is to use a tape measure to measure both the height and width of the sheathing of the wall.
Cut the underlayment material to size using a utility knife. Cut the material by the measurement you got in step 1. And make sure you add 6 inches for overlap.
Attach the first roll of the underlayment material on the sheathing of the wall starting from the right side using roofing nails. Position the first nail to be at the top left corner of the material, leaving about 2 inches of space from the edge of the material.
Next, use a hammer to nail it through the material, ensuring that it passes through the sheathing wall.
Next, attach more nails to the material following a row down, leaving about 6 inches of space between two nails.
Moving to the right, leave a 6 inches space and attach additional nails. Continue this process with a new row leaving 6 inches until you exhaust the first sheet.
Place the next layer of the material on the initial sheet and ensure that it overlaps within 6 inches. Just like you did with the first sheet, repeat the process, and keep attaching the material row by row until you get to the edge of the wall by the left side.
Install flashing on the window and make finishing.
Conclusion
This article encompasses a more significant percentage of what you need to know about wall underlayment. Indeed, it will be an excellent guide for choosing the best underlayment for your walls.