You made plans to build your house project and got all the tools you need, but there is the question of where to get high-quality lumber for the house framing.
Several companies offer wood framing lumber of varying types and quality. To build a good and lasting housing structure that would stand the test of time, purchase the correct framing wood.
The best place to buy framing lumber is from a sawmill, a local lumber yard, or a box store. However, your choice depends on the available delivery options, the quality of lumber, and the price that the lumber company offers. You can also buy your framing lumber from certified online stores.
Best Places to Buy Lumber for Framing Offline: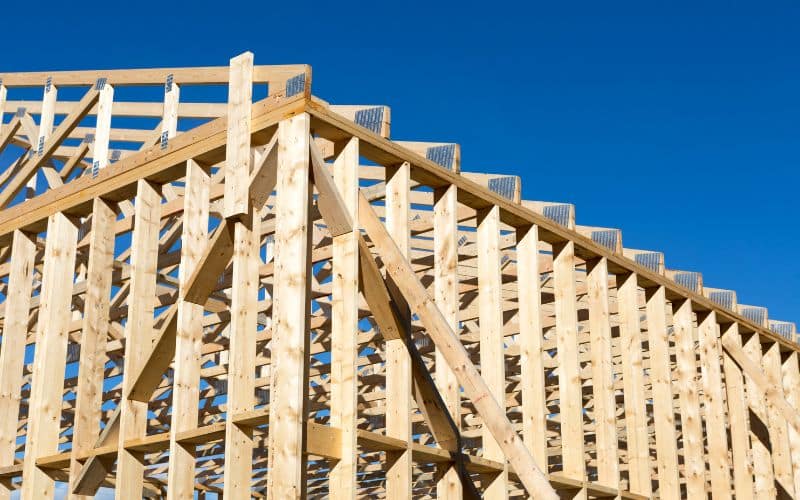 High-quality lumber products are essential to building a good foundation for any building project you are embarking on. There are different offline stores to buy framing lumber.
However, the best place to purchase your framing lumber depends on your budget and the quality of framing lumber products you need.
If there are lots of lumber store options in your locality, try to make enquires of their services, prices, discounts and quality of woods available.
These inquiries will help you make the best choice on the purchase location. With that in mind, below are some of the best places to buy wood framing lumber offline:
#1. Sawmills
Your local sawmill is the first place to put into consideration when you want to buy your framing lumber. Sawmills convert logs into lumber, though it might still be green wood.
This lumber is in perfect condition because it has not gone through handling or any other factors that can cause defects to the wood.
Lumbers from sawmills are also cheaper than that of box stores and hardwood stores. The miller can also prepare your framing lumber product to suit the purpose you intend to use it.
Though you might have a local sawmill in your area, you cannot buy framing lumber directly from a mill.
Sawmills stipulate who they sell their wood products to and how they market them.
To access sawmill lumbers, you might need to join associations or tie resources with other interested parties to purchase bulk lumber.
#2. Lumber Yards
If buying from a sawmill is not feasible, a local lumber yard is the best location for your framing wood purchase. Unlike sawmills, lumber yards sell varying types of high-quality lumber directly to customers.
In addition, most woodworkers and contractors buy their wood lumbers from local lumber yards because they have no restrictions on purchase.
You can buy any quantity of wood from a lumber yard, though it might be necessary to have a good knowledge of the type of wood you need.
Lumber yards sell a broad range of framing lumber products, which can confuse you if you do not know your way around.
#3. Big Box Stores
Big box stores are less confusing, as their lumber storage is more organized. Big box retailers also assist and guide you through the lumber selection to help you choose the correct wood framing lumber.
They often keep a less variety of lumbers, so purchasing wood stomps from big box stores is not overwhelming as buying from lumber yards or sawmills.
Unfortunately, the available varieties also mean you may not find an exotic or particular type of wood in big box stores.
Best Places to Buy Lumber for Framing Online:
You can also buy your framing lumber from online stores right from your home. Buying wood lumbers online is also better if there are no lumber stores or a local lumber yard in your area.
The following are some of the best places to buy lumber for framing:
#1. Bell Forest
Bell Forest's online lumber store has a variety of lumber and allows you to handpick your framing wood boards.
They also have an extensive collection of exotic wood framing lumbers if you are looking for diverse boards.
#2. Rare Woods USA
Rare Woods have a user-friendly website that is simple to navigate. They also have a wide range of lumber that you can choose from, with a price list attached to each wood catalog.
With their extensive selection of wood stocks, you can pick the best framing lumber product for your project.
Buying Bulk Framing Lumbers:
As a woodworker, buying your framing lumbers in bulk reduces the cost and gives you a wide variety of options. However, buy directly from the distributors instead of patronizing retailers to cut costs.
Though buying in bulk is ideal, it may be intimidating if you do not understand the terms distributors use and the process they follow.
Some of the things you need to know include:
#1. Board Feet Volume
Board foot volume is the unit of measurement distributors use to measure the volume of the lumber they sell.
They also use it to determine the price of framing lumbers with varying thickness, size, and width.
The formula for a Board Foot is length x thickness x width / 12, with each unit measured in inches, inches, and feet, respectively.
#2. Type of Wood Cut
The type of woodcut is also piece of essential information to have an idea of the type of cut you need for your lumber purchase.
For example, a sawmill cuts logs in three ways, quartersawn, rift sawn, and plainly sawn. A plain sawn woodcut is your typical woodcut.
It produces the most lumber per log and is less expensive than the others.
Sawmillers mostly do quartersawn woodcuts on attractive wood grains, and woodworkers often use it for tabletops and flooring. Riftsawn woodcut is cut at a different angle from quartersawn woodcut and is mainly for flooring.
You might have to mill your lumber yourself after purchase though you can pay your distributor to do it for you.
However, if you want to mill it yourself, you would need a thickness planer and jointer.
What Grade of Lumber Is Used for Framing?
The grade of lumber most contractors use for framing lumber is the grade two and three wood.
Grade two is the most popular grade for preparing lumber wood. You can also use construction-grade lumber, though, for light framing.
Defects in this grade of lumber are natural but should not go deep into the wood. The knots in this lumber can be spacious or tight.
Standard grade lumber is also a good framing lumber grade but for light framing construction.
Lumber Yard vs. Box Store
Purchasing your framing lumber from a local lumber yard or a box store can be a difficult decision to make.
This comparison will help you decide if it's the big box stores for you or if you will stick with your local lumber yard.
Below is the comparison between local lumber suppliers and box stores:
Local lumber yards care about the service they offer to their community and are interested in meeting your needs. However, big-box stores are only interested in making sales, and your lumber needs are often not their top priority.
Lumberyard employees have a good knowledge of the varieties of lumber available in their warehouse. They are also willing to share this knowledge if you are unsure of the appropriate lumber for your project. Unlike lumber yard employees, big-box employees do not have an expert judgment of woods. However, they can recommend you to specialists if you require one.
The price of wood in big box stores is often more economical than local lumber suppliers. However, the price range usually depends on various factors like the type of wood, its source, scarcity, and how often it is available in the warehouse.
Lumber yards have a better lumber quality than big box stores. Local lumber yards regularly store and preserve their lumber correctly since it is their specialty. However, big-box stores usually have customers selecting lumber, which can damage leftovers over time.
Conclusion
There are different places to purchase wood framing lumber, but high-quality lumber is essential.
However, the best place to procure quality lumber is from local lumber yards, big box stores, or directly from a sawmill if possible.
You can also acquire your lumber online if purchasing from a store is not workable.