Finishing your shed properly with the interior wall designs brings out the beauty of the shed and enhances its purpose.
It also helps to protect the building walls. Drywall is a well-used design for home, office, and garage interiors.
It is also affordable, hence its common use. Consequently, this leads to the question of if you can drywall a shed or not.
You can comfortably drywall your shed without worry. The shed is a temporary structure, so drywall may be the best option for the interior design of your shed. With the drywall on your shed's interior walls, you stand a better chance of little or no damage to your shed with proper maintenance.
Can You Drywall a Metal Shed?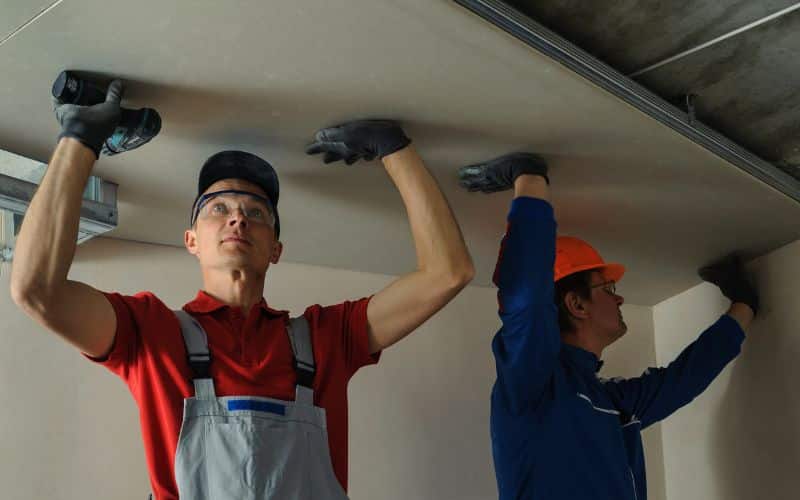 You can easily finish the metal walls of your shed with drywall. Drywall allows many finishing options and gives your shed an extra layer of protection. Drywall may be the best option for your metal shed.
Whereas other options may be good for your metal shed, drywall would give your shed a more traditional look on the inside.
Also, drywall installation takes less time than other wall finishings and has a cleaner installation process. With a metal shed that is water resistant, drywall would be a good option.
Due to the shed's metallic nature, drywall on your waterproof shed would last long enough. Drywall loses its structural integrity as quickly as it gets damp. You can Clean Drywall Dust Between Coats.
How to Mud Drywall in a Shed?
Mud means joining compound. Mudding drywall in your shed is easy and does not require much time, but doing it well requires care, patience, and effort.
Here are the steps you must follow when trying to mud drywall in your shed.
#1. Gather your Tools
These tools include;
#2. Prepare the Mud
The pre-mixed all-purpose joint compound will be perfect for your shed's drywall. It is easily accessible at any home improvement center.
Stir the mud properly with a mixer before using it to make it stick better. Improper stirring may make your mud develop tiny balls that won't dissolve and make your work more tedious.
#3. Make the Wall Smooth
Use a knife to run over the wall surface. If your knife hits a nail or screw head, drive it properly. Ensure all screws and nails are properly fitted and not poking out.
#4. Install Corner Beads
To install the corner beds on the outside corners, you could run drywall screws through the corner beads and into the drywall.
#5. Apply the Mud
Spread mud directly on the joint with a knife. Cover the joint where you just applied mud with tape.
Then, apply another coat of mud onto the tape and allow it to stick. Using a wet sponge, carefully smooth rough areas and remove extra mud.
Allow it to sit for a day. After this process, you use your vacuum to clear out the floor that you might have made dirty from your mud application.
These processes listed above are the very basics of mudding drywall. Although you may decide to add one or two processes depending on the style you'd prefer for your shed.
But these are the major processes to follow when mudding drywall in your shed.
How Much Does it Cost to Drywall a Shed?
Some factors determine the exact price range or cost of drywall installation in a shed.
The cost is usually well calculated by the different item prices per square foot, as shown in the table below.
| Items | Price per square foot |
| --- | --- |
| Materials | $0.60 – $1.00 |
| Labour | $0.45 – $1.00 |
| Finishing | $0.45 – $1.50 |
| Total | $1.50 – $3.50 |
Installing drywall usually costs between $1.50 to $3.50. This price may vary due to location, but it should fall in this same range wherever your shed may be.
Garden Shed with Drywall
Drywall for your garden shed gives your shed a lot of stability for hanging shelves and other garden tools.
Drywall is also very good for your garden shed because it withstands fire better than other wood products.
Drywall offers a smooth and attractive finish to your garden shed's interior wall. It is also a good option for your garden shed because it can resist fire over wood such as plywood.
Although the drywall is not strong, using it in your garden shed will require extra time and effort for maintenance.
Proper maintenance helps you prevent tearing it off the walls. When hanging shelves, locate the studs underneath the drywall for better support.
Drywall Alternatives for Shed
Although drywall is a good interior shed material, it also has setbacks that may make you want to consider other alternatives.
Here is a list of good alternatives you could consider.
#1. Wood Planks
Wood planks are an old method that gives your shed a traditional but beautiful look. With wood planks, you don't have to experience maintenance issues like when using drywall.
This alternative is cost-effective. Although, you cannot use wood planks for all types of sheds, especially if you want a more modern look to suit the exterior.
#2. Veneer Plaster
This alternative comes close to drywall in terms of quality. It is simpler to use, though. Although it is easier to maintain, it is very laborious and time-consuming.
#3. Plywood
Plywood is the cheapest alternative on the list. It gives your shed a certain appealing flair. You can also paint it in any color you desire.
#4. Lath and plaster
It is similar to veneer plaster. Laths are narrow pieces of wood you install horizontally between studs. The process is as easy as combining your laths and coating them in plaster.
#5. Texture Wall Panels
If you're looking for more beauty and elegance, texture wall panels are the best interior shed material you could get. Although expensive, they give your shed a unique, modern, and elegant look.
#6. Cement Board
Drywall is not appropriate for areas with high moisture, but the good news is that there's an alternative. The cement board is a good option because it is water resistant.
#7. Corrugated Metal
These are very heavy sheets of metal panels. You may have seen them a few times on the exterior sides of barns and even on roofs. It is fairly cheap, and you only have to screw them into the studs.
#8. Gypsum Panel and Reinforced Fiberglass
They are very durable and scratch-resistant. The gypsum pane and reinforced fiberglass are strong and good for moist areas.
This interior shed material gives your shed a very nice and appealing look.
#9. Brick and Masonry
The brick wall has been a classic for a long time and is still very much in style. It is more expensive than drywall, requires very little maintenance, and is durable.
#10. Pegboard
If you have a garden shed, a pegboard may be the best interior shed material for you.
The pegboard has spaced hook holes that will allow you to design any amount of shelving and storage space you desire. Installation only requires you to screw the keyboards into the studs.
Read More: Knee Wall Height Code
Conclusion
Drywall is one of the best interior shed materials you can find. Although it requires a lot of time for installation and proper maintenance, it gives a traditional flair to your shed.
You can also paint it any color of your choice to suit the look and purpose you desire for your shed. It is not expensive to install either.