Contemporary modular kitchens are trending due to massive space and ease of use. Many homeowners are opting for plywood under kitchen cabinets, and rightly so.
This blog post will discuss the factors you must consider before investing in plywood for your kitchen cabinets and flooring and why this material is the best option.
Ready for a Drywall Quiz?
What Is Plywood?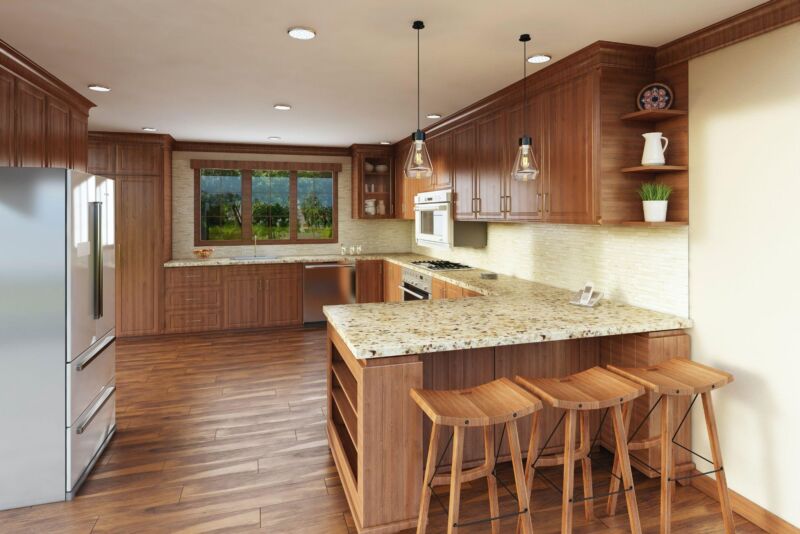 Sheets of wood are stacked and glued together to create one sturdy and thick wooden sheet, plywood.
Sticking these sheets together is unique as it is stacks of the sheet with grains in alternating directions.
The adhesive forces increase as a result, and you get a thick wood sheet that doesn't break apart.
Factors to Consider Before Choosing a Plywood Under Kitchen Cabinet
If you ever consider installing kitchen cabinets for your next kitchen remodeling project, here are the factors you must keep in mind:
#1. Cost
Bear in mind that anything trendy won't be cheap. Hence, the price of the plywood under kitchen cabinets must be a factor you must consider before opting for this material.
Plywood is relatively more affordable than true wood flooring. However, incorrect measurements and mistakes during construction can easily dial up the prices when excess material is required.
If you have a budget or can be actively vigilant around the construction process, you can significantly reduce this issue from getting out of hand.
#2. Grade
Plywood is available in the market in various qualities and grades. The distinct grades offer unique qualities in the plywood, which you can choose from based on your needs.
#1. Marine Grade Plywood
Marine plywood is ideal due to its high water and heat resistance. The material can survive 500+ boiling hours.
Hence, places like underneath the kitchen sink can make perfect use of marine-grade plywood as the leaks won't affect the flooring. The material is also termite-free, ensuring longevity.
#2. Fire Retardant Plywood
As the name hints, fire retardant plywood is highly resistant to fire and doesn't let ignition or flames travel easily.
Since the area around the stove is susceptible to such incidents, you can install fire-retardant plywood under the kitchen cabinets surrounding this area.
In a fire emergency, you'll have enough time to leave the premises as the plywood resists the fire.
Moreover, the material doesn't emit toxins upon burning, reducing the chances of toxic gasses and suffocation.
#3. Boiling Water Resistant Plywood
You can't go wrong with Boiling Water Resistant Plywood if you opt for plywood that doesn't give in to the pressures of boiling water.
Compared to marine-grade plywood, BWR is slightly less credible. However, it's a better and cheaper alternative.
Moreover, the plywood doesn't warp or let moisture ruin its dimensions.
#3. Durability
An essential factor you must consider before choosing plywood is its durability. Remodeling your kitchen isn't a yearly procedure as it requires substantial sums while hindering your routine.
Therefore, choosing a durable, low-maintenance, and long-lasting material is crucial.
Benefits of Using Plywood Under Kitchen Cabinets
Numerous people opted for plywood under kitchen cabinets during their recent remodeling and renovation.
Here are some benefits that might encourage you to try out this material for your kitchen.
#1. Versatility
When remodeling a kitchen, especially turning the existing kitchen into a modular design, you'd need to consider the aesthetics.
Since the kitchen isn't enclosed by a boundary, any aesthetic mistakes will instantly catch your visitor's eye and leave a bad impression.
Moreover, the cohesiveness of all the components used around the cabinets is essential.
However, with plywood, you mustn't worry as these unique materials are quite versatile. This material has various colors to match your overall theme and decor.
Furthermore, you can also ask for custom designs and colors if finding the exact shade is difficult.
#2. Easy Maintenance
With cabinets, a huge challenge of maintaining cleanliness presents itself. The structures restrict the movement required for proper cleanup.
Despite that, plywood under kitchen cabinets is quite low-maintenance.
You only need a damp rag to wipe any dirt and debris accumulated around the smooth surface.
#3. Relatively Budget-Friendly
Homeowners who don't opt for plywood install true wood in their kitchens.
However, the exorbitant material prices and installation costs aren't compatible with everyone's budget.
Moreover, the long-term maintenance costs with wood, especially consistent polishing and refinishing, are an additional hassle.
Therefore, plywood is a preferred option if you have a strict budget. You may miss the finesse and the richness of real wood around your kitchen.
However, since various plywood grades are better around the rough and tough conditions of the kitchen, plywood is certainly a better choice.
#4. Highly Durable
As discussed earlier, durability is an essential factor when considering materials for your kitchen.
This place in your home is susceptible to structural damage due to the regular usage of water, fire, and sharp objects such as knives.
Therefore, to make your kitchen safe and reliable, you require a durable material that won't give in.
Plywood makes an excellent choice as the tough, well-adhered sheets of wood don't crumble easily under pressure.
You can opt for fire-retardant plywood to protect the kitchen from potential fire incidents.
In contrast, opt for boiling water-resistant plywood under kitchen cabinets to lower the damages prevalent with heated water.
Many homeowners opt for a combination and use more than one type of plywood in different spaces around the kitchen.
This way, you can reap the maximum benefits of each grade without breaking the bank.
Wrapping Up
Plywood under kitchen cabinets is widely popular, especially for a modular kitchen. The durable material is easy to maintain, and various colors and grades are offered to make plywood customizable.
The investment is highly worth it if you want a safe kitchen while ensuring the aesthetic appeal doesn't drop.
Come back to this blog post whenever you're remodeling your kitchen to make an informed decision regarding the plywood flooring under the cabinets.