Knowing that knee walls are used to separate interior and exterior arrears in the attic is very important.
However, this wall needs certain requirements before building it in your attic.
The height code is one of these requirements, enabling you to install the right knee wall in your attic.
But what does the code say about the height of your knee wall? Let's find out!
Before installing a knee wall, the attic area needs to measurements with the help of a tape measure. The framing for a knee wall is in 2-by-4 pieces of lumber or dry wood, and the height should be 4 feet. Aside from this, it would help if you had drywall available to cover the areas when done.
In this article, I will explain everything you need to know about fixing a knee wall. By the end, you'll understand how to DIY.
What Does the Code Say About Knee Wall Height In a Building?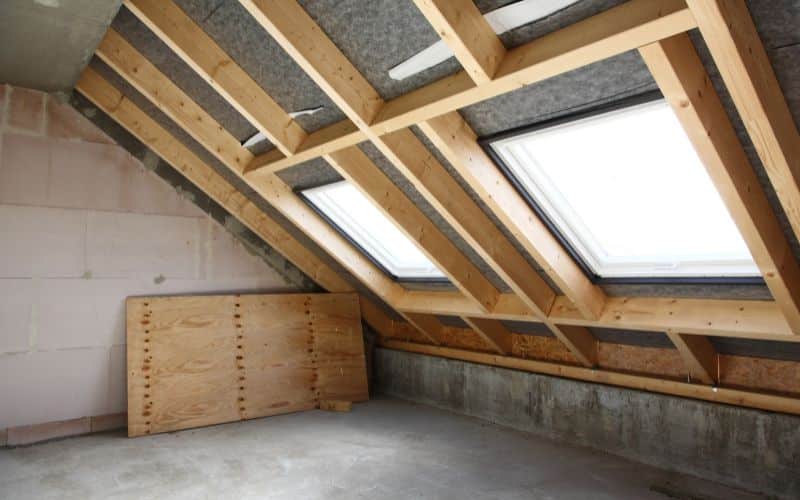 Knee wall installation in any attic should be a minimum of 3 feet and a maximum of 4 feet.
One way of getting a perfect wall is following the code (requirements) during installation.
Only finished attics and upper-floor living rooms typically have knee walls.
These low walls help manage your space by generating surfaces between the finished floor and sloping rafters.
For convenience in drywall installation, knee walls are framed with 2x4s and built to 4 feet. In most cases, a knee wall will not have any bearing capacity.
If you want to know whether or not yours is load-bearing, go to an experienced contractor or structural engineer.
In such a case, you can install a chest. However, you'll need a double-2×6 header and two trimmer studs to keep the ceiling from caving in.
Installation of this wall and understanding its dynamics can be complicated, but it's all sought out. Check below to see the requirements for a knee wall.
What Are the Requirements For a Knee Wall?
Knee walls are easy if you follow the step-by-step guide I'll show you shortly.
However, you can't achieve this without some tools and materials. Check below to see them.
Here are the tools needed for knee wall construction:
An electric miter saw or Circular saw
Scrap two-by-four, roughly 2-1/2 feet long
Now that you have the tools needed, you would also need these materials to construct a perfect knee wall.
Here are the materials needed for your knee wall:
Three two-by-four, 8 foot
One drywall, full sheet (4-foot by 8-foot)
With this all in place, you're one step closer to fixing your knee wall. Let's get going.
Step-By-Step Guide To Fixing a Knee Wall
Fixing knee walls should be easy with the detailed step below:
To build a new knee wall, you'll need to measure the specific location of your knee wall.
It's good to take the measurement twice to be sure you did it right.
Next is to install a baseplate (2-by-4) on the line with construction screws of 4 inches so it hits the joist below.
Afterward, you ready your top plate (2-by-4) and smooth the surface off with the circular saw. You can get this, too, by using the table saw when ripping the old body off.
After ripping the top plate body off, you take it and attach it to the roof raft. In this way, it won't interfere with the edge of the wall on the roof.
After this, you'll notice that the baseplate and top plate align vertically.
That's why it's good to make a perfect measurement before even considering owning a knee wall in the attic.
Next is to get your stud pre-drilling them among the bottom and screwing them down with construction screws. This process helps in avoiding any cracking on your wood.
When connecting the stud between the base plate and the top plate, ensure it's directly proportional. You'll need this (flesh connection) to be able to connect the drywall.
The final part of this is to shield the opening with drywall; if you see no reason for that, you can leave it open.
What Is the Minimum Height For a Porch Knee Wall?
The minimum height for a porch knee wall is normally 3 feet in height.
This wall allows you to sit and have visibility to see other places around you without having to stand up.
Porch walls are a great way to divide off a huge space or open floor plan without completely sealing a section.
These walls serve duo purposes which can be functional or decorative features.
Although this wall is not that common, many don't know it by the name 'Porch,' some call it 'Short wall.' Whichever the case is, I'll be showing you how to do these walls yourself.
Follow these steps to get it done:
Before you attach your porch wall, you should first construct the frame.
The installation of a porch wall uses the end wall support method.
If the porch wall exceeds three to four feet, it is necessary to add in-floor support.
Installing porch walls directly on top of hardwood, tile, or linoleum flooring is an option for shorter pony walls.
What Is the Minimum Height For Bathroom Knee Walls?
The minimum height for the bathroom knee wall is three feet (91.44cm).
Knee walls are good in the bathroom because it helps hold a bathtub or shower stall firm from the floor.
Although walls like this serve as decorative and functional features, the extra space channels the inner designer and transforms it into a sharp focal point using tiles.
Mount full glass for a person who doesn't want an exposed shower. You can use it as a substitute for shower privacy.
For others, these walls are great because they reduce their budget since glass is expensive.
These walls are an extension of a shower's side or bathtub and can be tiled over.
However, if a vanity installs on the wall, you can also use extra wall space by adding a towel rack if necessary.
I can continue talking about the importance of knee walls in the bathroom.
Let's look at some pros and cons of these walls, which are seen in the attic, rooms, and bathrooms.
| Pros | Cons |
| --- | --- |
| Create space in the attic. | Quite difficult to do without assistance. |
| Materials are easy to get and very affordable. | It does not protect the roof from leaking. |
| Last longer. | Removing it might cause damage to the roof. |
FAQs
#1. What Is the Point of a Knee Wall?
Knee walls are two to three feet tall and support roof rafters. It also makes the attic's small, sloping roof space useful.
#2. What Is the Minimum Height of a Knee Wall?
Most manufacturers' pre-built base cabinets (34 1/2") fit into this height.
#3. Can a Knee Wall Be Load-Bearing?
Knee walls are rarely load-bearing. Ask an experienced contractor or a structural engineer if yours is load-bearing.
You can frame this with 2x4s and raise it 4 feet high to accommodate full drywall sheets.
Final Thoughts
In conclusion, knee walls are very easy to make; if you follow these steps, make it easy:
Measure the area you want to be installed.
Get a 2-by-4 baseplate and placement fixed to the joist.
Cover the opening with dry wood.
This article highlighted everything you need to know about knee walls and how to fix them in your building.