It is always a bad idea to begin a roofing project without first estimating the costs. So it is not surprising that the topic above is a matter that calls for serious research and contemplation.
And knowing the cost of roofing helps you access your ability to carry out the project. Be assured that in this article, we will examine the average cost of building a 3-bedroom house.
Then, we will consider the roofing labor cost per square, the cost of roofing a 3-bedroom house in Ghana and Kenya, and the roof replacement cost.
The cost of roofing a three-bedroom house varies due to several factors making the cost either high or low. And these costs will depend on the roofing material (roofing sheets or shingles) and roof framing (rafters or trusses) used in the roofing. But the most important emphasis will be given to the breadth and width of the house.
Ready for a Roofing Quiz?
Average Cost to Put a Roof on a 3-Bedroom House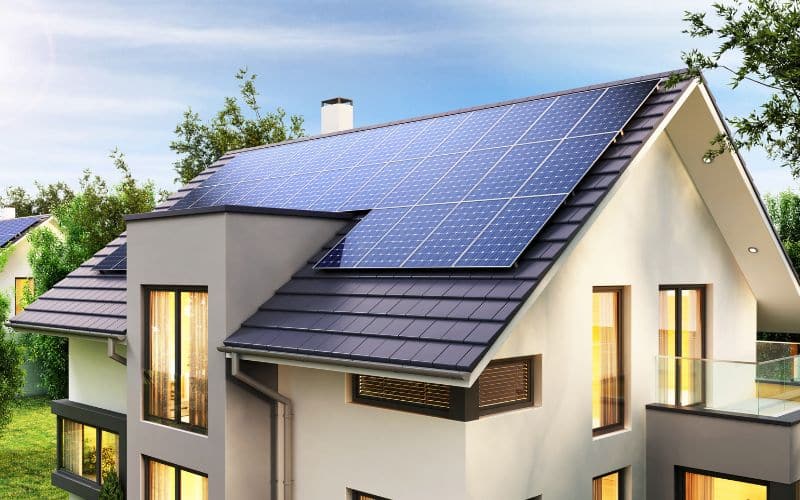 Determining the exact cost of roofing a 3-bedroom house is entirely impossible. Although, a proper estimation and approximation, when carried out, will help identify what you are to expect.
And that is why the roofing is not dependent on the building plan but on the entire width and breadth of the house.
You can build a three-bedroom house in three different ways, but this depends highly on how much you have.
The first is a three-bedroom with each room having a toilet and bathroom. Meanwhile, other places like the kitchen, balcony, pavement, and sitting room are shared.
In the second type, there are two standard bedrooms and one master bedroom with sharing a toilet, bathroom, pavement, and kitchen. But in this type, the master bedroom has a toilet and bathroom.
The third type is often preferred, especially when one is on budget. Here, there are three bedrooms with no specialty and no master bedroom. What is more, these rooms all share the same bathroom and toilet.
To correctly estimate the average cost of roofing a three-bedroom flat, we must first ascertain the costs of both the roofing materials and the roof framing that you would possibly be using.
#1. Roofing Materials
We will focus mainly on roofing sheets and shingles when discussing roofing materials.
Below are the costs if you intend to pursue or choose either one:
#1. Shingles
Asphalt shingles cost $90 per square
Composite shingles cost $400 per square
Wood shingles cost $350 to $500 per square
Clay shingles cost $300 to $1000 per square
Metal shingles cost $275 to $400 per square
#2. Sheets
When it comes to roofing, a sheet stands to equate to 100 square feet. Below are the cost prices for the different types of metal roofs:
Steel sheets will cost between $150 to $350 per square for galvanized and $75 to $200 for galvalume
Stainless steel will cost between $400 to $1200 per square
Tin usually costs between $300 to $1500 per square
Aluminum roofing sheets being cheaper than the two above, cost between $150 to $600 per square
Copper roofs costs between $800 to $1500 per square
Zinc will cost between $600 to $1000 per square
Finally, a corrugated metal roof costs between $350 to $650 per square
#2. Roof Framing
There are two primary roof framing available for you in framing the roof of your house. And note that these two frames are the trusses and rafters.
Below is an evaluation of the average cost of framing a house:
#1. Truss Frame
The cost of installing trusses for a square 1,500 square feet is $13,500 and $16,500The average cost of roof trusses is about $50 to $450 per truss and between $9 to $11 per square foot.
#2. Rafter Frame
The cost of installing a rafter frame in a 1,500 square feet roof of a house is about $10,500 to $24,000. And the average cost would be average cost should also be between $7 to $16 per square foot.
Roofing Labor Cost Per Square
Even after gathering all the cost prices for your roofing materials, you will never forget to ascertain the cost price for the labor.
And this is because I am sure you do not intend to roof on your own unless you are a professional.
When discussing the total cost of installing a roof over your house, it has to do with the cost of material and labor. But one thing is that the labor cost is usually 60 percent of the total roofing cost.
Therefore, if it costs you a total of $15,000 to roof your house, 60 percent of it would be $9,000. And this money ($9,000) would be a labor cost for the entire project.
Usually, the labor cost is average out per square foot which is between $1.50 and $3.00. So if your house has roofing of a 10×10 foot area, a professional roofer will charge between $150 to $300.
You can either go for a licensed roofing company or an unlicensed one, but I will advise a licensed one.
Although more expensive, the licensed company has insurance coverage and manufacturer certification. And this means it has better roofing knowledge and would offer services at a fairer price.
Cost of Roofing Three Bedroom House in Ghana
A typical three-bedroom flat in Ghana is 3600mm x 3600mm in size. And it has three toilets, a kitchen with a store, a dining room, and a living room.
But, the cost may change in response to increases and decreases in the price of materials in the market.
The following are the cost of roofing a three-bedroom flat in Ghana;
The roof truss will cost 6300 Ghanaian cedi
Roofing sheets cost 3000 Ghanaian cedi
A PVC and asbestos ceiling costs 3000 Ghanaian cedi
So all I am saying is that in Ghana in Ghana a three-bedroom flat, give or take, will have an average total cost of 12,500 Ghanaian Cedi ($1,580.28).
Cost of Roofing a Three Bedroom House in Kenya
A project to construct a three-bedroom flat in Kenya is not an easy task. Constructing such a house usually costs about 800,000 to 2 million Kenya shillings.
And so only those who are prepared the braze what follows venture into such an activity.
The idea of roofing cost varies from place to place in Kenya. For instance, installing the 30 Gauge Mini Corrugation metal sheet (MC 699) will cost Kshs 490 per square meter in the western part of the country.
On the other hand, the same sheet will cost Kshs 515 per square meter in the coastal region and Kshs 505 per square meter in places like Nairobi and Mount Kenya.
Likewise also, on the other hand, if you intend to use stone-coated Aluzinc roofing tiles, you will never install them at less than Kshs 3,500 per square meter. This cost also includes the cost of labor inside it.
So from the above information, it is right to say that a three-bedroom house in Kenya will fall within the range of Kshs 490 per square meter to Kshs 3,550 per square meter.
Cost of Roof Replacement of a Three Bedroom House
Based on the national average roof replacement cost of a house, it is now evident that these costs are of three types.
These three costs are;
Average cost (estimate of $8,300)
Highest cost (estimate of $11,200)
The lowest cost (estimate of $5,400)
Some situations may cause an increase or decrease in the cost of labor. For instance, when there is rotting in your timbers, the professional may increase the cost.
And this will be because of the danger the professional will be facing. Another reason could be the complete removal of the entire roof of the house.
And this is because most times, the roof could be so old that the work may involve more than just changing shingles.
Conclusion
The costs of roofing a three-bedroom house differ or vary by many factors.
And although you should consider the house's design and style, more emphasis should go on the breadth and width of the house. Finally, this cost comes from the cost of materials and labor.