Many sheds have their foundations in the ground, and the shed building itself is on the floor.
Other sheds have foundations that are way high above the ground. A ramp would be necessary for such sheds to enhance easy movement in and out of your shed.
A hinged ramp is very common for sheds. You may wonder what hinges are and if it is a good choice for your shed.
Hinged shed ramps are flat surfaces that allow the easy movement of people from the outside to the inside of the shed and vice versa. It is most helpful for people in wheelchairs to move into the sheds without having to experience bumps or any struggle.
Ready for a Roofing Quiz?
What is Hinged Shed Ramp?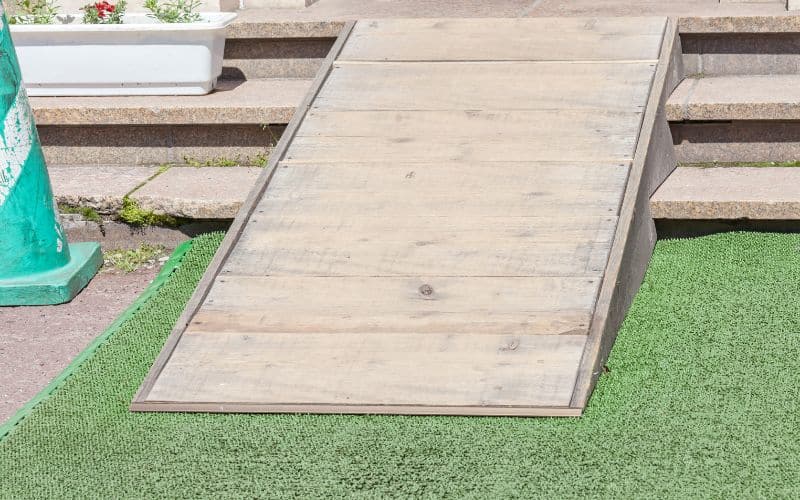 A hinged shed ramp is a gradually elevated flat surface connected by hinges to the shed's door.
To ease movement into and out of the shed. Generally, a shed ramp also allows the hauling of equipment into and out of the shed on machines like a wheelbarrow.
A hinged shed ramp is a good option because your ramp is attached firmly to the floor of the already-built shed door or door frame with hinges.
Using hinges is essential for only metals and wood. Therefore, these ramps are metallic or wooden.
The hinge joint present allows the closing and opening up of the ramp. Therefore the ramp serves door purposes too.
How Do You Make a Hinged Shed Ramp?
You can make a hinged shed ramp without calling a service company to help you out. You do not necessarily need a friend to help because the process is easy and takes only a few hours to complete.
Are you wondering how to make a hinged ramp for your shed? With the step-by-step guide below, you should be able to make your ramp without stress and quickly too.
#1. Gather Materials
There are various materials you will need to make your hinged shed ramp
Long pieces of lumbar/ Aluminum or steel
#2. Clear the Area
Clear the area, and remove weeds, pebbles, stones, and anything that would obstruct the ramp. 
#3. Attach your Header Board
Use framing nails to attach your header board to the outside wall from the foot of your door opening.
Ensure you position the board to accommodate the ramp size you intend to make. Proper positioning is also necessary in order not to obstruct the closing and opening of the door.
#4. Make the Slope on the Wood
Take a piece of long lumbar wood. Measure its length to ensure it's appropriate for a slope to the ground. Cut the wood into two slopes.
You should have two very long right-angled triangles after this. Do the same to one or two more pieces of lumbar to get a table ramp frame.
#5. Make the Frame
Use framing nails to put all boards together, forming the shape of the ramp. Ensure all sides of the frame are equal.
Use the saw to reduce the sizes if necessary. It should be firm. Use your drill and bits to hold the ends firmly.
#6. Position the Frame
Take the frame to the foot of your shed door where you had put a header board earlier. Ensure both the length of the header and that of the top board on the frame are the same.
Use hinges to hold the frame firmly to the header board. If necessary, use nails to tighten the hold.
Make sure the end of your frame has direct contact with the ground. If necessary, dig a little dip into the ground to make the frame stable on that end.
#7. Make the Ramp
Measure the horizontal length of the frame and cut pieces of lumber to that size. Place them from top to bottom, leaving no space at any point. Drill them into the frame firmly using your framing nails.
After all this, you would have a well-built hinged ramp for your shed in barely a few hours.
Whereas wood is a good option for hinged shed ramps, metals like aluminum and steel are perfect too. The process is easier if you decide to have a metallic ramp instead.
You get your ramps punch plate and connect it to the floor of the already-built shed door or door frame using hinges.
The ramp's punch plate can also serve temporary purposes without using the hinges on them.
Hinged Shed Ramp Tips
You should consider a few things before getting a hinged ramp for your shed, and maintenance is quite as important too.
Well, good news, the table below contains a few tips you should bear in mind while considering a hinged shed ramp and some maintenance tips.
Before getting a hinged shed ramp.
After getting a hinged shed ramp(maintenance).
It is very affordable and a good option for your shed.
Avoid pouring water on your shed, the metal could rust, and the wood may also ruin.
The owner of the shed can easily construct it.
Constantly shovel and clear off dirt or ice on your ramp to prevent it from accumulating. A hinged shed ramp doesn't require much time to construct.
To prevent slippery surfaces, add rock salt to the clear surface of your ramp to melt lingering snow.
A hinged ramp gives your shed a more modern and beautiful look.
Adding grip tape to the surface of your ramps also keeps it from getting slippery.
It also serves as a door because the hinge joint allows it to close and open up when necessary.
Close up your ramp when it is not in use.
These tips should help a great deal once you have your hinged ramp.
How to Build a Ramp on Hinges for a Small Shed in a Tight Area?
Are you confused about building a hinged ramp because you have a small shed in a tight area? Well, that is no issue because of the proper measurements and planning.
You can have a comfortable ramp up and running in a few hours. The construction process of the ramp here remains the same, as explained vividly on how to make a hinged shed ramp.
The difference is that the ramp here is smaller because of the tight area. But even if the area is right, the ramp has a good slope enough to allow easy movement in and out of your shed.
Here is a list of things you should consider to construct your ramp well.
If possible, create more space to accommodate your ramp
Make a shorter slope but ensure it has direct access to the ground.
Use all the necessary materials
Ensure you leave room to walk up to the ramp
Is Ramp on Hinges for Shed a Good Idea?
Getting a ramp on hinges for your shed is a very good idea. A ramp on hinges is very stable, and the joint allows you to close up and open up your ramps easily.
You can also do this construction without a door for your shed. The ramp is a door that opens up when you want to go in.
It is also very secure and manages space since a door may not be necessary. It is less expensive and very safe.
Conclusion
A hinged shed ramp is a metallic or wooden slope with hinges that enhances movement into and out of the shed.
It is very beneficial and serves many purposes, including door purposes. It is also very easy to construct and a good option for shed ramps.