There are many reasons why you may want to remove the hardwood flooring. Many homeowners opt for the DIY option, thinking removing a hardwood floor is easy.
However, it can be more difficult than you think, and hiring a professional company for hardwood floor removal is best.
Since hardwood floors are glued and nailed, they are the trickiest to remove.
Professional flooring companies understand the type of floor they are dealing with and use techniques without damaging your hardwood floor.
Here's why you should entrust the removal of your old glued solid hardwood floor to a professional company!
Ready for a Flooring Quiz?
Why Hire a Hardwood Floor Removal Company?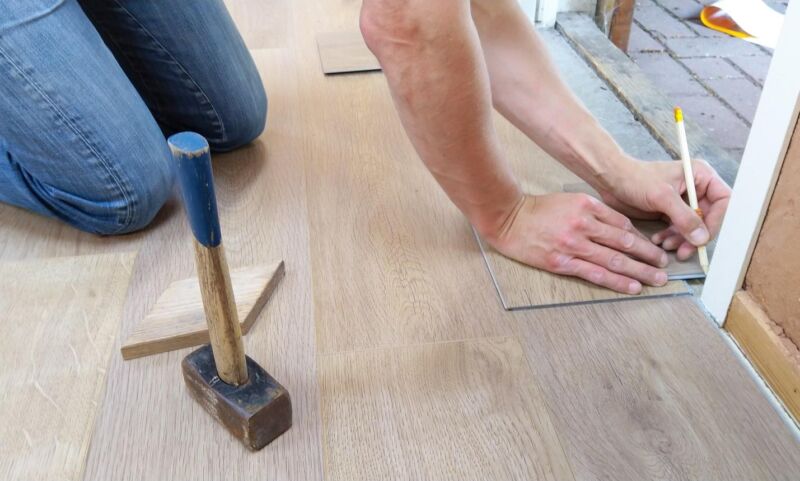 Professionals in floor installation, repair, and replacement are well-versed in the right techniques to remove a hardwood floor, solid or laminated, without damaging it.
By doing it yourself, you might end up damaging the floorboards.
#1. If You Want to Move Your Hardwood Floor
The first reason for removing a hardwood floor is to change the flooring. But some owners also remove their solid hardwood floor when moving, as it is a noble coating, and they want to put it back in their new home.
For example, a solid oak floor is completely removable and settles again. In other words, it moves with you!
It is advisable to hire a hardwood floor removal company in this case.
#2. When You Want to Remove it to Install Insulation Beneath the Hardwood Floor
Other reasons to consider removing the solid wood flooring include retrofitting heating or installing underfloor heating, for example, low-temperature powered by a heat pump.
In such a case, you must remove your flooring, install insulation, and put it back according to the rules.
#3. If You Want to Renovate Your Hardwood Flooring and Reinstall it
You do not like the color of your hardwood flooring because it no longer corresponds to your tastes or the new decoration you have just installed.
In this case, sanding your floor covering and repaint is often possible, especially with glued solid hardwood.
This is one of the advantages of solid parquet floors: they have a wear layer that allows them to be renovated several times.
The same is true if you have laid a solid parquet floor in raw oak. However, only professionals can perform this task perfectly.
You will also need the technique to disassemble and reassemble it without damaging it. And think of an insulator if you haven't done it before. So the best is to seek professional help.
#4. When You Want to Remove an Engineered Hardwood Floor
The method to use will not necessarily be the same depending on whether you want to recover the slats of your solid parquet floor or whether you simply want to remove them to lay a new covering.
An engineered floor will be difficult to recover and needs professional assistance.
If you want to remove it because you no longer like your flooring or it is too worn, you can opt for the DIY option.
In this case, you won't need to be so careful since you do not want to recover the slats of your hardwood floor. It doesn't matter if you break them while removing them.
However, one thing is certain: removing glued parquet is tedious. It is advisable to always start with an evaluation phase to determine whether this work is necessary or is enough to repair.
So, whatever the case, hiring a hardwood floor removal company is the best option.
#5. Professionals have Expertise.
Hardwood floor removal needs extra care. The best solution is to call on a craftsman trained in this type of flooring removal.
They can remove and recover any flooring, whether solid or engineered hardwood.
#6. A Hardwood Removal Company is Well-Equipped
In old buildings, it is not uncommon for carcinogenic glues or adhesives to have been used.
Even newer products can contain toxic substances you will release when laying down the solid wood flooring to be glued.
This is why doing it yourself can be dangerous, especially if this is your first time.
Professionals have the right equipment, protective gear, and knowledge to complete this task.
#7. Professionals Provide You with Different Options
Removing old parquet is not always the best solution, especially when the budget is tight! You also have the option of renovating your flooring.
This is a more economical way, which allows you to give your living rooms a facelift.
Hiring a company for hardwood floor removal enables you to determine the type of work that will suit your floor.
Conclusion
Calling on a hardwood floor removal company is best if you want an optimal result. It is best to ask for several quotes to control your budget better.
Most companies allow you to define your project online. You are then contacted by qualified experts and receive several quotes, including supply and installation.
All you have to do is compare them to select the best offer!