Hardwood floors are always popular, no matter how drastically the interior trends have changed over the years.
While it is still possible to be bored of the timeless flooring, you can opt for refinishing hardwood floors with a different stain than changing them altogether.
The convenience and budget-friendliness of refinishing hardwood floors make them worth every dollar you invest.
After refinishing, make the new stain last long by correctly cleaning the hardwood floor. Let's see how that's done:
Ready for a Flooring Quiz?
How to Clean Hardwood Floors After Refinishing?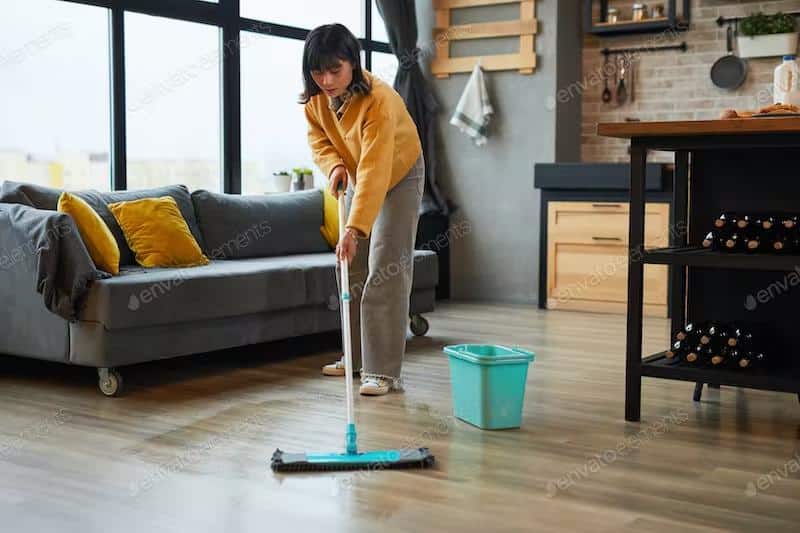 Cleaning refinished hardwood floor regularly is essential to maintain their appearance.
The process only requires five easy steps sweeping, vacuuming, mopping, fixing scratches, and recoating. The steps don't have to be executed daily but only as needed.
Here's a breakdown of each step:
#1. Sweeping
Sweeping is the first step of cleaning hardwood floors and the only one you must perform daily.
Sweeping removes the dirt and debris from the floor that you cannot see with the naked eye.
The dust particles may be small, but when moved and pressed into the floors as you and your family walk around the home, they can be aggressive and damage to the floor.
However, daily sweeping allows you to remove as much dust, dirt, and debris as possible so the refinished hardwood floor doesn't suffer unnecessarily.
Use a dry dust mop to sweep the floors every day. You can also utilize a microfiber mop for the purpose.
#2. Vacuuming
While sweeping is enough for cleaning hardwood floors daily, dirt and debris can still fill in the cracks and crevices of the wood planks.
To clean these small empty pockets in and between the wood planks, you must vacuum your home at least once a week.
The vacuum suction helps remove anything on the floor that isn't a part of it.
However, you don't want to damage your home's expensive flooring in an attempt to clean it, which is why you must choose the right vacuum or vacuum brush.
Turn the settings knob to the hardwood floor before vacuuming your home. Use a smooth brush head or mop brush head if your vacuum doesn't have the settings knob.
These brushes are soft on wood planks and trap dirt particles for effective cleaning.
#3. Mopping
Many homeowners with hardwood floors tend to ignore this step of cleaning hardwood floors for fear of overdoing them and damaging them.
But skipping this step is not right, just as creating puddles on the hardwood floor is not right. Mopping the hardwood floor once a fortnight is ideal for most homes.
Invest in a microfiber mop with a scrunch bucket to properly clean your refinished hardwood floors. You want to clean your floor with a liquid without causing the wood to swell and crack.
How to Choose the Right Cleaner for Mopping Hardwood Floors?
Using the right cleaner for mopping hardwood floors is as important as you don't want to damage your floors, meaning absolutely.
However, you must know the finish on the refinished hardwood floor to pick the right cleaning solution.
For wax-finished floors, use a liquid cleaning solution intended for waxed floors. These cleaners usually require mixing in with a little water before applying lightly to the floor and allowing the floor to dry.
Every three to four months, use a floor wax refresher once the cleaned floors are dry.
If the hardwood floor in your home is coated with a polyurethane-based coating, get a cleaner specifically designed to mop polyurethane hardwood floors.
These floors require even more care when mopping than wax-based floors. Mop them with a moist, not wet, microfiber brush in the same direction as the wood grain in small sections.
Dry the floors right away using a clean cotton cloth.
#1. Fixing Scratches
Yes, you have just refinished the floors. But sanding down and refinishing hardwood floors every year is not good for the floor and your pocket.
So to maintain a like-new appearance for floors for longer, get a wood marker or wood wax stick to fix the scratches once every six months.
Fixing scratches on hardwood floors is similar to refinishing them but on a much smaller scale.
Start with finding the matching shade of the wood marker or wood wax to the hardwood floor stain.
Vacuum over the scratches, buff them with fine-grit sandpaper, and fill them in. Let them dry completely before applying a small amount of refinishing polish.
#2. Recoating
Recoating, as the name suggests, is coating the hardwood floor with another layer of stain and polish.
However, it does not involve sanding it down. It is like fixing the scratches on the entire hardwood floor area instead of targeting specific scratches.
To recoat the hardwood floors, begin with vacuuming the floor. This is important because you don't want any dust or debris particles layers under your floor finish.
After cleaning the floor properly, buff and apply the new coat. Once the stain is dry, apply the finish to seal the new coat.
Bonus Step: Run a Dehumidifier
While dust, dirt, and debris damage the hardwood floors, nothing is as dangerous to them as moisture.
If you live in a place with humid weather, you can care for your refinished hardwood floors by regularly running a dehumidifier.
Keep the dehumidifier moving between all the rooms in your home to ensure the removal of excess moisture from all the floors.
If you don't live in a humid place, investing in a dehumidifier can still prove helpful during monsoon or snowfall season.
Cleaning hardwood floors is much easier than you may think. It is simply about understanding the needs of your hardwood floors.
When deciding on refinishing hardwood floors, you can also opt for a color and finish that is feasible for you to maintain in the long run.