We all admire a neat and pleasant-looking house. Despite the age of an apartment, it can still look like a new one.
Cracks and damages on walls are some characteristics that can make a house unpresentable and old.
However, wall tapes are the best suggestions to correct them. The quest to go for a more durable and easy-to-use tape is a good objective.
Therefore, you wonder if mesh tape is effective for inside corners repairs.
Mesh tape is good for sealing inside corners. However, it has disadvantages such as risks of cracks, weaker joints, and difficulty in folding inside corners. Also, it is bad to overlap mesh tape as it causes bumps. Moreover, mesh tape is simple and fast to use. Paper tape is the best choice.
In this article, I'll highlight the advantages and disadvantages of using mesh and paper tapes inside corners.
I'll also guide you with steps to seal inside corners with mesh tape.
By the end, you'll be able to weigh between mesh and paper tapes with the rich information you'll receive.
Ready for a Roofing Quiz?
Ready for a Drywall Quiz?
Is Mesh Tape Effective For Sealing Inside Corners?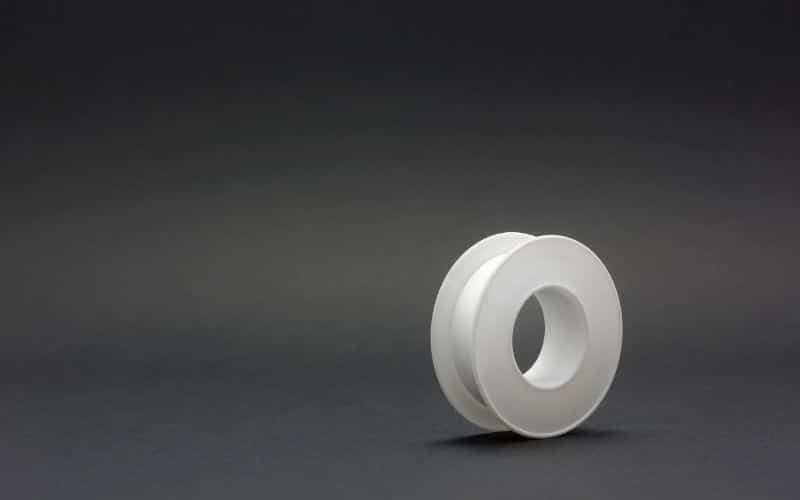 Yes, mesh tape is effective for sealing inside corners. However, mesh tape is not durable if you fix it inappropriately.
Here are two major problems that affect the effectiveness of mesh tape inside corners.
#1. Adhesion
Unlike paper tape, mesh tape is self-adhesive. It doesn't need a layer of mud before you can apply it on walls or corners.
Consequently, many people fail to clean their walls before application. As a result, the dust and dirt interfere with the adhesiveness of the mesh tape.
These specks of dirt make the tape lose its adhesive property. Then, it makes the mesh tape useless at that point.
#2. Strength
Mesh tapes cannot be bent in corners easily. This problem is a major setback that discourages many professionals from using mesh tapes.
However, you can use mud layers before the application even though it is self-adhesive. This action will reduce the chances of cracks and make it durable.
In addition, it is important to note that whatever tape you use has merits. On the other hand, it has its disadvantages.
Therefore it is good to weigh this information. Analyze and relate it to your circumstance before assuming which tape will suit your problem.
Sometimes, people use mesh tapes in conjunction with paper tapes and corner beads.
Furthermore, mesh tapes come in different brands and through different manufacturers. There are some reliable mesh tape products.
How Do You Use Mesh Tape To Seal Inside Corners?
The steps on how to use mesh tape to seal inside corners are numerous. However, it is not a difficult process that needs only experts.
Also known as fiberglass tape, it is much easier to use. All you need to do is follow the guidelines carefully on using mesh tape inside corners.
Below is a list of tips on using mesh tape to seal inside corners.
After you purchase the tape, ensure that it has self-adhesive properties. You can check this on the product description on the package.
Ensure that the materials required to complete the task are available before you start.
Here is a list of materials you'll need for the process.
Drywall compound, which acts like cement.
Below are the steps for using mesh tape to seal inside corners.
Step 1
First, use the utility knife to scrape the edges and surfaces of the corner you are working.
This action will prevent dirt from interfering with the adhesion of the mesh tape and the compound.
The word 'deep' contains emphasis because you can decide to use the mesh without covering some gaps. It is also good. At the same time, it is not advisable.
However, if you notice gaps as deep as a quarter inch or wider, you should cover them. This step is where you need to use the drywall compound.
Although there is a multi-purpose compound, you can still be specific in choice. The denser the compound, the longer it takes to dry.
Therefore, you should apply it moderately if you're in a hurry to use the mesh tape. This compound is the cement that dries and becomes strong, just like mud.
Step 2
In areas where damages are severe, you can cover the tape on the edges of the area.
This process is followed by covering a small amount of the compound before applying the tape again.
Step 3
The application of the mesh tape is a simple process. Place the tape evenly on the corner and cover it.
Use the utility knife to cut the mesh tape inside or outside corners. Take protective measures by wearing hand gloves.
Step 4
After applying the mesh tape, use a knife to force the tape to fill the inside corners. Focus on the corners' strength and repeat the tape's application process if necessary.
At times, you can experience problems like the tape not being adhesive enough. Many conditions affect the adhesion of a tape.
Can You Overlap Mesh Tape When Sealing Inside Corners?
It is not advisable to overlap mesh tape when sealing inside corners. However, if carefully done, it can be of help.
Overlapping mesh tape when sealing inside corners can cause sudden swollen parts of the corners. This consequence will make the wall unequal and unpleasant.
Therefore, instead of overlapping mesh tapes unnecessarily, you should use a flexible knife and work on vertical joints singly.
Cut the tape to fit inside the vertical joints to avoid overlaps. Another common mistake is using the wrong compound.
Always buy an all-purpose compound for sealing mesh tape in corners.
Following this instruction will ensure a smooth and efficient adhesive joint. And remember to apply less dense coats of the compound to save time.
Related: Drywall Around Water Heater (Read This First)
Should You Use Paper or Mesh Tape for Inside Corners?
It depends on the individual's choice. However, I recommend paper tapes. Both of the tapes are good for sealing inside corners.
Paper tapes have stronger joints and are stronger than mesh tape joints.
However, paper tapes require a compound before usage. To back up this point, recall that mesh tape is self-adhesive.
Therefore, this requirement makes it more effective most times because it relies more on compound strength.
A disadvantage of paper tape is that it requires a compound no matter the haste. As a result, mesh tapes are faster to use than paper tapes.
Also, all the processes of applying the compound waste time and become annoying for new learners.
Paper tapes are easy to fold when you want to apply them inside corners. It has a rigid structure that reduces the chances of cracks.
Here is a table that summarizes the differences between paper tape and mesh tape.
| Paper Tapes | Mesh Tapes |
| --- | --- |
| Stronger joints | Strong joints |
| Absence of self-adhesive property | Self-adhesive property |
| It takes a longer time to dry | It takes shorter periods to dry |
| Folds easily inside corners | Difficult to fold inside corners |
| It is rigid | It's flexible |
| It is cheap | It's expensive |
Conclusion
In conclusion, mesh tape will be good inside corners if you take note of the following conditions, they include:
Mesh tape is the simplest and fastest tape to use. However, like paper tape, it has advantages and disadvantages.
Each individual should weigh and decide which one is preferable.