After using drywall in home ceilings and walls, painting is the next step. After all, it adds the final touch of beauty to houses regardless of the material used in their construction.
But before painting, it is crucial to use primers to smoothen the walls. It makes it easier for the painting to stick well and look beautiful, and drywall primers do the trick.
But is it acceptable to use these drywall primers on already painted surfaces?
Drywall primers have specific types for different surfaces, but it's best to use them on new walls that haven't been painted before. However, you can still use it on old painted walls you wish to repaint but ensure its surface is smooth with no peeling paint or dust to ensure the primer sticks well in preparation for the new paint.
Priming is an excellent way to achieve a smooth-painted wall without peels. And this article will show you how it works and if it's good for use on painted walls.
Ready for a Drywall Quiz?
Can You Use Drywall Primer Over Painted Walls?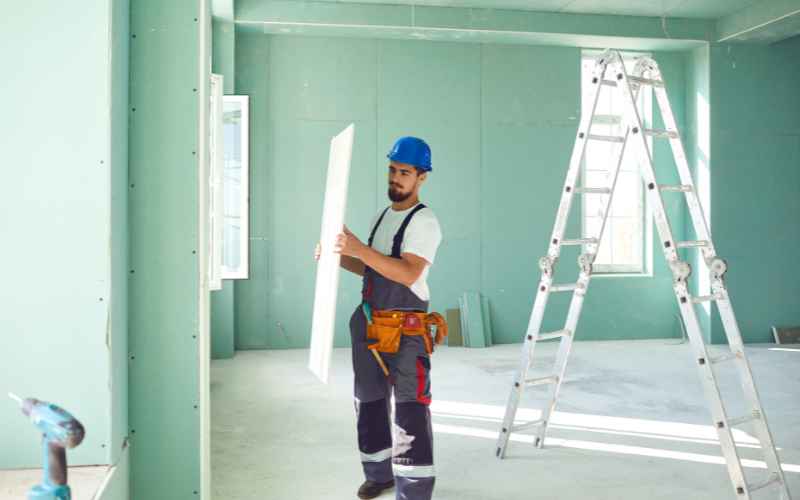 It's acceptable to use drywall primer on painted walls. But first, understand that there are different types of drywall primers for painted surfaces, so you need the right one.
So, depending on what painted wall you wish to prime, here are ways to go about it.
#1. If You Have a Similar Color Paint in Good Condition
If the previous paint you want to repaint is the same as the old one, you don't need to use a primer. For instance, if the old/new coat is oil paint, pick a color and start.
But remember to check if the existing wall is smooth and clean.
#2. If Your Walls Are a Similar Color But in Bad Condition
If your wall paint and the new coat you intend to use are similar, it's acceptable to paint immediately.
However, if the already painted wall is stained, painting it like that will create an uneven look that could be less appealing.
Priming is crucial if it needs refilling for visible holes or adding new drywall to fix a damaged area. The primer will hide these imperfections, making it appear beautiful.
#3. You Have Oil-based Paint on Latex Coat
If you wish to try something different using latex paint on an old oil-based paint wall, you need a drywall primer.
The primer acts as a middleman between the oil-based coat and latex, making it stick perfectly.
#4. You Have Paints With Different Colors
Suppose your old drywall paint is red, and you wish to repaint it with a lighter color; it will only look beautiful if the older paint beneath doesn't show.
And to achieve that, you need a primer to mask the old paint perfectly. Aside from these tips, there are other times you should use a drywall primer.
If you've recently used a skim coat on your drywall, you need a drywall primer before applying paint. 
Skim coat drywalls are porous and absorb large paint quantities, so it's best to prime them to reduce how much it takes.
Can Drywall Primer Go Over Latex Paint?
Drywall primer can go over latex paint, depending on which type you use. Drywall primers come in different examples, the most popular being oil-based, latex, and shellac.
We'll explain them below and help you understand which to choose for any work on already painted surfaces.
#1. Oil-based Drywall Primer
Oil-based primers are versatile. You can use them for oil-based and latex paints but only on well-prepared surfaces to avoid peeling.
Many people prefer working with this drywall primer because of its benefits. It creates evenness in the aftermath of the painting and the fact that you can use it outdoors and indoors.
However, it still has its downside. It drys slowly, contains compounds that can harm users if exposed to it for long, and requires more effort to wash off from painting tools.
#2. Latex-based Primer
Latex drywall primers are ideal for unfinished and painted latex drywalls since they're of the same compound and water-based products.
Also, unlike oil-based primers, they dry faster, are great for use inside your home, and are less brittle, making them less prone to peeling off.
Using them can be a good option because they also help to cover stains and holes.
#3. Shellac Primer
Shellac primers are another effective drywall primer and are very versatile. It doesn't discriminate against oil-based and latex paints, so it works flawlessly on either.
Also, they're your best option if you've experienced burning in your home and trying to repaint. They block out a smoke smell and even prevent stains from smoke on your walls.
However, they exude fumes that can be uncomfortable for users, but no worries, you can always use a paint respirator to protect your lungs.
Below is a table that compares and contrasts oil-based, latex, and shellac primers.
| Oil-based Primer | Latex Drywall Primer | Shellac Primer |
| --- | --- | --- |
| It offers the best adhesion but requires sanding before use on non-oil paintings. | It works best on masonry and is an excellent water-based adhesive. | They dry faster than oil-based primers, just like latex ones. |
| It blocks stains better and hides all marks proficiently | It covers minor stains better; it doesn't work as effectively as oil-based ones | It doesn't always require sanding for smooth paintwork |
| It doesn't raise grain, making the surface look rough afterward. | Cleaning the painting tools afterward is simple | It's thin and effortless to apply on drywalls. |
| It can be harmful to users due to its VOC during extended exposure. | Low VOC formulas, so it's a healthy substitute. | It has a powerful unconducive smell, so it's best for ventilated spaces. |
5 Best Drywall Primers for Painted Walls
Knowing the categories of drywall primers only leaves you with one question: what type to buy?
And to answer that, we've compiled a few top picks for drywall primers you should try on painted walls for the best results.
#1. KILZ 20902 Latex Primer
Kilz is a well-known company with over four years of experience in the painting industry. Below are its pros and cons.
#1. Pros
It works on all surfaces.
It acts as a mildew-resistant primer.
Adheres well
#2. Cons
It doesn't cover up tougher stains
This primer is also an excellent one by the well-known Zinsser company, which is known for durability and good products. Here are the pros and cons.
#1. Pros
Works on different drywall surfaces
Discourages chipping of topcoat
No bad smell
It drys fast
#2. Cons
It requires extra coating for a flawless priming job.
#3. Zinsser Gardz Problem Surface Sealer
Also, under the Zinsser family, here are reasons to like it.
It's very absorbent
Perfect for porous surfaces
One primer coat does the job.
For those who prefer latex primer, here's a top pick.
#1. Pros
Easy cleanup
Low VOC, so it's healthier.
Drys quickly
#2. Cons
It doesn't eliminate surface stains
#5. KILZ Restoration Interior Primer for Drywall
Still under the reliable KILZ company, below are its pros and cons.
#1. Pros
Works on multiple surfaces
Covers tough stains
Dries within two hours maximum
#2. Cons