Nobody wishes to experience roof leaks. Whether big or small, these leaks can be inconvenient and even damage the house.
For these reasons, leaks are treated with urgency and care. There are two main ways to address leaks: prevention and control.
Consequently, many homeowners have asked if roofs without tar paper would leak.
Tar papers are building materials used under roof shingles as a barrier against water. In this way, they serve as a preventive measure to catch leaks before they can cause any damage. Most building codes insist that you use tar or other roofing felt paper. Most roof shingle producers use it to ensure a warranty on their shingles.
Ready for a Roofing Quiz?
Can You Roof Without Tar Paper?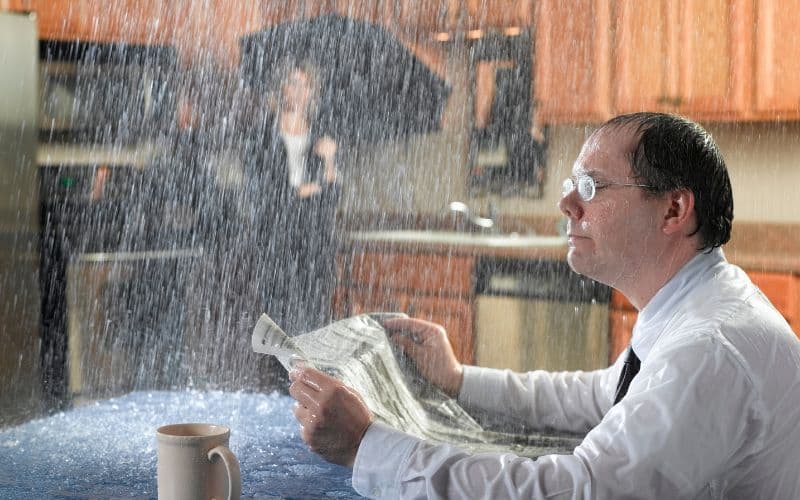 Although you can roof without tar paper, it is not advisable. For over two decades, most construction and building associations have recommended tar or roofing felts paper for waterproofing roofs.
Examples of such organizations are National Roofing Contractors Association (NRCA).
For clarity, you should note two terms that are sometimes interchangeable. These terms are tar paper and roofing felt.
This interchange is because they both act as a protective barrier and prevent leaks. However, they have significant differences, as shown in the table below:
| Tar Paper | Roofing Felt |
| --- | --- |
| They are made from paper or fiberglass imbued with tar as a waterproof adhesive. | The adhesive material can be asphalt or synthetic material like polyester. |
| It can last for about 10 – 20 years. | It can last for about 25 years. |
| They are less wind and damage resistant. | They are more durable. |
| They are more susceptible to fire. | They are more fire-resistant. |
| They can soak up and hold water. | They do not get wet when exposed to water. |
What Can I Use Instead of Tar Paper on a Roof?
The common alternatives to using tar paper on a roof include EPDM and other underlayment forms as shown below.
#1. EPDM
EPDM is an acronym that stands for Ethylene Propylene Diene Monomer. It is commonly called EPDM rubber.
Its composition makes it excellent as a waterproof and element-resistant material. It is durable and has low maintenance costs.
It can last for as long as 50 years, even double the roofing felt's longevity. It is used as a roofing sheath on small structures like garden sheds.
Since its constituent materials do not react with water, rainwater can be collected and used in gardens or farms.
#2. Self-Adhering Underlayment
As the name suggests, this underlayment has a backing that sticks to the working surface.
This property makes the underlayment one of the easiest to install. In addition, it has an additional thick layer and a rough surface which helps resist extreme weather conditions.
Therefore, the self-adhering underlayment is mainly used in cold regions with heavy and long winters.
#3. Synthetic Underlayment
Synthetic paper is a more recent development used primarily on modern houses. This underlayment is bitumen free and is made from thick, hard-to-wear plastics.
Some of the constituents are polyethylene and polypropylene. There are many advantages to the synthetic underlayment.
advantages are increased strength, elasticity, and resistance to biodegradation, which can arise from fungal growth.
#4. Rubberized Asphalt Underlayment
Despite having asphalt in its name, this paper contains minimal levels of asphalt. One distinct feature of rubberized asphalt is its flexibility.
This feature makes it right for areas that have extremely high and low temperatures.
#5. Asphalt-Saturated Underlayment
The Asphalt-Saturated Underlayment is another name for the regular roofing felt paper. The difference between this paper and tar paper is the replacement of tar with asphalt.
The asphalt constituent strengthens the roof decking, making it suitable for storm-prone areas.
The reason is the strength can resist heavy branches and hailstones. However, this underlayment is slowly going out of fashion as other replacements for asphalt keep popping up.
Is Tar Paper Necessary for Roofing?
Professional builders and building organizations recommend that all roofs have at least one layer of underlayment.
However, the underlayment does not need to be tar paper. It could be any of the alternatives discussed above.
One factor influencing your underlayment is the region you live in and the typical weather conditions.
Below is a table that can serve as a guide on the underlayment to use in your region.
| Type of Underlayment | Suitable Weather Condition/ Region |
| --- | --- |
| EPDM | Different weather conditions |
| Self-Adhering | Cold regions |
| Non-Bitumen Synthetic | Different weather conditions |
| Rubberized Asphalt | Regions with fluctuating temperatures |
| Asphalt-Saturated | Storm-prone regions |
Why Paper a Roof?
There are different reasons to paper a roof. These reasons are:
#1. Waterproofing
Waterproofing is the foremost reason for all roof underlayment. Roof paper can prevent water from leaking through the roof into the house. In addition, waterproofing helps to prevent roof molds and rots.
#2. Backup Protection
Roof paper is used as backup protection in areas prone to snow or ice dams. Installers put these papers around roof corners and edges.
This tactic prevents further roof leaks that could damage your house's walls and ceiling.
Generally, underlayment is also used as protection against other weather elements. This extra layer of protection helps to extend the longevity of the roof decking.
#3. Increased Fire Rating
Most shingles cannot help you attain a Class A rating. But with the addition of quality roofing paper that matches your shingles, the ratings are boosted.
This increase in ratings also helps to increase insurance rates.
#4. Temporary Roof Deck Protection
Roofing paper protects your roof deck from the elements before or during the shingle installation.
This protection ensures the longevity of the roof deck and protects it against rot.
Also, in shingle dislodgement, the underlayment can stand in to protect the house from damaging leaks.
#5. Aesthetic Value
Roof paper serves as a frame base to install your shingles. This framing prevents the shingle tiles from lying directly on the deck, which might make the finished appearance look bumpy.
The underlayment provides a flat surface that makes the whole roof look uniform.
#6. Protect Shingle Tiles from Stains
Most woods used in constructing roof decks release tiny quantities. However tiny they may be, they can discolor the shingle tiles if they come in close contact. Roof papers serve as a barrier to prevent this possible occurrence.
How to Prevent Roof Leaking Without Using Tar Paper?
The best option is to repair the leaking roof with tar felt paper or any other suitable form of underlayment.
However, if there is no immediate access to these papers, there are other temporary remedies you can utilize.
These remedies depend on whether you want to get on your roof.
#1. Polyethene Plastic
Polyethene plastic is a good choice if you can get on your roof but cannot locate the leak.
Spread about 3 to 4 four feet of plastic over the area where you suspect the leak originates.
You can use staples or nails to fasten the plastic and use bricks or shingle tiles as weights to hold it down.
#2. Tarpaulin
Tarpaulin works like polyethylene plastic even in fastening, spreading over the roof's leaking area to catch rainwater. Depending on its quality, you can use more than one layer of tarp.
#3. Roof Tar
Roof tar works best from inside the house on the ceiling. First, mark the drip point(s) and dry it up.
Once dry, apply the tar over the area. You can reinforce the tar by using a piece of plywood to press against it.
#4. Roofing Tape
Roofing tape is used for patching, just like roof tar. It also worked best when applied to the ceiling.
Apply the tape on a dry surface to retain the adhesive property. For this reason, it is best to apply the tape when the rain has stopped entirely. 
Which Shower Membrane is Better: RedGard or Schluter?
Conclusion
Once you notice a leak, try to locate the origin immediately to prevent further damage. Also, it is best to do this location under the rain for effectiveness.
Finally, always consult and employ the services of professionals to install or repair your roof. Doing this prevents accidents and guarantees top-notch and quality delivery.