When it comes to roofing buildings, keeping water from rain falling out is very important.
The type of materials used when roofing a building determines whether it keeps out water and moisture or not and, more importantly, for how long.
Self-sealing roof nails work by creating a very stable molecular structure. This structure is resistant to heat, ozone, and light. The sealant achieves this by encapsulating an adhesive that melts together with the surface.
High Wind Self-Sealing Roofing Nails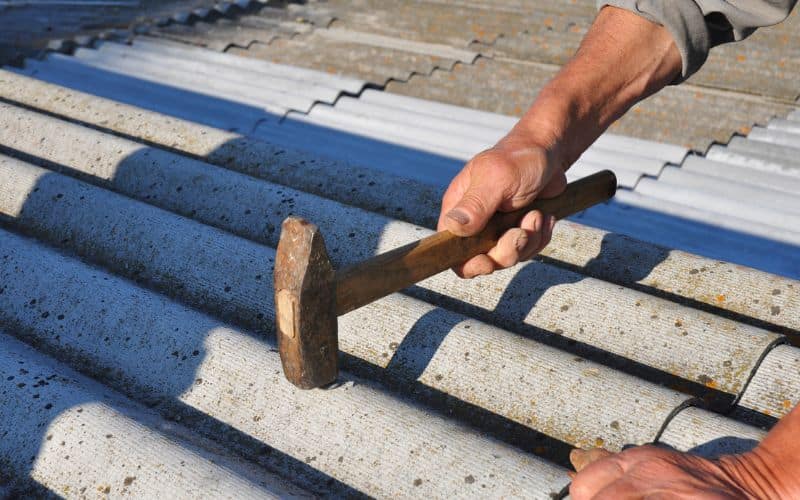 To protect roofing sheets from being lifted by winds, the nails must penetrate through the shingles and the wood.
So if you live near the coast or in hurricane-prone areas, you'd need to take extra measures to windproof your roof.
The ring shank, called corrugated nails, is the best nail to use in high wind areas. The reason is that the rings in its body make for a better grip through the material it's drilled.
As a result, this nail has a much better performance when it comes to grip than any other type of nail.
Now that you know the type of self-sealing roofing nails, the next thing is to understand the correct pattern for nailing them. You don't just drive nails in any part of a roof as you deem fit.
OSHA approved a pattern for using self-sealing nails to install shingles to make them resistant to high winds, and this high wind nailing pattern came in 2003.
Since then, the international building code requires shingle roofers to fasten them with six self-sealing nails.
Nails in between the seal lines must also be adequate. This space is needed, especially in areas where wind speeds above 110 mph.
Using self-sealing roofing nails, the nailing pattern to make the roof resistant to high winds is different for different types of shingles.
#1. Three-tab Shingles
When using self-sealing roofing nails for maximum high wind resistance, the pins should be below the tar line. The nails should be away from the middle and keep the hook's head underneath.
#2. Architectural Shingles
Architectural shingles are slightly different from three-tab shingles; they have columns underneath them.
High Wind Self-Sealing Roofing Nails
The nails aren't the ones doing the sealing. Instead, a heat-sensitive adhesive ring is attached to a roofing nail, and this ring 'melts' to create a watertight seal to the puncture the pin causes to the roof.
The pattern of the nails determines how wind-resistant they become. As already stated, if you live in a windy area, you should consider roofing your house(s) so.
The best nails to use when roofing in windy areas depends on the roof material. Stainless steel nails would be best if ceramic, slate, or asphalt were the usual types in coastal regions.
Galvanized nails are great, too; this is because the galvanization inhibits rust and corrosion due to the added layer of zinc on the steel. 
If you ever find exposed nails after a tornado or heavy wind, use roofing cement to cover them up. This action will guarantee protection in the following situation.
However, leaving the nails exposed might cost you a shingle or two.
Best Self-Sealing Roofing Nails
Here are the best types of nails to use with self-sealing roofing ring tabs.
Smooth Shank: smooth shanks have a soft leg, as the name denotes. It's one of the most basic types of nails and the cheapest on this list.
Corrugated nails are called ring shanks, unlike screws with unconnected rings on the leg. But these rings give the pin extra power to hold the roof tightly to the wood. These are the best type of nails to use in windy areas as they have 300% more grip than smooth shanks.
Square caps: these fasten felt underlayment and not shingles. They have square heads, unlike the usual round caps.
It all boils down to your climate and weather conditions. For example, a tropical area would require self-sealing roofing nails with larger heads to keep the rain out.
And the pins should be corrosion and rust-resistant. If you live in a windy place, a nail with good gripping power best keeps your roof in place when it gets windy.
Unfortunately, there's a huge chance you might one day find an exposed nail if you live in a wind-prone area and don't use the correct nail type.
And you might also find your nails looking rusty and corrupted if you don't use galvanized or stainless steel nails, especially if you live near the coast or tropics.
Price is also important; know the cost of each type of nail and make your budget while weighing the advantages to the price.
Self-Sealing Roofing Nails Details
A self-roofing nail has a ring pad underneath, with adhesive at the top and bottom. When driven through roofs and wood, the sealant makes contact with the roof. The bond has a liner.
The liner eases separation from the sealant cement; just like the sticker that comes with a sticker, you have to peel the paper, then place the sticker where you want.
The liner can be made from paper, metalized film, or poly-coated paper. Depending on the dispensing system, it can be in silicone or nonsilicone.
The sealant comprises asphalt, fillers, and a modifier made of polybutene. These would melt to cover up perforations.
Roofing nails that go with sealants can be of various materials. Although roofs are a virtual extension of your home, you should give priority to the nails being corrosion resistant.
The three types of nails we listed in the second subheading of this article can be made from materials like;
#1. Steel
Your roof would be open to the elements, and you should note moisture; steel makes for good nails either galvanized or stainless steel.
Steel is suitable for coastal areas and roofs made of asphalt shingles or slate ceramic.
#2. Copper
Due to its natural ability to resist rust and corrosion, copper is an excellent material choice. If your roof choice comes with copper accessories, copper nails would be the best fit for the job.
#3. Aluminum
Aluminum is last on this list because they're prone to corrosion and are weaker than copper and steel. Even if the self-sealing ring pad does its job, there are chances of leaks.
They are more vulnerable than steel and copper, and aluminum nails are also more prone to damage from chemicals and salt.
As a bonus, many people ask if screws can be for roofing; the simple answer is yes, as long as you attach the self-sealing ring, everything would be ok.
But without the sealing rings, screws would leave gaps in the material they're drilled into, which can cause leaks.
Conclusion
Self-sealing roofing nails would protect your house from even the slightest leak. When choosing nails, consider all the factors listed in the article.