It is time-consuming, as well as risky, to climb up on a roof for a roof inspection. Fortunately, due to the advances in technology, homeowners are able to get their roofs inspected without the requirement of a ladder these days.
A virtual roof inspection leverages technology to capture aerial imagery of the roof that a roofing company can use to determine its condition.
With a bird's eye view of the site, a roof inspector can take accurate measurements of the roof as well with the help of 3D modeling.
A virtual roof inspection is more accurate, faster, and safer than a roof inspection that is carried out physically.
It saves a homeowner money, as well as time in the long run. In this article, we will take a look at everything you need to know about virtual roof inspection.
Ready for a Roofing Quiz?
Benefits of a Virtual Roof Inspection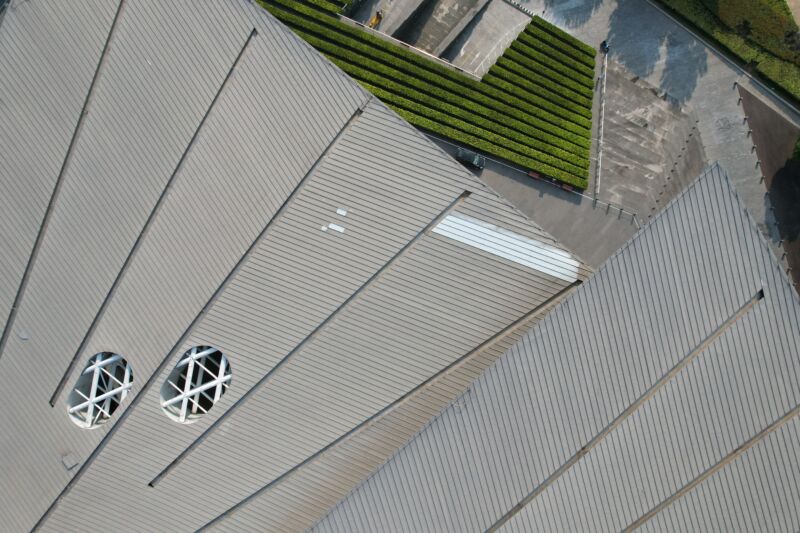 Flying a drone over a roof and taking stills is undoubtedly a viable option when it comes to a virtual roof inspection. However, the days when it was the most cost-efficient and the fastest are long gone.
Nowadays, only insurance adjusters use drones, while other roof inspection projects leverage aerial imagery for the purpose.
Using aerial imagery has several benefits, including reduced inspection time, increased safety, improved complexity, and greater accuracy.
Let us take a look at each of these benefits in detail.
#1. Accuracy
An inaccurate roof inspection is not only a waste of time but money as well for each party involved in the process. An inaccurate roof inspection can be a result of imprecise imagery, as well as human error.
But aerial imagery offers a precise and complete information about a roof through high-resolution imagery, proprietary sensor technology, and oblique image capture technology.
#2. Complexity
We all can only wish that roofs were simple structures featuring flat panes that were easy and nice. However, that is certainly not the case, as anyone with even a little knowledge about roofs can attest.
A roof, regardless of its type, is complicated and has a number of obstructions, like rakes, eaves, valleys, skylights, chimneys, etc.
These obstructions, as well as factors like predominant pitch and total area, have to be accounted for while taking measurements of a roof during an inspection.
These complexities are what make physical inspections and satellite imagery imperfect for the job, as the rate of human error is high in the case of the former, and clarity is weak for the detection of details in the case of the latter.
#3. Safety
The fatality rate of roofers is extremely high and accounted for 111 fatal injuries out of 5,333 in 2019.
A virtual inspection is a no-brainer when it comes to the safety of roof inspectors as it almost completely mitigates the risk of injury during an inspection.
#4. Reduction of Inspection Time
A virtual roof inspection is much faster than physical or even drone inspections as neither climbing on the roof nor operating a drone to fly it around is involved in the process.
The entire process is completely autonomous, and reports containing 3D modeling and high-resolution images are ready for downloading – pretty much like satellite inspection but with clearer imagery.
The high-end accuracy of the results mitigates the need for secondary inspections, and homeowners do not need to schedule a time with the roofing company.
#5. What a Virtual Roof Inspection Process Should Look Like
Now that you know the advantages that a virtual roof inspection offers let us take a look at a few factors you need to consider across the whole roof inspection process.
#6. Choose the Right Roof Inspector
When it comes to virtual roof inspection, there are a lot of options out there that you can choose from. Some roofing companies offer satellite roof inspections, while some offer drone inspections.
The same is the case with private roof inspectors. However, you want to select a vendor that leverages aerial imagery for the purpose.
Here are a few considerations that you should keep in mind before opting for a roofing company or a roof inspector:
– Their experience in the field
– The technology they employ for the process
– The viewpoints they use for capturing images (Oblique or Orthogonal)
– The accuracy and resolution of their images
– The quality of customer support they offer
– Their reputation within the industry
#7. Inform Them of Your Objective
A roof inspection can be performed for several different reasons, from roof repair assessments to roof replacement estimates to insurance purposes.
Different roof inspection purposes have specific and unique requirements and needs. Therefore, a roof inspector should know the exact reason why you are getting your roof inspected.
For instance, a virtual roof inspection carried out for the purpose of determining the extension of roof repairs or roof replacement costing requires high-quality images to obtain intricate details of the condition of the roof or 3D modeling for measuring the dimensions of the roof, respectively.
The purpose of a virtual roof inspection is also to ascertain the kind and magnitude of data required for the report.
#8. Review their Processes for Image Capturing and Sending Reports
The next step after choosing a vendor and explaining your needs to them is to review all their processes. With aerial imagery, the frequency with which the roofing company or roof inspector updates their data is vital.
You want to make sure that it is the latest images of your roof that will get inspected so that the roofing estimates are based on the existing condition of your roof.
The questions you want to ask the roofing company or the roof inspector about your virtual roof inspection report include the total time from ordering to the results reaching you and the aspects that will be covered in the report.
The answers to these questions allow you to plan your next step accordingly.
#9. Cross Your Fingers for Results
If you opt for aerial imagery, all you have to do is to order your report, which is like setting up an account online.
All you need to do is fill out a form with information like the address to the property you want to get inspected and your contact information. The ordering process for satellite roof inspection is also pretty much the same.
On the other hand, if you have ordered a drone inspection, you will have to schedule a time with the roof inspector or the roofing company you have chosen.
Our Final Thoughts
Aerial imagery uses the latest technology and delivers accurate and precise results. However, if you want, you can certainly opt for satellite as well as drone roof inspection.
A virtual roof inspection is much safer and faster than a physical inspection and can help you determine if there is a need for roof replacement or roof repairs not.
Homeowners looking to sell their homes as well as individuals looking to buy a property can also benefit from a roof inspection as it informs them of the condition of the roof. It is important that you choose a licensed roof inspector or roofing company for the job.