A roof is a complex and carefully designed structure that is made up of a number of different materials. Therefore, the building, as well as maintenance and repair work of roofs, are intricate processes.
This is where roof engineers come into play.
Ready for a Roofing Quiz?
What Is A Roof Engineer?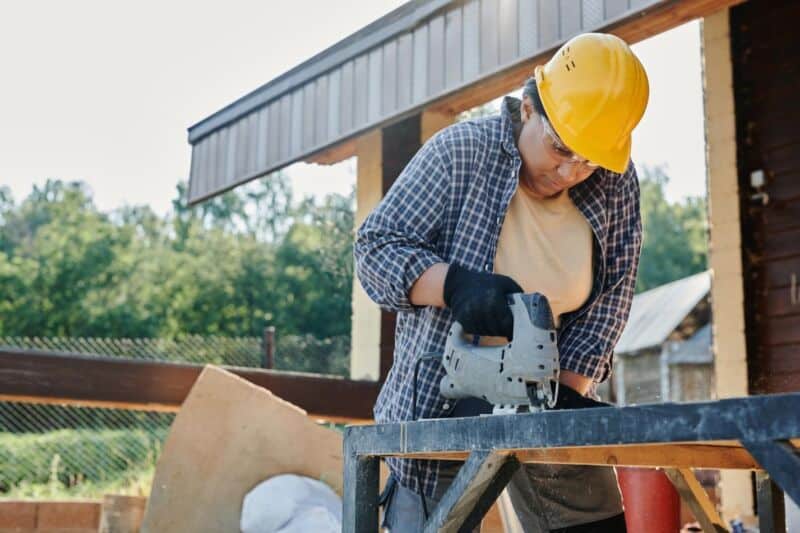 A roof engineer is a specialized professional within the civil engineering domain. Roof engineers analyze and design the lateral force resistance and gravity support of a roof and its shingles.
They also work on the exterior structures of the roof. A roof engineer is professionally qualified to determine the structural integrity of roofs and can formulate detailed reports for contractors and lenders.
A roof engineer can analyze the condition of a roof, its supporting structures, and the impact different types of roofs receive from added weights.
Furthermore, roof engineers review other engineers' work, draft evaluations and reports, perform various types of analysis, observations, and calculations, and create specifications and drawings.
A roof engineer cannot professionally practice unless they obtain a Professional Engineer's license as roofing engineering is a formal domain of Structural Engineering.
A license cannot be obtained before completing a minimum amount of education and gaining a certain amount of work experience. Taking a 2-day exam is also a compulsion.
Responsibilities of A Roof Engineer
#1. Gravity Support and Calculating Lateral Force
Roof engineers are responsible for not only calculating lateral and gravity forces but for providing support against them as well. All roofs are subject to lateral or horizontal loads as well as gravity or vertical loads.
Similarly, gravity loads are the permanent or dead pressure generated by the weight of the roofing structure.
This weight or pressure often needs to be decreased or increased with respect to the temporary or live load (pressure generated by the occupants or contents of the structure, like snow, etc.), mechanical systems, or the speed and force of winds in the region.
#2. Ecology and Sustainability
As the awareness pertaining to climate change is increasing, ecology and sustainability are rapidly gaining importance. Roof engineers combine roofing structures with solar thermal or photovoltaic systems and use building materials that are friendlier to the environment.
This enhances the energy efficiency of commercial as well as residential buildings in a significant manner. Roofing structures that use solar panel tiles and other technically progressive roofs are a result of innovations and engineering skills from roof engineers.
#3. Implementation of Designs
Another thing that roof engineers are responsible for is the creation and implementation of unique roof designs that are not only eye-pleasing but efficient as well.
Designing the system of a roof is not enough as it has to be practical enough as well to be effectively implemented.
A roof should be able to efficiently tackle the impacts of the surrounding environment and the natural wear and tear that the weather conditions in the region will inflict upon it.
Roof engineers are often required to work in partnership with landscape architects and architects in order to oversee and design site utilities, such as equipment for communications, solar panels, drainage of stormwater, and other such elements in accordance with the requirements.
Some other responsibilities of roof engineers include:
– Conducting site analysis, carefully and thoroughly reviewing the roofing system, and conducting roof repairs or maintenance.
– Evaluating the surrounding external factors and comparing them with the structural loading and pressure capacity of the roof.
– Reviewing and contributing to the plans for the transportation of the materials to the roof.
– Reviewing and overlooking the distribution of equipment as well as material while the construction of the roof is taking place.
– Planning for reinforcement of roofs.
– Planning and reviewing plans for efficiency, robustness, structural integrity, and safety of roofs.
– Devising and reviewing roof plans and strategies that are green in order to increase their efficiency, effectiveness, and available loading.
– Cutting, shaping, and smoothing various roofing materials, such as lumber and fiberglass, in accordance with the measurements.
– Calculate the amount and size of the material required after all measurements are performed.
– Carrying out second fix and roof repairs.
Our Final Thoughts
Roofing systems need to be extremely sturdy and able to perform their primary as well as secondary functionalities in an efficient manner as they are one of the most important components of a building.
Roofs unite people, serve as accommodation, and provide protection against adverse weather conditions. Over the centuries, the symbolic power, materials, and form of roofs have transformed significantly.
The creative and visionary energy of roof engineers has introduced astounding and highly effective results that are techniques and processes through which we can have better roofing infrastructure over our heads.
The role of a roofing engineer in ensuring that a roof is secure so that it can protect us cannot be undermined. Therefore, it is ideal to look for a roofing company that has a roofing engineer on its team when you are looking to get some roof repairs or maintenance done.
But what is extremely important is that a roofing engineer has to be at least present, if not managing the whole project of the building of a roof.
The quality of a roofing system should not be compromised, whether it is for a commercial building or a residential one, and roofing engineers are professionally qualified and specialize in the subject to make sure that it performs its function of safety and protection for an appropriate period of time to come.