Replacing a broken pocket door track can be very frustrating, and if you do not do it with care, you might end up with a bigger problem.
There are several replacement kits that you can use to replace these door tracks, but the central issue is replacing the pocket door track.
With all these, how do you replace a pocket door track without breaking your door eventually?
To return your pocket door track, the first thing you should do is remove the frame. After that, lift all the doors from the way and screw up all the studs before installing a new track. After doing all that, you can eventually adjust your door to its position, and you're all done.
Ready for a Roofing Quiz?
Ready for a Drywall Quiz?
How to Replace the Pocket Door Track Without Breaking the Wall?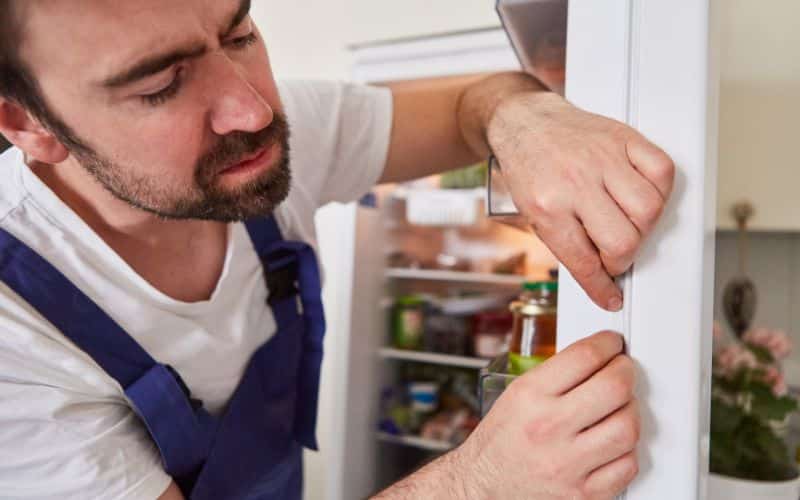 There are several ways to remove and replace your pocket door track. In this article, we will be providing you with straightforward methods you can use to do this.
To remove and replace your pocket door track,
#1. Take Off the Door Frame
Contractors usually seal the frame in the drywall, so to replace your door frame, you must get the edge out by loosening it.
Ensure that you do this carefully so as not to damage the door and frame. You do not have to remove the entire four ends of the frame; just the upper part is enough.
You can effectively carry this out with a utility knife or a simple utility-tonged end knife.
#2. Remove the Door
After getting the frame out of the way, you must work on the door. You can get the door out of its old tract with a simple roller mechanism.
If your door slides out like a roller skate, you should tap the rollers to get it out of the way.
If your door's track is j-type, you need to angle the lower part of the door and remove the rollers from the course before sliding it out.
If your door eventually gets stuck when you try to remove it, you should use your utility knife to pry the lower and upper edges.
#3. Identify the Possible Damages
Now that the track and the door are out of the way, you can see the whole area. Identifying the problem would allow faster fixing time than merely trial and error.
The majority of the problem is the rollers on the old tracker; check on the rollers carefully to see if they have any broken parts or if there is a twisted axis.
Apart from the door rollers, also check on the track. These trackers seem bent or buckled with time, eventually leading to unsmooth movement.
#4. Replace the Rollers
When your rollers are the problem, then you should replace these rollers. To return your rollers, unscrew the previous rollers with a screwdriver and install new ones.
It is always better to replace your rollers repeatedly to enhance smooth movement and ensure that the door wheels are moving properly before you slide the rollers in.
#5. Remove And Replace the Old Track
Like the rollers, the tracks your door runs through can also become worn out as time passes. In most cases, you would need to cut holes into your drywall to replace the old tracks.
If your doors are too old that you can't find the tracks, you would need a stud finder to find them.
Make sure you use a power saw or cutting metal tool to cut out the holes in the drywall before unscrewing the door and screwing it back.
#6. Place Your New Door Track
After removing your old door track, you must replace the tracks with a new one with the exact measurements you took unless the previous one was misaligned.
You can fix the new tracks using the accessible lines provided for you. However, it would be much better for you if you made use of a nail gun and adjusted the nails if possible.
#7. Install Your Door Back
Reinstalling your new door shouldn't be a problem. First, ensure that the door's angle at the bottom aligns with the frame.
You must get the door and frame size the same as the one you took. Ensure that you roll in the door vertically and everything on the right fits inside.
What Tools Do I Need to Replace Pocket Door Track?
To get the job on your pocket door done effectively, you need the following tools;
Some materials you would need, besides these tools, include;
Two by six wooden boards.
How Do You Remove a Pocket Door Track Without Removing a Frame?
A pocket door is essential in places where the spaces are small because these doors seem to disappear into walls and more, making your home looks more extensive.
There are several ways you can remove your pocket door to fix problems with your entry and track but below is a method you can take to remove your door without removing the frame;
#1. Open the Door
The first thing you should do is ensure that you open your door. The reason why you should do this is to make removing the casing from both sides easier.
You can achieve that with a utility knife, but you have to be very careful, so you do not damage the trims of your door.
#2. Remove the Doorsteps
After opening your door, you should remove the doorsteps for easier access. You would realize that more space has been created to close the door by removing the door.
#3. Remove the Door
You are most likely to spend more time removing the door because you have to be very task to get your door out of the way.
After you have created enough space, you can quickly get the whole door out of the way.
But, of course, you must be careful when getting the door out of the way, so you do not eventually spoil anything.
If you can't do this all by yourself, then you should get someone to help you while you do this.
#4. Maintaining a Pocket Door
Maintaining your pocket door is very important. It saves you from the risks of regular repair, which would be more expensive than maintaining it.
Below are some valuable tips for maintaining your pocket doors;
Make use of the appropriate lubricant. When looking for oil for your door, you should ensure that the company uses silicone to produce the lubricant.
It's not all about getting lubricants. Ensure that you use them on your rollers frequently because creaking noises from doors are very unpleasing and can be very embarrassing when you have guests over.
Ensure that you clean your rollers occasionally for them to last and function longer.
Can You Replace a Pocket Door Track with a Regular Door Track?
No, you cannot. The pocket door works based on a sliding mechanism, while most regular doors do not.
So it is advisable to get a pocket door track for your doors because standard door tracks for certain types of doors would not do the trick.
You should note that there is a difference between sliding doors and pocket doors.
Pocket doors slide into a hidden compartment inside the wall. A sliding door doesn't, although they both have a similar operation mechanism.
| Pocket Doors | Sliding Doors |
| --- | --- |
| Pocket doors are more practical and save more space. | It saves space but not as much as the pocket doors |
| Require a more in-depth installation | Easier to install, |
| A bit more expensive to install, | is Cheaper to install, |
| Protects privacy more, | and is not as protective as pocket doors, |
| Straightforward to maintain. | Also very easy to maintain |
Final Thoughts
You do not have to worry too much when your pocket door tracks have an issue, and you can always replace them.
If you're worried about your walls breaking in the process, you have nothing to worry about. You can replace the door tracks without touching your walls with the proper method.
You always have to ensure that you take good care of your door tracks, so you do not always have to replace them.