Selecting the perfect floor for your home can be an uphill task whether you're building or remodeling; either way, you'll want a nice floor that fits the home's aesthetic.
Laminate flooring can give your home a sophisticated look and is long-lasting, especially when choosing good quality materials from a reputable brand.
Dupont designs laminate flooring to have the look and feel of hardwood floors and with the appearance and touch of genuine wood. You can install Dupont laminate flooring on any surface, and the convenience of underpayment minimizes sound transmission when you walk on the floor.
A lot of homeowners love Dupont flooring because of its ability to simulate real hardwood floors and because they are long-lasting and easy to clean and install.
If you are considering installing Dupont laminate flooring, you'll need to know the cost and how to install and maintain your floors; this article contains all that information and more.
Is Dupont Laminate Flooring Made From Wood?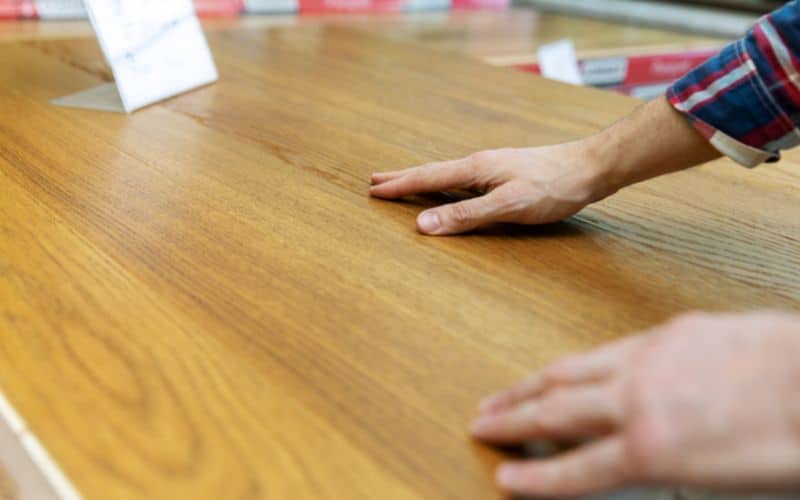 Dupont laminate flooring is not made from wood; the laminate flooring is made from fiberboard core and not from wood byproducts.
Dupont constructs its real touch elite laminate flooring from thin pressed fiberboard, and the printed image of wood is usually fused into the fiberboard core.
It is also important to note that Dupont does not make their laminate flooring from plastic alone, and there is always a top layer of resin that serves as the protective layer.
As the name implies, laminate flooring consists of several layers laminated together and has a wood fiberboard core. And the laminate flooring only comes in planks.
Dupont manufactures laminate flooring cores from wood byproducts such as fiberboard, and the manufacturers use resins to bond the core.
The upper surface of the floor is a transparent, hard plastic layer, and the second layer is the design layer. The top layer is a protective layer for the design layer.
Laminate flooring planks are usually 6mm to 12mm thick. The upper layer is thick, but the surfaces are embossed so that you can see accurate portrayals of the surface underneath.
Dupont laminate flooring contains three main layers; looking at the laminate flooring from the floor up, you'll find:
The fiberboard gives the laminate floor its structure.
A photo-realistic image layer that gives the floor its realistic appearance.
And lastly, the floor has a protective layer that protects the floor from water and other damaging elements.
Is Dupont Real Touch Elite the Highest Rate of Laminate Flooring?
While Dupont real touch elite laminate flooring is beautiful, durable, and easy to install, it is not the highest rate of laminate flooring on the market.
Although it is ideal for homeowners, it is not the highest rate of laminate flooring because its AC rating is AC3, while the AC rating for laminate is up to AC5.
AC rating refers to Abrasion Class and ranges from 1 to 3. This rating represents the durability of all laminate products and is used to determine the durability of the products.
In addition, the AC rate is also used to determine the application of the various laminate products. And since Dupont real touch elite is an AC3 laminate, it is only suitable for homes.
AC1 laminates are the least wear-resistant, while AC5 laminates are the most wear-resistant, mostly used in restaurants, showrooms, and rooms with a lot of foot traffic.
So, AC1 laminate is best for rooms that don't get a lot of foot traffic, such as guest rooms and dining rooms, as a lot of foot traffic can damage the laminate.
Although Dupont does not have the highest rate of laminate, it is suitable for homes even in parts of the home with a lot of foot traffic, such as living rooms and hallways.
AC3 is the highest rate of laminate manufacturers recommend for the home, so while Dupont elite laminate flooring is not the most highly rated, it is the best laminate for the home.
You should not install more highly rated laminates in your home as those are best for commercial usage.
AC4 and AC5-rated laminates are best for moderately and highly trafficked commercial areas.
How Much Does Dupont Laminate Flooring Cost?
Dupont laminate flooring costs more than other types on the market; a square foot of Dupont elite laminate flooring will cost $3-$4.
So, if you're purchasing them for installation in select parts of your home, you can measure the rooms to know how many square feet of Dupont laminate flooring you will need.
However, the total cost you would incur in installing Dupont laminate floors in your home could vary due to various factors.
The size of the room or rooms, the thickness of the planks, the flooring's finish, and labor. If you hire a professional, it can affect the overall installation cost.
But, if you're not paying a professional to install the laminate flooring, you should only consider the cost of the laminate itself.
Is Dupont Laminate Flooring Worth It?
Dupont laminate flooring is a good investment for your home and is worth any money you spend purchasing and installing it.
Dupont laminate flooring, like all laminate flooring, is cost-friendly, and since you can install it yourself, you can save some money on the installation.
The planks come with instructions on installing the laminate flooring, so you don't need a professional to install the floors; you can save the money you would have spent on labor.
Dupont laminate flooring is also very durable; you can choose a high AC rate, such as AC3, for your home. The flooring is resilient and can take a lot of foot traffic without any damage.
In addition, the laminate flooring is easy to maintain. And laminate flooring is resistant to scratches, so you don't have to worry about your cat ruining the surface.
Also, high heels and falling items can not cause any damage to the laminate floor. However, prolonged exposure to water can cause some damage.
Finally, the floors are fade-resistant so that you can have your Dupont laminate floors for as long as possible, and they'll still look as good as new.
And they also come with a fifteen-year warranty from Dupont, so if they get damaged at any time through no fault of your own, you can get a replacement from the manufacturer.
As a bonus, the Dupont laminate flooring planks are very beautiful and come in many different styles and designs so that you can choose.
The Dupont laminate flooring also looks and feels like genuine wood, and since the edges of the slabs are beveled, it gives the floor a sense of depth.
It is also worthy of note that Dupont includes a convenience underlayment that reduces the sound transmission when you walk through the house; the floors are quieter.
Dupont laminate flooring is a good choice for your home, especially as it is long-lasting and easy to install and clean; all you need are a vacuum or a soft broom to remove dirt.
On the other hand, despite its longevity, Dupont laminate flooring is not suitable for any moisture-prevalent places like the kitchen, bathroom, and laundry rooms.
Also, it is very easy to chip the boards, and if the floor comes in contact with water for too long, it can cause a lot of damage to the floor.
The table below shows the pros and cons of Dupont laminate flooring to help you decide if you want to invest in them.
| Pros | Cons |
| --- | --- |
| Easy to clean and maintain | Cannot withstand moisture |
| Can withstand high foot traffic | Not suitable for bathrooms and kitchens |
| Inexpensive compared to other floors | Low resale value |
| Resistant to scratches | Top-layer chips easily |
How to Install Dupont Laminate Flooring (A Step-by-Step Guide)?
Before installing laminate, you'll need to remove your existing flooring and clean it so that the work surface is dry, clean, and has no bumps. Also, remove any fixtures where needed.
Gather all your tools before you begin so that you don't interrupt your work to search for tools.
You'll need the following tools;
Try square
Hack saw
Jigsaw
Spacers
Knocking block
Rubberhead hammer
Pulling board
Drill
Mitre board
Chisel
Pin gun and pins
Duct tape
Multi-tool
Circular saw
Tape measure
Utility knife
Before you install your laminate, you need to leave it on the floor you intend to install it on for at least 48 hours so it acclimates to its new environment.
This is important because laminate can contract or expand in size depending on the temperature. Leave it unopened and stored flat during the acclimatization period.
First, you have to make sure that the door or doors of the house will go over the floor without any hassles. So place a piece of the laminate next to the door and try to close it.
If it doesn't close, mark the portion of the door so that you can take it off and trim it before you continue with the floor installation.
Also, you will have to choose which direction the floor will be running; you can choose the longest distance of the room or the opposite direction.
However, choosing the direction from which the light enters the room is always best, as it will make it appear more spacious.
When you have decided how to install your Dupont flooring, you can get down to business.
Here are the steps for installation:
If you're working with a concrete floor, install your underlay first. Roll out the underlay, put it in position, cut out the edges with a knife, and fix multiple sheets with tape.
Check the width of the planks closest to the wall; if it is less than 50mm, trim the starting row to make it even.
Also, stagger the ends of each plank a minimum of 400 meters so you can get a more natural finish.
While installing, use your spacers to keep an 8-10mm gap between the laminate and the wall. Once you've placed your first board, you can slide the second board in.
Remember to undercut your door frame; if you install it over it, the door won't open.
For the second row, ensure the board is long or short enough to ensure a minimum gap of 400mm between the joints.
Also, remember the 8-10mm gap from the wall when installing the rest of the rows.
The second rows should click in easily when you push them in; if they don't, give them a slight knock with your knocking board.
Always lock in the length of the board first and then use a rubber mallet to tap the width and unlock the lock-in system.
When you finish, remove the spacers and install scotia or skating boards to cover the gap.
If you come against an obstacle, such as a pipe or a wall, mark the contours on the plank and cut to the plank to accommodate the obstacle.
How Do You Clean Dupont Laminate Flooring?
Maintaining Dupont laminate flooring is not difficult; you only need to vacuum the floor or sweep it with a soft broom to remove any dust or dirt.
If you use a hard broom, it is possible to damage or scratch the floor. Use a plain plastic or a bristle broom and sweep gently to avoid leaving any scratches.
Keep in mind that dry mops with metal edges can also scratch your floor, so avoid using them to clean. Opt for soft cleaning agents and not harsh agents.
If you want to wash the floor or give it a more thorough cleaning, you have to use a wet mop to clean the floor. This is important because too much water can damage the flooring.
If you leave excess water on the floor, it can damage the slabs. And any excess water can trigger wear. Also, mold can grow between the slats, eventually damaging the Dupont flooring.
Also, never use a strong cleaning agent or abrasive compounds to clean Dupont Elite laminate floors.
In addition, using floor mats at the entryways of entrances could help preserve your floors and make them last longer.
How Long Does Dupont Laminate Flooring Last?
All Dupont laminate products come with a 30 years warranty starting from the date of purchase; if there is any damage to the laminate flooring, the manufacturer will bear the cost.
The laminate flooring comes with a foam layer under the existing flooring installed, so there is no danger of damage from underneath, providing comfort for the flooring.
However, the warranty will only cover fading and factory defects. If there is any other damage from your misuse or incorrect installation, the warranty will not cover it.
The floor can last as long as 20 years, but you must take care of it and keep water away from the surface so you don't completely void your warranty.