Everybody wants to build an accommodating, attractive, and durable home that still serves as a protective shield.
Current brands are offering different quality singles at different prices. Choosing a brand that will meet your taste, budget, and needs can be hard. But having a few factors in mind can help make it easier.
IKO shingles are affordable and manufactured by IKO, while Timberline is a brand of GAF, the world's number one roofing company known for its luxury and quality. Choosing between the two brands is easy if you consider the quality, cost, and duration of the warranty. And other factors like energy efficiency and weather conditions.
Ready for a Roofing Quiz?
What are Iko Shingles?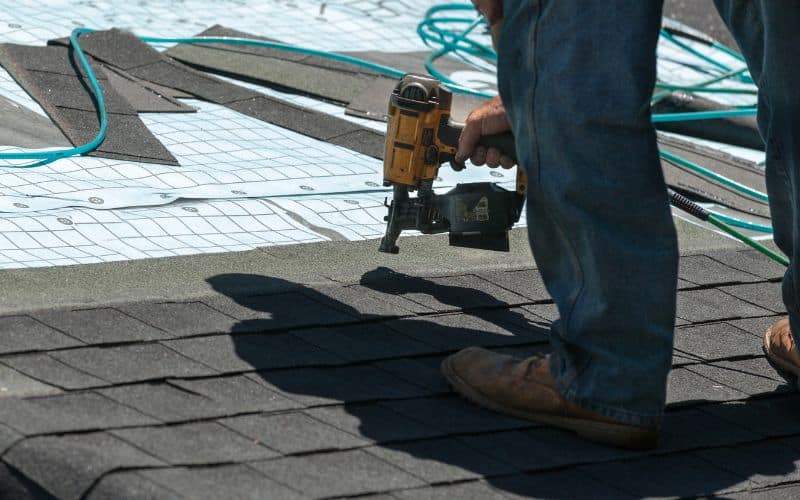 IKO is a family-owned company that manufactures and supplies residential shingles, commercial roofing, waterproofing products, insulation systems, etc.
IKO shingles are a type of shingles ( roof covering consisting of individual or overlapping elements) produced by IKO. IKO shingles look almost like the more expensive type but cost a fraction.
IKO shingles manufacture designer, performance, architectural, and transitional 3-tab shingles.
The traditional 3-tab shingles are the most cost effective and affordable for anyone. Compared to other roofing companies, IKO has one of the best warranties covering more than 20 years.
IKO shingles might not be as popular as GAF and Owens Corning, but they provide strong, affordable shingles.
IKO shingles are more cost-effective than other roofing companies, but this doesn't limit their quality.
IKO shingle materials can withstand extreme weather conditions like high winds, hailstorms, and moisture. Homeowners have several complaints to make before and after the shingles are installed.
IKO shingles have provided two programs to help contractors handle and fix these products without customer complaints.
With options like shield plus and IKO Pro4 complete roofing systems, you don't have to be scared of any problems.
What are Timeline Shingles?
Timberline is a collection of shingles by GAF, the best manufacturer of roofing materials. Timberline is known to be the most used shingles in America and is known to add value to a home.
GAF produces two versions of Timberline; The GAF timberline HDZ and Timberline AH.
The GAF timberline HDZ is a high-definition shingle that is affordable and comes with different color options.
GAF has mastered the art of roofing products. Timberline AH is a more premium edition of timberline HDZ designed to resist algae growth. Its quality is exceptional, although it costs a lot.
Their research has produced quality shingles capable of withstanding algae growth and high wind, a class A fire rating, improved strength, durability, etc.
The timberline cool series and the timberline armor shade can reflect UV rays and the strength to protect you from hailstorms.
GAF has multiple warranties that have made their brands unique and promising.
Warranties like the stain guard plus algae protection limited warranty provide a 25-year limited warranty against algae discoloration on many products like the Timberline.
All GAF roofing shingles and qualifying accessories come with the GAF shingles and accessories Limited warranty, and you don't need any procedure to claim it.
The Windproven limited warranty provides 15 years warranty if only you use the required combination of GAF accessories and are under the Lifetime warranty.
GAF manufacturers offer transferable warranties, unlike other manufacturers. In a situation where you put your home on sale, your buyer won't be scared to buy, knowing the roof comes with a warranty.
According to a survey of 380 estate agents, upgrading your roof with a GAF timberline can increase the value of your home by at least 10%.
So if you are replacing your home's roof, Timberline is a great option. They add to your building aesthetic and make it more scalable.
Pros And Cons of Iko and Timberline Shingles
There are many reasons why contractors and inspectors would suggest its use in homes. And there are a few reasons why homeowners would complain about these shingles.
While they all have different pros and cons, this is a way to choose a better shingle.
| Pros | Cons |
| --- | --- |
| They are class A rating | Due to several complaints, IKO has a kind reputation among homeowners |
| Weather resistant. Due to the combination of unique materials in making these shingles, they can resist algae, fire, and wind of up to 130MPH | IKO shingle is poor at preventing moisture |
| Warranty eligibility. IKO company has one of the best warranties compared to other roofing companies. | Low-quality sealant |
| They are cost effective | IKO will not grant a warranty except if you meet multiple requirements. |
| Simple to fix or install | |
| IKO shingles have a self-adhesive composite | |
Table 1: pros and cons of IKO shingles
| Pros | Cons |
| --- | --- |
| They have affordable options that suit everybody | Timberline has issues with granule loss |
| GAF offers a Lifetime limited transferable warranty. | They are expensive compared to other shingle brands |
| They have strict policies for certified contractors | |
| Timberline is the most quality shingles. | |
| Timberlines protect against algae growth. | |
| Available in many Color brands. | |
| It adds value to your home. | |
Table 2: pros and cons of Timberline.
If you want to have little cons than pros, follow these three tips. Read the warranty carefully, make sure your roof is ready before you buy, and hire a certified professional roofer, which will boost your warranty.
Iko Shingles Vs. Timberline Warranty
Both brands offer a lot of warranty options that are claimable. GAF has a more favorable warranty option than IKO.
They have more years to their warranties and have limited requirements you should meet to claim the warranty.
IKO is more cost-effective, which is why many people are still willing to buy their shingles. You would have to go through multiple requirements to claim them.
IKO offers a limited lifetime warranty that lasts 17-25 years, while GAF timberline covers about 50 years.
GAF has multiple warranties like the GAF Shingle and accessory limited warranty, GAF roofing system limited warranty, system plus limited warranty, the wind proved limited wind warranty, etc.
In contrast, IKO offers warranties like the Algae resistant warranty, limited wind resistance warranty, etc.
Iko Shingles Vs. Timberline Cost
Iko shingles are a combination of cost-effective, durable, and aesthetic, while GAF Timberline is popular and expensive. You can install IKO shingles for a few dollars lower than Timberline.
Average IKO shingles will cost as low as $3500- 4400 ( this includes money paid for labor and material), while premium IKO shingles will cost as high as $8000-9000.
Average IKO shingles will cost $3-4.55 per square foot, which is about $300-485 per 100 Square feet. While an average GAF Timberline will cost $4.5-5.8 per square foot.
A factor that can increase cost is the complexity and size of the roof. A roofer might charge 25-40% more if a good style is complex.
The city you live in determines the cost of the product and labor. And the kind of contractor determines labor charges.
A professional will charge more than someone who is not certified.
Are Timberline Shingles Better than Iko Shingles?
There is no straight answer to this question as it depends on you- you are the one to make a choice.
But your choice should largely depend on the design style, roofing needs, energy efficiency, weather conditions, material weight, and price.
IKO shingles are a good option if you are working with a limited budget, but if you have the budget and are willing to spend, Timberline is an option with quality.
GAF timberlines are lightweight and durable. Timberline is a great option if you want your building to have an excellent aesthetic and look appealing to buyers, thereby adding more value.
Survey says timber adds up to 10% value to a building. So it is a good option for real estate.
IKO comes with strong warranties with limited eligibility required to claim it, although it can be stressful to claim sometimes. Its certification process makes it a great option too.
Imagine having a certified installer trained by the manufacturer working on your roof, which brings peace of mind.
Timberline is not better than IKO shingles. They both have pros as they do cons.
Conclusion
Need help choosing between IKO and GAF Timberline shingles? It's easy. Find the product that fits your taste, budget, and needs.
You can consult a professional roofer who isn't biased to help you choose. I'm sure you will make a great choice with these multiple suggestions.
Always remember that a lower price does not mean low quality.