Almost everyone loves beautiful things. And having an attractive house is not left out among the dreams of humans.
Using a reliable roofing material as roofing felt will complement your home and make it more habitable. However, can you have your roofing felt painted?
You can always paint roofing felt. Painting roofing felt will make it blend with the color you desire for your house. There's nothing wrong with painting your roofing-felt. However, there are some restrictions. The reason is that there are many types of paint, but you can use not all for your roofing-felt. In a nutshell, you can paint roofing felt.
Can I Paint Over Roofing Felt?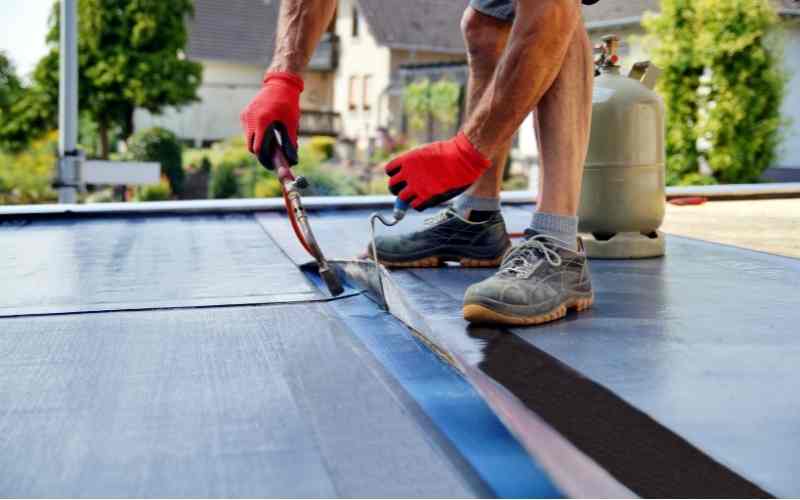 You can paint over roofing felt. It serves as waterproof protection between the roof deck and the shingles. Painting over the roof felt will also add to the beauty.
First, however, you need to use suitable paint.
Paint can be categorized into oil-based, water-based, and bitumen. The oil-based paint contains solvents that may be hazardous. In addition, they dry slowly and are expensive.
This kind of paint is not suitable for painting roofing felt. Water based-paint is good but not suitable enough. It may be watery and not stick to the area or dry quickly.
And the third one is a bitumen. Bitumen has been in use for painting roofing felt for ages. It gives additional layer barriers to the roof.
Bitumen is known for its versatility. It is affordable, and it dries faster. Aside from providing additional layer barriers to the roof, it also increases the lifespan.
So, you can paint over felt.
Can You Paint Shed Roof Felt?
We make a shed for different purposes. We use the shed to keep our properties, store garden equipment, and other valuable possessions.
But, as much as a shed is necessary, the roof is much more critical.
The roof serves as a water shield and protection. One of the ways of caring for our shed's roof is through painting.
However, you can paint your shed roof felt. It is not a difficult task. All you need is to get your DIY tools.
Your shed's felt roof paint can add to the beauty of the shed. The shed paint will be solar reflective paint. Learn more to know if you can Paint Asphalt Shingles?
The paint also serves as a sealant. It improves the insulation and adds to the lifespan of the material you place it on.
A shed's felt roof is easier to paint because of its size. It doesn't take much time, and it's affordable.
Steps To Paint Your Shed Roof Felt
Survey your shed roof-felt to check if there's any chunk you may need to repair.
Prepare your tools–like roller, air spray, wire brush, swan neck, tape, e.t.c.
Clean the surface and ensure it's free from dirt.
Do the priming with the shed felt roof paint before the actual painting. It serves as a sealant. The dryness of the priming can last 3 hours. This is to prevent water from getting into the material. When it's dried, you can now start applying the regular coatings.
You may now complete it with finishing touches. Apply paint to the edges and some missed areas.
What Is The Importance Of Painting The Shed Roof Felt?
Below are some of the reasons why it is essential to paint shed roof felt.
Painting makes it more attractive.
It strengthens the lifespan.
It serves as protection.
It also prevents humidity and moisture from accumulating.
Can You Use Bitumen Paint For Felt?
Bitumen is made from tar substance which is derived from crude oil. It is the most suitable paint for your roof felt. It rejuvenates materials like wood, concrete, metal, and shed felt.
You may apply it to materials made from fibrous coatings such as paper felt, fiberglass, and polyester. You may need to mix it with miner fillers.
For centuries, natural bitumen was used by people who gave breathtaking reviews about it. Bitumen has been proven to have waterproofing and adhesive properties.
You can find natural bitumen in areas like pitch lakes and oil sands. However, refined bitumen is extracted from crude oil.
Bitumen coating is generally accepted and known in the world of painting.
Bitumen is known for its versatility. It is affordable.
It dries faster, which will be of great help for places where their weather fluctuates.
You can use it for ferrous and non-ferrous metals. You may also consider it for your concrete, wood, and Mansory.
Bitumen is widely used for many things, but many people often use it for roof painting. It is suitable on roof felt because of the waterproofing property.
You can use it for sealing and fixing leakages on industrial roofing, flat roofs, and roofing felt.
How Many Days Does Bitumen Paint Take To Dry?
Bitumen paint doesn't take much time to dry. It is of great advantage for communities that have fluctuating weather. It takes up to 2-3 days to dry.
What's The Lifespan Of Bitumen Paint On The Roofing Felt?
Since asphalt is present in bitumen, it may take up to 3-4 years before it needs renewal.
Bottom line, you can use bitumen on roof felt due to its versatility. It is sustainable, habitable, and affordable.
Pros And Cons Of Painting Roofing Felt.
One of the ways of making the roof last longer is by painting it. Moreso, life, and properties in a building will get protection by maintaining our roof. You may read to know how to maintain TPRO RV Roof.
Owning a house can come with challenges, but it will be worth it– primarily when you use a durable and waterproof material such as roofing felt. Roofing is necessary as it serves as protection.
Material like roofing felt lasts longer. And more reliable when it's painted bituminous.
The life span of bituminous roofing felt is within 15- 20 years and sometimes lasts more than this.
In addition, before painting, you may need to assess if there are leakages. Get on the roof and carefully check out for any loopholes.
You may need to replace or repair it. However, there are always advantages and disadvantages to everything.
Let's check out some of the pros and cons of painting your roof-felt.
Pros Of Painting Roofing Felt
Coatings like bituminous will serve as waterproof for your roof and make it last longer.
It works against microorganisms like algae.
It makes your roof more attractive. It doesn't attract dirt.
Painting your roofing felt reduces heat.
You need not worry about the hectic process as roofing experts are always available for the job.
Cons Of Painting Roofing Felt
Roofing felt will age sooner when exposed to Uv-light, ventilations, and other natural climate conditions.
Paints like acrylic cause a reduction in the thickness of the roof, which can make water from rain sink in.
Maintaining it may be tasking.
You can only do it in the dry season. So, you may have to suspend it during winter.
Conclusion
Looking good is good business. And anything worth doing at all is worth doing well.
Having your roofing felt painted will reduce heat. It will make it more attractive and attract less dirt.
However, when you want to select paint, bitumen is the most suitable for roof felt as it acts as a water shield and protection.