No matter how durable metal roofs seem to be, they'll eventually need a substitution or backup. The interest aimed at recovering your existing metal roof isn't strange.
Not strange because there exist many reasons why you would want to do so. The most likely, is probably double protection against wind, water leaks, and other elements. Thus, how is it done?
In recovering your existing metal roof, you need to select your preferred methodology and follow the required steps. Various methods include the high clip, metal directly over the metal roof, and the roof hugger system.
Ready for a Roofing Quiz?
The Roof Hugger System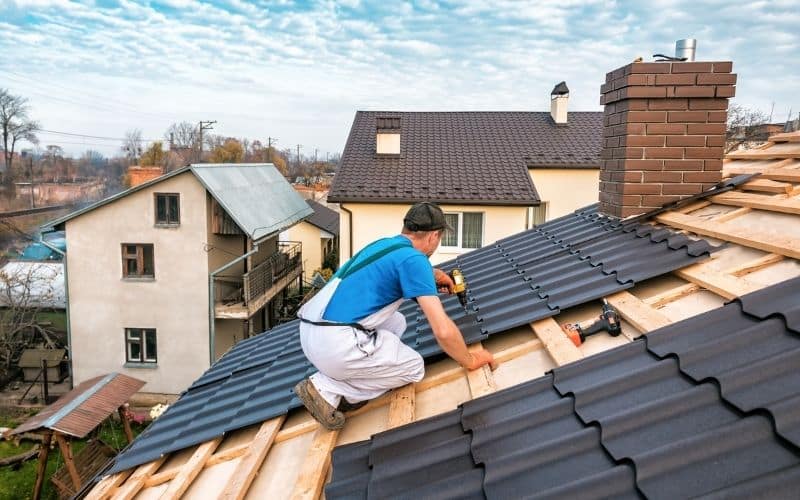 This style of metal over metal retrofit involves the utilization of roof huggers to fasten the new metal roofs.
Recovering your existing metal roofs with this metal over the metal alternative is straightforward; it involves a sub-framing system.
Using this sub-framing system, get a piece(s) of steel, depending on the length of the existing metal roof. You can use a 16 gauge piece of steel if it's okay.
Ensure that every piece of steel is properly notched. If the steel pieces aren't, there will be some imbalance. They'll not sit properly on the existing metal shingle.
After getting a properly notched piece of steel, lay it directly on the old metal shingle. Lay each piece of steel till the entire existing metal roof is covered.
Note that the steel sheets are the sub-framing itself.
Lay the sub-framings such that they sit on the old shingle. In addition to the sub-framing, fasteners are essential. They screw the sub-framings down to the shingle.
Set up the new metal layers when you're through with installing the sub framings. Depending on your choice of roofing metal, you can go for a 1¾ inch snap-lock standing seam metal.
In addition, be sure to install the metal roofs with a clip. Clips are hidden fasteners that help fasten new metal roofs to their sub-framings.
To fix the clips, first, attach them to the sub-framing. Subsequently, hook them onto the leg of the new metal roof.
Recapping the whole process, lay your sub framings, and hold them down with screws. Then, set up your new roof, and remember to use clips.
In general, the whole process of recovering metal roofs using metals is very okay and less tedious.
The only issue is that most homeowners believe adding another metal layer to an already existing one will result in too much weight.
However, this stereotype is not so true as the new metal shingle doubles the strength of the existing shingle roof.
Additionally, I recommend using insulation in-between the new metal shingle and the existing one. Though it's helpful, it's not mandatory.
You should know that you're not limited to a particular standing seam. You can go for anyone that you consider suitable. Other alternatives are a double lock and a magnet panel.
Nonetheless, take note of the fact that specific metal types react with other metal types. Hence, choose a metal that isn't reactive to the existing metal shingle.
In all, the sub-framing style of metal over metal retrofit is a good alternative.
It reduces cost and prevents noise commotion issues, which may arise from removing existing metal roofs. Carefully follow each procedure.
The High Clip System
The high clip framework involves the utilization of high clips together with new standing rib metal panels. To begin, you'll need a tee-style standing seam panel(s) and a high clip.
Place the tee-style seam panel on top of the existing metal roof. But don't place the standing seam metal directly on the existing metal roof. Instead, attach it employing a clip.
By this procedure, the high clip will have direct contact with the old metal roof. To be more precise, fasten the high clips to the existing purlins.
That is, the purlin running through the ceiling. The clips separate should themselves at a five feet distance.
When you're through with fastening the high clips, properly lay the tee-style standing seam roof. Lay it in a manner that sits on the high clip and directly above the existing metal roof.
High clips typically hold standing seam panels high above existing metal roof shingles.
Depending on your choice, you can choose any metal roof type as the existing roof embodiment. For example, I earlier suggested a tee-style standing seam panel.
Similarly, a 24 gauge tee-style standing seam panel may be more precise.
My reason behind the 24 gauge tee-style standing seam suggestion is that it is explicitly designed for embodying existing metal roofs. Yes.
Manufacturers have designed this metal roof shingle to save you the cost of unnecessary expenditures. You won't have to tear off the existing metal roof and start all over.
You can still utilize the 24 gauge tee-style standing seam for initial metal roof installations.
The fact that manufacturers produce them primarily for existing metal roof embodiment doesn't mean you cannot use them as initial roofs.
This 24 gauge standing seam roof can also go on low-sloped roofs. Hence putting them on flat roofs won't be a problem.
It can likewise go on high-pitched roofs. Either of them it's going to work just fine.
You may be wondering how two successive metal roof panels would seam together. Well, that issue is resolved with the presence of a batten cap.
What a batten cap does is that it sits on the two panels that you wish to seam and holds them together as expected. Roof technicians usually use bat caps in this metal roof retrofit style.
To insert the batten cap, place it on the two straight sides of the metal roof panels. Do this placement to engulf the two consecutive sides in the batten cap.
Note that you'll need a seaming machine to bend the sides of the bat cap. With this seaming machine, the bat cap will be firm and sturdy.
In addition, seaming machines ensure the efficacy of metal roof panel seaming.
Tieing into your existing metal roof using the high clip system is seemingly effortless. This retrofit metal roof style is my favorite. Merely go through every procedure.
Aside from recovering metal roofs, you can likewise use high clips to recover your old shingle roof setup over wood decks.
The Metal Directly Over The Metal Roof System
The metal directly over the metal roof system now sets up new metal roofs over existing ones. In this recovery style, high clips and sub-framings are of no use.
Among all the alternatives, it's probably the cheapest. Here, you merely need to lay the new metal shingle and fasten it down through its roof. After that, it has to go down to the purlins.
This metal retrofit style utilizes metal roofing panels that have provision for screws. Screw metal roof panels include a PBR panel.
This metal retrofit style doesn't give room for insulation. Nonetheless, it provides double protection and strength, just like the other alternatives. It's likewise the most straightforward.
As a guide, be sure not to misplace the procedure of any methodology with another. You'll be running everything; I'm sure you wouldn't want that, so be cautious.
Conclusion
Retrofitting your metal roofing will not require much. Merely choose your preferred methodology and follow its procedures. Ensure getting quality metal roof panels.
Don't compromise your chances of a durable metal roof. Every alternative was seemingly straightforward. Right? Now try any one of them out!