You might choose a modular home because it is cheaper or environmentally friendly. You are in good company because millions of Americans live in modular buildings.
However, if you have a modular home, you must ensure your structure follows building code requirements.
Modular homes are usually constructed, brought to your site, and assembled. The triangular trusses are then added at the top to support the roof's weight.
However, if not correctly set up, your home roof trusses would not bear the importance of the roof. So while building the home, be careful about how to set trusses.
A modular home roof truss is a basic framework of timbers intended to offer support for the rooftop. A truss is to ensure your roof's total structural strength by supporting all the roof's loads. You can decide to get a prefabricated truss, or you could build it yourself. And the most common truss is wooden.
Ready for a Roofing Quiz?
Do Mobile Homes Have Roof Trusses?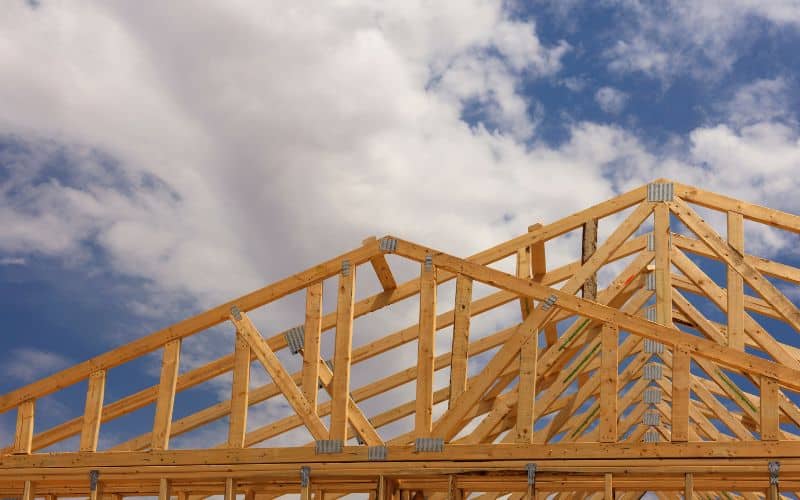 If your roof isn't flat and the top doesn't have a single slope. Your mobile home has a roof tussle. Bowstring trusses are the most popular, but structurally, they can't bear too much weight.
Nevertheless, people like to use it because of its comparatively low cost of setting up and construction cost.
Mobile homes also use tussles because their roof needs sturdier support, produces less waste, and is quicker to construct.
Four out of every five American households use roof tussles. So, most likely, your home also has roof tussles.
If you are unsure if your mobile home has roof trusses, you would need a deep-scan stud finder and a ladder to find it in the roof.
After climbing the ladder, set your stud to deep scan; pass the stud over the ends of the roof structure. If the stud beeps, you have found the trusses.
How to Build Roof Trusses for Mobile Home?
Every home needs a roof. Your home will lack aesthetical quality and functional benefit if it doesn't have one.
It is the Truss that then provides support to the roof. If you plan to build roof trusses for your mobile home, the truss can support up to 400 spans in height.
You can use a prefab truss for your home if you prefer to do it yourself. Here's how to build roof trusses for homes,
The first step is getting your measurements. You will need to know the dimensions of the roof span and ensure it is in line with the building plan.
Getting an accurate measurement would save you from costly mistakes and lower-quality roofs.
Sometimes, the building code requirements of your area might also specify the size requirements for trusses of a particular structure.
Once you have your measurements, cut your timber panels to size.
Always get quality lumbers because they are far more efficient and save you from extra costs in the long run. Precise dimensions are vital if you want your truss to fit correctly.
After getting your timber panels, join the boards to form a triangle. For each truss, you would need two top chords, a bottom chord, and a joist for support.
The triangular shape of the trusses allows them to support the roofing sheet easily. Using a screw is also a better alternative to secure the panels as they are easier to dismantle when needed.
The next step is adding braces to the panels. The braces divide the angles of the trusses and make them carry the heavier load.
Again, having an expert opinion on how to go about the slope angle will help to maximize your truss potential.
The next phase will be to link the trusses to the roof structure. The linkage will give the necessary support for the roof. First, brace the trusses, then inspect the truss to ensure everything is in place.
You have successfully set up a roof truss all by yourself. You might decide to use the truss on your mobile home, in your garage, or in any building you want.
Modular Home Roof Trusses Structural Inspection
A regular and careful inspection of the trusses of your home will allow them to do their work safely.
To understand what exactly you are to do and even look for in your inspection, the Maintenance and Operations (MO) Manual for Facility Condition, which includes minimum required inspection routines and requirements for truss inspection, was created.
Some of these things you should inspect around your trusses according to the standard are;
Deflections
Checks & Split
Loose Connectors
Evidence of decay.
Suppose you notice any of it in your truss, no worries. You would only have to replace the truss on rare occasions. Repairing trusses is usually not costly. However, it can cost over $1000.
How Far Apart Are The Trusses in a Modular Home?
The building code requirements of most states dictate that roof trusses should be about 24 inches on center. The spacing is that wide to make the truss bear heavy loads better.
So others try to save cost because if the trusses are at 24 inches, you would need fewer trusses.
However, moving your trusses to 16 inches in the center is permissible and advisable if you live in an area prone to natural disasters.
Remember that roofing sheets are four inches by eight inches, so the only choices for spacing trusses are 12 inches, 16 inches, and 24 inches and their multiples.
Other factors you can consider apart from regulations and weather conditions are the roofing sheath, the attic space, and your insulation.
For example, wood isn't a good insulator if you want to reduce energy loss in your home. So fewer trusses and more batts fit together means less cooling loss.
Tightly packed truss webbing reduces mobility in the attic, I.e., Too much of the truss wouldn't allow you to enjoy using your attic.
So how far apart the trusses would be could also be determined by you based on ease of movement in the attic.
Is it Cheaper to Build or Buy Roof Trusses?
Upfront, buying roof trusses is cheaper, especially when the cost of material and labor are preferable while fabricating by oneself.
However, getting a Pre-fab roof truss is a one-time cost that removes the need to pay for materials and labor.
When it comes to pricing, the span, design, type, and building area of the roof go a long way to determining the cost.
But buying wood roof trusses would cost between $100 to $300. Pre-fab roof trusses are off-site (created in a workshop and moved to the site).
They typically consist of two inches X four inches or two inches X six inches of wood, joined by gusset plates (metal connectors) in a web-like form.
Read also: How To Install Blocking Between Trusses? 
Conclusion
Modular home roofs have undergone a series of evolution before their current use of trusses. Trusses could come in wood roof trusses or steel roof trusses.
The support trusses provided for most roofs have kept them very strong. In conclusion, whichever trusses you choose for your home, regular structural inspection is vital to continual usage.