Homeowners often have a variety of warranty and insurance policies they can choose from that help in covering unforeseen damages to their roofs.
They all go for the best- the most reliable and easily recoverable insurance plan. One such insurance policy is the State Farm policy.
They cover most home damages. However, due to its preciseness, you may wonder if it pays for a new roof.
State Farm insurance pays for new roofs. Nevertheless, the roof replacement plan states that roofs should only be covered if the cause of damage is a peril you have chosen under your contract agreement which mostly includes damages from natural factors such as winds, heavy rain, and hail.
Key Takeways
State Farm Policy: State Farm insurance covers most home damages, including roof replacements due to natural factors like winds, heavy rain, and hail.
Exclusions: Damages due to wear and tear, poor maintenance, and pests or animals are not covered.
Claim Period for Hail Damage: Claims for hail damage should ideally be filed within 6 to 12 months from the time of noticing the damage.
Policy and Payment: State Farm offers various insurance plans, such as Essential, Expanded, or Premium tiers. Payments can be made directly to the roof repairer or through bank accounts.
Insurance Cost: The typical insurance cost ranges from $1500 to $3000 per annum. Larger homes may have an annual premium of up to $4000.
State Farm Reputation: State Farm has a strong reputation for consumer satisfaction, diverse insurance plans, and competitive pricing.
Mobile Management: Insurance policies can be easily managed using the State Farm mobile app, making policy adjustments straightforward and efficient.
Ready for a Roofing Quiz?
Does State Farm Insurance Pays For New Roofs?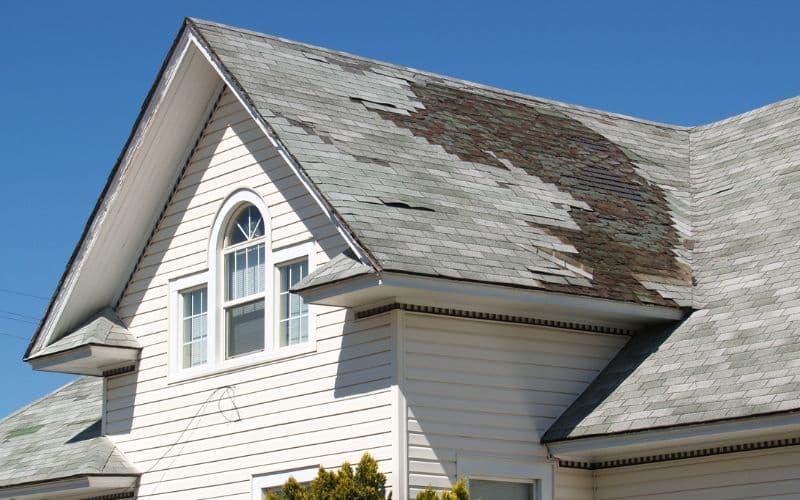 All home-based state insurance policies cover new roofs. Nevertheless, they only cover damages from external inclined perils such as smoke, fire, hail, strong winds, lightning, heavy rains, snow, ice, and even tornadoes.
A roof failure from the natural course of time, such as wear and tear and aging of the roof, is not included in the roof replacement plan.
Also, poorly maintained roofs are not covered in the insurance claim. State Farm insurance additionally does not cover damages done to roofs by pests, birds, and animals.
They do this to reduce the frequency of insurance claims a particular homeowner can file, which is why roof damage from pests is put under poor roof management.
How Long Do You Have To Claim Hail Damage On Roof From State Farm?
All hail damages are best filed as soon as possible once you detect that your roof is damaged.
Ideally, under standard policies, homeowners are expected to file a claim within 6 to 12 months after they notice the damage, no matter how small it may be at the beginning.
The immediate response is to enable State Farm insurance to tackle the damage faster.
Sadly, long and over dragged time frames after hail damage makes it almost impossible to determine that the cause of the initial damage was a hail storm, especially if the damage becomes bigger and more complicated.
The damage may become more expensive to fix and therefore take a chunk of your premium for repair.
However, you do not necessarily need to upgrade your insurance plan after the damage is fixed, but for future purposes, you must pull calls to State Farm as soon as you notice any damage.
Fixing up damages on time saves you resources, helps you manage time, and also aids in countering roof perils that may add up as a result of the delay.
To better understand the safest time frame to file a claim for your roof, the best option is always to enquire from your insurance company's agent for accuracy.
Is State Farm Good At Paying Claims?
State Farm is good at paying claims and has a very responsive time frame for a company agent. Most consumer reviews and analysis is the basis of this conclusion.
State Farm homeowner insurance is one of the most recoverable and flexible plans because it covers multiple areas of your home, including dwelling coverage, dwelling extension, and loss of use coverage.
Dwelling coverage covers the structural integrity of your building and other structures such as your floors, countertops, and home appliances, especially built-in appliances.
Dwelling extension is the plan that covers detachable structures from your building, such as roofs.
The loss of use policy covers bills you may incur during a repair on your roof. It includes the cost of a temporary shelter in the form of a hotel and the cost of most necessary expenditures for the repair duration.
State Farms insurance is one of the best insurance companies that cover home-based damages.
They also cover other damages from assets such as cars and phones. In addition, they operate an affordable insurance policy that comes with auto insurance.
State Farm home insurance is outlined under three insurance plans: the Essential, Expanded, or Premium tiers.
Interestingly, you can select suitable add-ons to your already established policy. The add-ons give you a chance of getting a discount when you need to repair your roof.
The cost of your insurance policy varies when factors like the area where you live, the level of damage, and the monetary value of your home are considered.
State Farm insurance pays claims through bank accounts, as a mail, or to ensure transparency, and they can also pay the roof repairer directly rather than passing through you.
The insurance cost for most policies ranges from $1500 to $3000 per annum, costing $125 to $250 per month. However, bigger homes can have an annual premium of $4000.
You can obtain a more concise and detailed insurance cost analysis by requesting a quote from State Farm from a customer agent or official website.
Nevertheless, no insurance policy is completely exempted from downsides, and State Farm homeowners insurance is no exception.
For State Farms, the pros outweigh the downsides, which is one reason it stands out among other insurance companies.
| Pros | Cons |
| --- | --- |
| State Farm has various insurance and discount plans with additional home insurance plans known as add-ons. | State Farm has a very poor company agent response. |
| State Farm insurance can be managed easily using the mobile app. | The insurance cost is affected by your location, the monetary value of your house, and the claim history. |
| State Farm has an easy-to-do claim filing process. | Some plans have fairly high rates. |
Is State Farm Still A Good Insurance Company?
Even after so many years, State Farms is still a good insurance company with an outstanding reputation for consumer satisfaction, insurance plans, discounts, and even cost.
In addition, they have multiple insurance plans you can choose from. Interestingly, these policies are quite affordable and have additional home improvement plans known as add-ons.
They also have an automated home insurance policy for most of the plans.
State Farm is the go-to insurance company for maximum satisfaction with low rates, good customer and company agent service, and varying insurance plans because it offers all.
In the USA, for instance, State Farm stands proudly as the largest auto insurance company in 33 states and is the largest and most reliable insurance company in at least 39 states.
State Farm makes insurance management easy for consumers since a mobile app is available.
The insurance policies can easily be changed, upgraded, and even canceled with one swap using the app.
Additionally, consumers looking forward to subscribing to any State Farm policy can do that online from the app or the website.
State Farm insurance is quite affordable but may differ due to factors such as the location of your house, the monetary value of your house, claims history, and deductibility.
Nevertheless, the standard cost for a State Farm insurance plan is $1500 to $3000 per annum, while the monthly cost is around $125 to $250.
Conclusion
State Farm Insurance is highly reliable and covers most home damages like the roof.
However, they cover the replacement of new roofs only if the cause of damage to the roof is external forces such as rain, hail, lightning, and even fire.
However, they do not cover damages from poor roof management and animals. Ideally, a damage roof claim is filled within 6 to 12 months of damage to avoid further damages.